Forest Laboratories, Inc. (FRX, $92.42, up $21.03 midday)
Actavis PLC (ACT, $205.84, up $13.96 midday)
"Actavis Plc (ACT), the world's second-largest generic-drug maker by market value, agreed to buy Forest Laboratories Inc. (FRX) for about $25 billion in a deal that will transform it into a developer of brand-name drugs," reports Bloomberg.
Forest Labs shareholders will receive $26.04 cash, and .3306 shares of ACT stock valued at $89.48 per share for each share of FRX owned.  Actavis will finance $7.3 billion at 4.25% for five years, and issue approximately 90 million shares of stock, to fund the buyout.
Actavis PLC is a global, broad-based pharmaceutical company.  It recently completed the acquisition of Warner Chilcott PLC.  The company is based in Dublin, and operates in New Jersey.
Forest Laboratories, Inc. develops, manufactures and markets treatments for dementia, hypertension, irritable bowel syndrome, cardio-pulmonary disease, and depression.  Forest's main product Namenda will go off-patent in January 2015.
Actavis expects the combined company to benefit from $800-$900 million in annual cost savings for several years, and to also incur a lower income tax rate.  These savings total about $1 billion per year, and don't include additional gains from revenue synergies.  Morgan Stanley expects Actavis to gain a 15% EPS accretion from the acquisition in 2015 & '16.
(Article continues below charts.)
What Should Forest Labs Shareholders Do?
Forest Labs operates on a March fiscal year.  Looking forward, the 2015 PE is 24.9; quite expensive in light of the recent six-year PE range of 7-19.  FRX shareholders should consider themselves very fortunate to have the opportunity to take their money off the table at around $90 per share.
Unless shareholders have a strong sense that a higher, competing bid will emerge, Forest Labs shareholders should sell their shares now, and here's why:
The stock is trading above the acquisition value, which means if shareholders wait for the acquisition to consummate, they will have less capital than if they sell today.

Shareholders' capital will likely stagnate between now and the acquisition date.  Shareholders who sell FRX and reinvest their capital elsewhere have a current opportunity for their capital to continue to grow.

The deal could fall through, if Actavis' financing efforts fail, or if regulatory approval is denied.

A broad stock market correction could harm the value of these stocks, and harm the acquisition itself.

Shareholders are notoriously horrible at keeping track of their post-merger cost bases — please don't take offense — and their tax-preparers are oftentimes woefully poor at this task as well.  If this sounds like you, and you own your FRX shares in a taxable account, make a clean break from the stock.  You can always purchase ACT shares on the open market if you're in love with that stock, thereby eliminating the complicated tax basis.
(Article continues below charts.)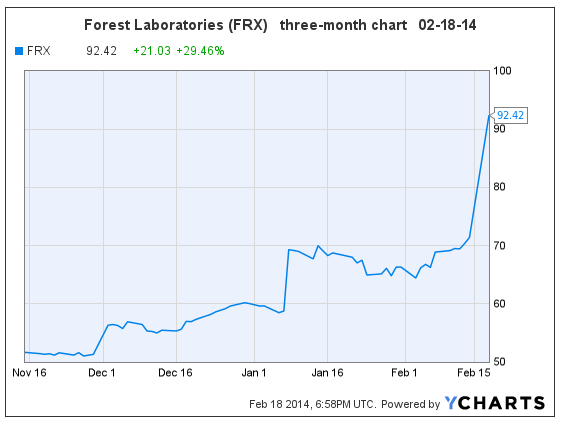 What Should Actavis Shareholders Do?
Prior to the takeover announcement, Wall Street expected Actavis' earnings per share (EPS) to grow 38% and 12% in 2014 & '15 (December year-end).  The 2014 price-earnings ratio (PE) is 15.9, in a ten-year range of 10-39.
Projected earnings growth is very attractive, and the PE is surprisingly low.  However, the long-term debt ratio is high at 61%, and the company's financial position will weaken further with the expense of the FRX acquisition.  FRX has no long-term debt, so that's a plus.
The stock has risen about 140% in the last twelve months.  Shareholders should hold Actavis stock, and use stop-loss orders to protect their gains.  It is unreasonable to expect stocks like this to go up forever.  If the market sours on Actavis, or if a broad market correction comes along, the stock could fall back to support levels of $120 from last summer.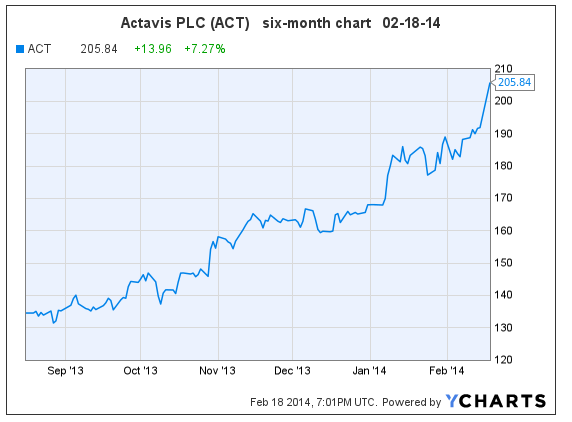 * * * * *
Happy investing!
Crista Huff
President
Goodfellow LLC
* * * *
Investment Disclaimer Release of Liability: Through use of this website viewing or using you agree to hold www.GoodfellowLLC.com and its employees harmless and to completely release www.GoodfellowLLC.com and its employees from any and all liability due to any and all loss (monetary or otherwise), damage (monetary or otherwise), or injury (monetary or otherwise) that you may incur. Goodfellow LLC and its employees are not paid by third parties to promote nor disparage any investment.
Recommendations are based on hypothetical situations of what we would do, not advice on what you should do. Neither Goodfellow LLC nor its employees are licensed investment advisors, tax advisors, nor attorneys. Consult with a licensed investment advisor and a tax advisor to determine the suitability of any investment.
The information provided herein is obtained from sources believed to be reliable but is not guaranteed as to accuracy or completeness. When information is provided herein from third parties — such as financial news outlets, financial websites, investment firms, or any other source of financial information – the reliability or completeness of such financial information cannot be guaranteed. The information contained on this website is provided for informational purposes only and contains no investment advice or recommendations to buy or sell any specific securities.
This is not an offer or solicitation for any particular trading strategy, or confirmation of any transaction. Statements made on the website are based on the authors' opinions and based on information available at the time this page was published. The creators are not liable for any errors, omissions or misstatements. Any performance data quoted represents past performance and past performance is not a guarantee of future results.
Investments always have a degree of risk, including the potential risk of the loss of the investor's entire principal. There is no guarantee against any loss.
* * * *
Goodfellow LLC is a subscription-only stock market website. We strive to identify financially healthy companies in which traders and investors can buy shares and earn dividends and capital gains. See disclaimer for the risks associated with investing in the stock market. See your tax advisor for the tax consequences of investing. See your estate planning attorney to clarify beneficiary and inheritance issues associated with your assets.