The Boeing Company (BA, $135.18) is the world's largest manufacturer of commercial jets and the second largest military weapons maker.
I last wrote about Boeing in early June, saying, "With a record backlog of 800 Dreamliner orders to fill, Boeing Company's production pace will necessarily ramp up dramatically over the next few years.  The company intends to use 80% of the increased free cash flow towards dividends and share repurchases, which provides tremendous shareholder value."
Morgan Stanley reported this weekend that Boeing will likely announce a dividend increase and a new share buyback authorization on December 9 or 16.  "We expect BA's board to approve a meaningful increase in buyback authority – a key catalyst prior to year-end. We model ~$3 billion in 2014 buybacks and consider this conservative."
Boeing had a huge jump to record revenues of $81.7 billion in 2012, with near-record net income of $3.9 billion.  Standard & Poor's (S&P) expects revenue to rise 4% in 2013 and 9% in 2014, led by gains in Commercial Airplanes, and slight decreases in Defense, Space & Security; and operating margins to rise approximately 0.7% to 8.4% in 2014.
Wall Street expects Boeing's earnings per share (EPS) to grow 32%, 12% and 10% in 2013 through 2015.  The PE is 18.0 and the dividend yield is 1.44%.
S&P gives Boeing shares a Qualitative Risk Assessment of "Medium".  "Our risk assessment reflects BA's participation in highly cyclical, very competitive and capital-intensive businesses, offset by its long-term government contracts and our view of its solid cash position, typically strong free cash flow generation, and healthy backlog of business."  S&P gives BA a Four-Star Buy rating and a 12-month price target of $156.
In June, I said, "There's plenty of time to wait for the share price to correct to $90 before accumulating shares."  The stock stayed in a trading range for three more months, and has since risen 33%.
On Nov. 18, when the share price was $136.08, Morgan Stanley reported, "We continue to argue that BA's momentum will continue from here on the simple notion that when everything else is going in the stock's favor, valuation is not yet prohibitive enough to in itself justify a bearish view. Signs of a strong 777X launch, a backdrop of favorable new order seasonality through [year-end], an upcoming increase to the company's buyback authorization, robust global traffic growth, and signs across airlines & aircraft lessors that trends are accelerating not decelerating all keep us [Overweight] BA."  
I think that's a good assessment; it's just that the Goodfellow LLC investment criteria place an emphasis on stock price growth combined with minimizing risk.  Boeing shares do not meet my buy-recommendation criteria because of the company's high debt levels (long-term debt ratio 55%) and slow future projected earnings growth.

The stock price continues to reach new highs — up 77% year-to-date — currently in a short-term trading range of $129-$142.  There is additional short-term price support at $120.  If I owned the stock, I would continue to hold my shares, and use stop loss orders.  If I were intent on buying shares, I would wait for a market correction to take the price down to $120.  But realistically, the stock is currently overvalued and the chart is overextended.  There are plenty of growth stocks out there with higher earnings growth rates and lower PEs than Boeing.
Goodfellow LLC Rating:  Hold, Growth & Income, Public.  (12-08-13)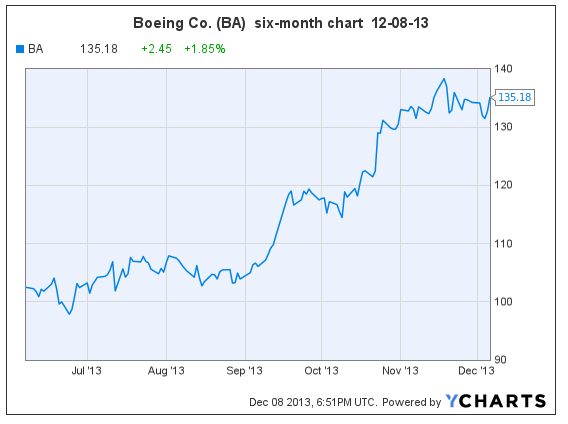 * * * * *
Happy investing!
Crista Huff
President
Goodfellow LLC
* * * *
Investment Disclaimer
Release of Liability: Through use of this website viewing or using you agree to hold www.GoodfellowLLC.com and its employees harmless and to completely release www.GoodfellowLLC.com and its employees from any and all liability due to any and all loss (monetary or otherwise), damage (monetary or otherwise), or injury (monetary or otherwise) that you may incur.
Goodfellow LLC and its employees are not paid by third parties to promote nor disparage any investment. Recommendations are based on hypothetical situations of what we would do, not advice on what you should do.
Neither Goodfellow LLC nor its employees are licensed investment advisors, tax advisors, nor attorneys. Consult with a licensed investment advisor and a tax advisor to determine the suitability of any investment.
The information provided herein is obtained from sources believed to be reliable but is not guaranteed as to accuracy or completeness. When information is provided herein from third parties — such as financial news outlets, financial websites, investment firms, or any other source of financial information – the reliability or completeness of such financial information cannot be guaranteed.
The information contained on this website is provided for informational purposes only and contains no investment advice or recommendations to buy or sell any specific securities. This is not an offer or solicitation for any particular trading strategy, or confirmation of any transaction. Statements made on the website are based on the authors' opinions and based on information available at the time this page was published. The creators are not liable for any errors, omissions or misstatements. Any performance data quoted represents past performance and past performance is not a guarantee of future results. Investments always have a degree of risk, including the potential risk of the loss of the investor's entire principal. There is no guarantee against any loss.
* * * *
Goodfellow LLC is a subscription-only stock market website. We strive to identify financially healthy companies in which traders and investors can buy shares and earn dividends and capital gains. See disclaimer for the risks associated with investing in the stock market. See your tax advisor for the tax consequences of investing. See your estate planning attorney to clarify beneficiary and inheritance issues associated with your assets.