(EBAY, $54.85, up $0.44 in early trading)
Bloomberg reported today that activist investor Carl Icahn has accumulated a 0.82% stake in popular global ecommerce company, eBay Inc., and is urging the company to spin off its PayPal unit.
eBay Inc. earns revenue from its Marketplaces, Payments, and eBay Enterprise (formerly  GSI Commerce) divisions.  The Marketplaces division refers to eBay's worldwide online trading platform.  The Payments division is comprised of eBay's PayPal business.
eBay reported earnings after the close yesterday, with full-year revenue up 14% and earnings per share (EPS) up 15%.  Notably, mobile commerce volume grew 88%.  eBay earned record revenue of $16.0 billion in 2013, and $2.9 billion net income.
The company also announced a new $5 billion stock repurchase authorization.
The variety of news was greeted with mixed response on Wall Street.  Reuters reported today seven investment firms raising their price targets and/or ratings on eBay stock, and five investment firms lowering their targets and/or ratings.
eBay shares have traded sideways for 14 months, while stocks with comparably-growing earnings have surged in a bull market.  Investors are frustrated with eBay's languishing stock.  A spin-off of a flourishing or suffering segment of a corporation is a common technique used to enhance a stock price, on the theory that the individual values of the two stocks will add up to more than the current value of the one stock.
(scroll down for two stock charts and additional comments)
In this case, Carl Icahn believes that PayPal's strong global growth will cause shares in a PayPal spin-off to grow faster than shares in the remaining eBay Inc.  I would concur with the logic behind that strategy.  I personally own shares in Time Warner Inc., specifically in anticipation of the pending 2014 Time Inc. spin-off.  And pointing to recent history, News Corp. (NWSA) separated from Twentieth Century Fox (FOXA) last year, and the combined value of the two stocks surged in comparison to the broader stock market.  NWSA stock subsequently rose 19% and FOXA rose 24% to their recent highs, vs. the S&P 500 up 15% at recent highs.
It should be noted that eBay's CEO, John Donahoe, opposes Icahn's spin-off suggestion, emphasizing that the separation of PayPal from eBay's other core businesses would be disruptive to current growth.  Donahoe commented, "PayPal and eBay together create an incredibly strong global commerce ecosystem for consumers and merchants, and we continue to see tremendous growth opportunities ahead."
I compare Donahoe's decision to a decision that parents face when their child is very short, and they're being pressured to use human growth hormone.  Do we allow the child's development to stay on a natural course, which is probably most healthy for the child, or in frustration, do we "do something!" to change the situation?  I would err on the side of letting nature take its course, and in that vein, I would support Donahoe's inclination to keep the company intact.  eBay Inc. is doing well with its current business model.  Separately, the stock is languishing.  But the business model is more important than the stock price.  A wise businessman should not allow the stock price to dictate business practices; the stock will eventually right itself as the business model continues to flourish.
eBay forecasted lower earnings per share (EPS) growth, now expecting 10% growth in 2014 & '15 (Dec. year-end).  As such, eBay can no longer earn a Goodfellow LLC buy recommendation because it doesn't meet my earnings growth criteria.  While I have not recently given the stock a buy rating, that decision had to do with the neutral chart pattern.  I did, however, recommend the stock to traders for many months.
If stock market results were always logical, everybody would invest in stocks, and nobody would make any money at it.  It's the unpredictability, the risk, the need to analyze situations and history, which makes stock-investing an intricate process.  You can see from the charts below that EBAY is stuck in a long-term trading range.  Stop pretending that it's supposed to be taking a bull-run right now, and face reality.  Today is not the day that EBAY will shoot up to $70.  That day will come.  "Patience, young grasshopper."
(scroll down for additional stock price commentary)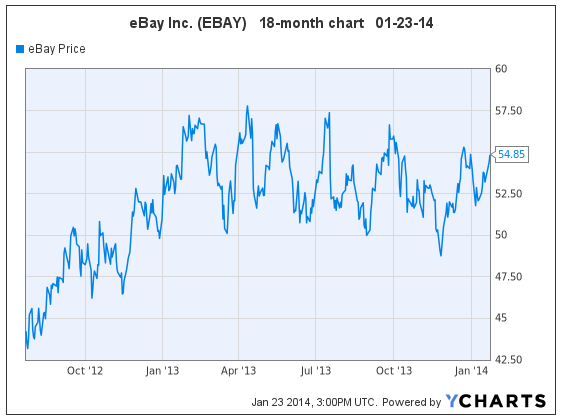 The stock has been in a trading range between $50 – $58 since November 2012 (see chart above).  On November 2, 2013 when the share price was $51.94, I said, "It would be easy to trade the trading range."
On December 2, I reiterated, "The next move will likely be a little sideways trading between $50.50 and $54."
For the time being, the stock is stuck in a sideways trading range.  Investors who are itching for more immediate price movement should take a pass on EBAY, and subscribe now to read more about the Goodfellow LLC stocks with "buy" and "strong buy" ratings.   All eight 2012 & 2013 Goodfellow LLC sample stock portfolios outperformed the market averages by wide margins!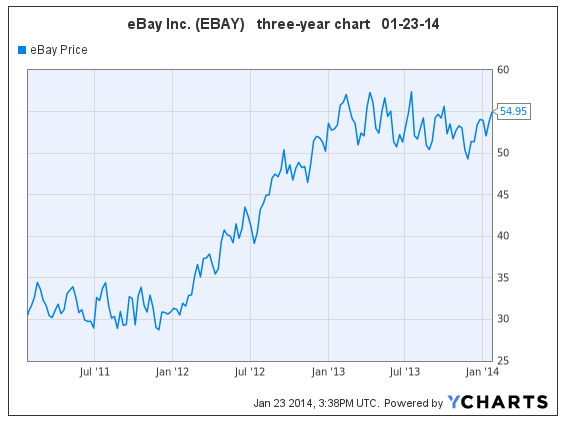 * * * * *
Happy investing!
Crista Huff
President
Goodfellow LLC
* * * *
Investment Disclaimer
Release of Liability: Through use of this website viewing or using you agree to hold www.GoodfellowLLC.com and its employees harmless and to completely release www.GoodfellowLLC.com and its employees from any and all liability due to any and all loss (monetary or otherwise), damage (monetary or otherwise), or injury (monetary or otherwise) that you may incur.
Goodfellow LLC and its employees are not paid by third parties to promote nor disparage any investment. Recommendations are based on hypothetical situations of what we would do, not advice on what you should do.
Neither Goodfellow LLC nor its employees are licensed investment advisors, tax advisors, nor attorneys. Consult with a licensed investment advisor and a tax advisor to determine the suitability of any investment.
The information provided herein is obtained from sources believed to be reliable but is not guaranteed as to accuracy or completeness. When information is provided herein from third parties — such as financial news outlets, financial websites, investment firms, or any other source of financial information – the reliability or completeness of such financial information cannot be guaranteed.
The information contained on this website is provided for informational purposes only and contains no investment advice or recommendations to buy or sell any specific securities. This is not an offer or solicitation for any particular trading strategy, or confirmation of any transaction. Statements made on the website are based on the authors' opinions and based on information available at the time this page was published. The creators are not liable for any errors, omissions or misstatements. Any performance data quoted represents past performance and past performance is not a guarantee of future results. Investments always have a degree of risk, including the potential risk of the loss of the investor's entire principal. There is no guarantee against any loss.
* * * *
Goodfellow LLC is a subscription-only stock market website. We strive to identify financially healthy companies in which traders and investors can buy shares and earn dividends and capital gains. See disclaimer for the risks associated with investing in the stock market. See your tax advisor for the tax consequences of investing. See your estate planning attorney to clarify beneficiary and inheritance issues associated with your assets.