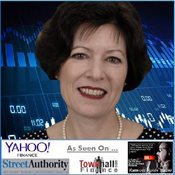 I was chatting with my friend Cathy as we awaited the start of the Sarah Palin movie "Undefeated".  (I found out while viewing that I'm in the movie!)  Anyway, we were talking about politics and business, and Cathy asked me, "What is a stock?"  Good question!
A stock is a little piece of ownership of a big company. Let's use McDonald's as an example.  McDonald's is a public company, which means that its shares trade on the stock exchange.  McDonalds has 1,037,577 shares of stock outstanding. The stock is owned by families on Elm Street, investors on Wall Street, mutual funds and virtually any person or business that wants to buy its stock.
McDonald's stock currently trades at $85.48 per share. The price changes all day long, every day that the stock exchange is open for business. The stock price goes up and down based on supply and demand.  If there are more buyers than sellers, the buyers drive the price up.  If there are more sellers than buyers, the sellers drive the price down.
Generally speaking, the demand for the stock is based on the prospects for McDonald's.  If the company is making profit, growing, buying back shares of stock, introducing new products, or making other business deals which favor the company, investors are inclined to buy the stock with the idea that the stock price will grow as the company prospers.  If the company is losing money, closing retail outlets, racking up debt, or gets caught in a tainted food scandal, investors are likely to sell the stock (thus driving the price down).
Sometimes stocks go down a scary amount with a big stock market drop. It doesn't matter if McDonald's is the most profitable company in America: its stock price will fall with any large stock market correction.  This is called risk. If stocks went straight up, then investing would be easy and everybody would do it. But stocks bounce around, and sometimes they bounce a lot!
My recommendation for beginners would be to buy a small amount of stock in several large, famous, profitable companies. You're going to have to start experiencing the price fluctuations firsthand before you'll really know whether you have the stomach for this.
People buy stock through brokerage firms, via mutual funds, and sometimes directly through the corporation which issues the stock. There is usually no mandatory holding period.  Investors need basic information about stock before they proceed, and this information should include fees associated with buying, selling and holding the stock, and the tax consequences of profits, losses and dividends.
Please feel free to send me questions about any aspect of stock investing!
Crista Huff
* * * *
Investment Disclaimer
Release of Liability: Through use of this website viewing or using you agree to hold www.GoodfellowLLC.com and its employees harmless and to completely release www.GoodfellowLLC.com and its employees from any and all liability due to any and all loss (monetary or otherwise), damage (monetary or otherwise), or injury (monetary or otherwise) that you may incur.
Goodfellow LLC and its employees are not paid by third parties to promote nor disparage any investment. Recommendations are based on hypothetical situations of what we would do, not advice on what you should do.
Neither Goodfellow LLC nor its employees are licensed investment advisors, tax advisors, nor attorneys. Consult with a licensed investment advisor and a tax advisor to determine the suitability of any investment.
The information provided herein is obtained from sources believed to be reliable but is not guaranteed as to accuracy or completeness. When information is provided herein from third parties — such as financial news outlets, financial websites, investment firms, or any other source of financial information – the reliability or completeness of such financial information cannot be guaranteed.
The information contained on this website is provided for informational purposes only and contains no investment advice or recommendations to buy or sell any specific securities. This is not an offer or solicitation for any particular trading strategy, or confirmation of any transaction. Statements made on the website are based on the authors' opinions and based on information available at the time this page was published. The creators are not liable for any errors, omissions or misstatements. Any performance data quoted represents past performance and past performance is not a guarantee of future results. Investments always have a degree of risk, including the potential risk of the loss of the investor's entire principal. There is no guarantee against any loss.
* * * *
Goodfellow LLC is a subscription-only stock market website. We strive to identify financially healthy companies in which traders and investors can buy shares and earn dividends and capital gains. See disclaimer for the risks associated with investing in the stock market. See your tax advisor for the tax consequences of investing. See your estate planning attorney to clarify beneficiary and inheritance issues associated with your assets.