There's a lot going on in the stock market today, January 24.  Emerging markets and currencies are in upheaval, and earnings reports are flowing in, contributing to this week's market volatility.
I'll briefly mention any relevant news, with links to news stories, and then tell you what I would do with each of  today's stocks:
* * * * *
Morgan Stanley Stock Pulls Back to Support Level: Buy!
(MS, $30.37, down $1.11 midday)
Investment banker Morgan Stanley is in the news today on the topic of CEO James Gorman's salary & stock benefits.
On January 17, I said, "I would buy shares on any price pullback, and expect a medium-term holding period on the stock."  That price pullback occurred this week.  I don't expect the stock to fall any lower than $31, other than during intra-day trading, unless we get a spectacular market downturn.
Goodfellow LLC Rating:  Strong Buy, Growth, Volatile, Value.  (01-24-14)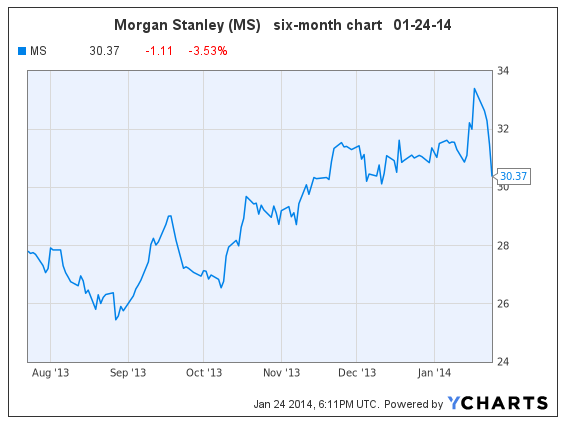 * * * * *
Carl Icahn Losing Bet on Netflix Price Movement
(NFLX, $387.40, down $1.32 midday)
Carl Icahn is all over the news this week, first with his stake in eBay Inc., then with his stake in Apple Inc., and now with t.v. content-provider Netflix Inc.. It seems he bet incorrectly on Netflix, selling his shares early and leaving lots of profit on the table.
I last wrote about Netflix in June 2013, when I warned Ransom Notes Radio listeners that the PE was 163, and that they should protect profits with stop-loss orders.  At this point, earnings per share (EPS) are expected to grow 155% and 85% in 2014 & '15.  The PE is 83.  Wow.  On the bright side, the PE is much lower than the earnings growth rate, and that's really the standard by which I make my investment decisions.
The stock had a huge run-up on the earnings report this week.  I would consider buying shares on any bounce towards $360.
Goodfellow LLC Rating:  Accumulate, Aggressive Growth.  (01-24-14)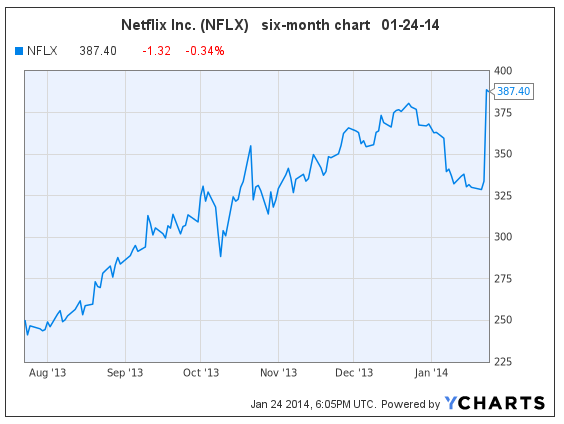 * * * * *
United Rentals Reports 4Q & FY Earnings
(URI, $80.09, down $3.23 midday)
On Jan. 16, I reported that Morgan Stanley expected equipment rental company United Rentals to beat the consensus earnings growth estimate in their fourth quarter report.  That report came in with an upside surprise yesterday.
I also said, "I like URI's earnings growth and low PE, and dislike the high debt levels and big run-up in price since October.  That being said, the chart remains bullish.  I would be most comfortable accumulating shares on any bounce below $77."  The stock is pulling back with the market, and my recommendation remains intact.  
Goodfellow LLC Rating:  Accumulate, Aggressive Growth, Volatile.  (01-24-14)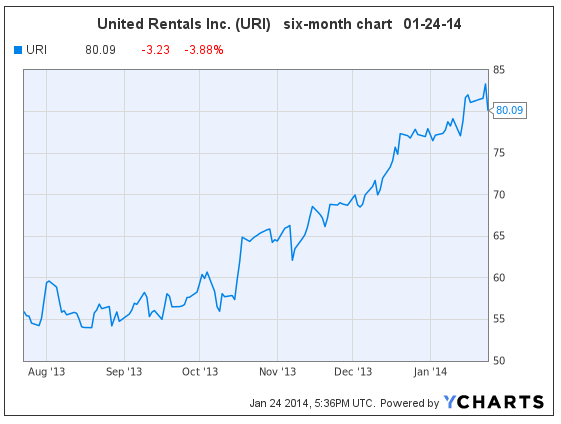 * * * * *
Johnson Controls Reports Good First Quarter; Stock Blows Off Steam
(JCI, $49.46, down $2.10 midday)
Shares of Johnson Controls have bounced at the bottom of a stable trading range today, due to profit-taking on a good earnings report.
First quarter 2014 earnings per share came in on target, up 31% year-over-year, with improved profitability in all three business segments.  Sales came in slightly higher than expected.
The company provides batteries for autos and hybrid vehicles, plus systems engineering, marketing and service.  They also offer products and services to residential and commercial buildings along the lines of energy efficiency, air conditioning, heating, and industrial refrigeration products.
JCI's earnings per share (EPS) are expected to grow 23%, 18%, and 14% in fiscal 2014 through 2016 (Sept. YE).  The dividend yield is 1.77%.  The price-earnings ratio (PE) is 15.1, within a normal range of 12-22.  The company's long-term debt ratio is 26%.
"Earlier this month, the company sold its automotive electronics business to Visteon Corp <VC.N> for $265 million in cash," reports Reuters.
It's been a year since I wrote about Johnson Controls, on January 27, 2013 at $31.67 per share.  The stock is up 56% plus dividends since then, when I called JCI "my top pick" in the automotive sector, and said "the above-average EPS growth should fuel attractive stock market performance in the years to come."
The stock has been trading between $49.50-$52.00 for two months, and appears capable of breaking out on the upside in the near-term.
Goodfellow LLC Rating:  Strong Buy, Aggressive Growth, Growth & Income, Volatile, Value.  (01-23-14)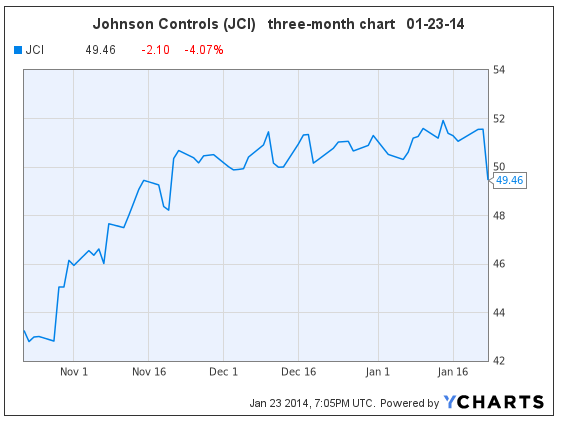 * * * * *
Please read today's report on eBay Inc. (EBAY).

* * * * *
Rating Change on O'Reilly Automotive
Projected earnings per share (EPS) growth at O'Reilly Automotive has fallen since my October 14 research report, to 13.1% and 12.8% growth in 2014 & '15.  As such, the stock no longer meets the "buy rating" criteria at Goodfellow LLC.
O'Reilly shares are up 9.1% since my most recent buy recommendation on October 24.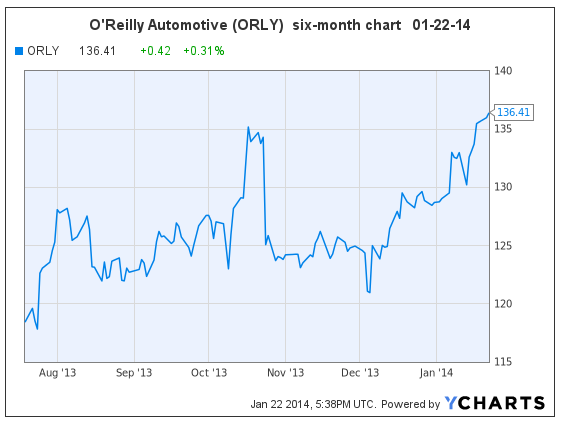 * * * * *
Gilead Shares Reach New Highs; Still Climbing
GILD, ($82.21, up $0.63 in early trading)
Shares of Gilead Sciences, Inc. broke out of a trading range and have been climbing since January 15.  Gilead Sciences is a biopharmaceutical company which develops treatments for infections, cancer, respiratory disorders, and cardiovascular conditions.
Gilead's earnings per share (EPS) growth projections have increased since my research report from  December 9, currently at 65% and 59% growth in 2014 & '15.  The 2014 PE is 24.9, in a ten-year range of 10-39.
I wouldn't personally chase the shares after the last week's run-up, but would rather watch the share price closely, and jump in on a pullback.   I still see Gilead as a very undervalued aggressive growth stock.  Current shareholders should absolutely hold their shares.
Goodfellow LLC Rating:  Accumulate, Aggressive Growth. (01/22/14)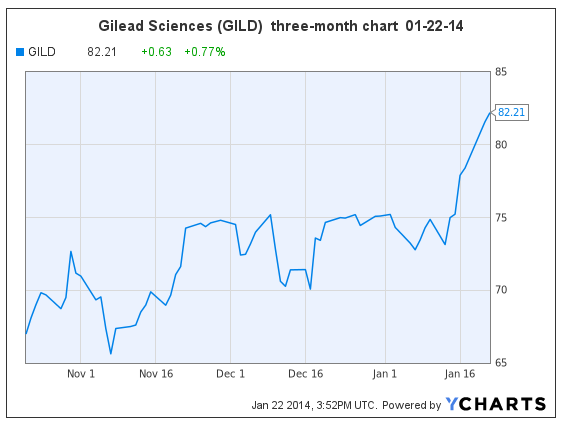 * * * * *
Please scroll down to my January 18 comments on Walgreen Co. (WAG).  The stock has fallen today to a good purchase price, as I indicated it likely would.
* * * * *
Dow Chemical Jumps as Activist Investor Reveals Interest
(DOW, $45.34, up $2.27 in early trading)
Activist investor Daniel Loeb revealed in a letter to investors that he has taken a large stake in Dow Chemical Co.  Loeb wants DOW to spin off its petrochemical arm.  DOW is currently divesting its chlorine business.
Dow Chemical shares are the largest investment in Loeb's hedge fund, Third Point.  The stock is up over 5% this morning on the news.
I've been recommending Dow Chemical, and chemical stocks as a group, for quite some time.  I believe Wall Street's interest in chemical stocks and their ensuing stock price increases have barely begun.  Standard & Poor's commented last week, "We are positive about DOW's focus on productivity actions and portfolio improvements. Long term, we see EPS rising as the company shifts more capital investments into less cyclical specialty chemicals and plastics as well as agricultural products."
Full-year 2013 earnings per share (EPS) are expected to be up 21%; then rise 23% and 20% in 2014 & '15.
The 2014 PE is 16.1.  Excluding the high aberrations, DOW's normal PE range is 9-22.
The dividend yield is 2.8%; and the long-term debt ratio is a little higher than I would prefer, at 47%.
I recommended DOW shares three times in December: Dec. 3, Dec. 9, and December 17, the day the stock broke through six-year upside price resistance.
The stock is up 38.4% since I began saying "buy DOW" on Ransom Notes Radio on Feb. 12, when the price was $32.76.  (The Dow Jones average is up 17.0% in comparison.)
It's pretty normal for a stock to have a pullback after a big run-up.  My guess is that the stock will briefly bounce below $44, but that it could easily begin reaching new highs before the month is out.
Goodfellow LLC Rating:  Buy, Aggressive Growth, Growth, Growth & Income, Volatile.   (01/21/14)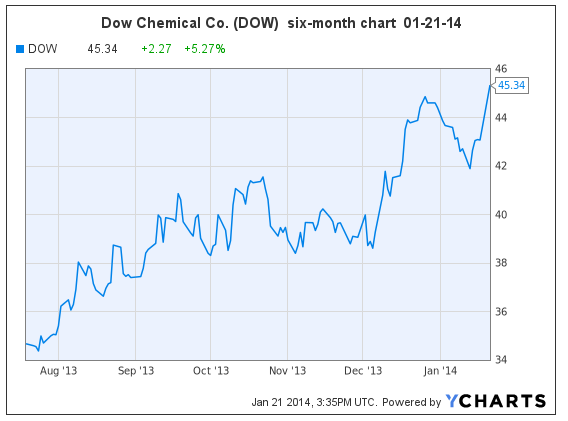 * * * * *
Shares of Michael Kors Holdings (KORS) have fallen to early November support levels.  There continues to be no significant news causing the pullback, and earnings estimates remain the same as in my January 8 report.  The company expects to report third quarter earnings before the market opens on Tuesday, February 4.
I would continue to accumulate shares below $79.
Goodfellow LLC Rating: Accumulate, Aggressive Growth.  (01/20/14).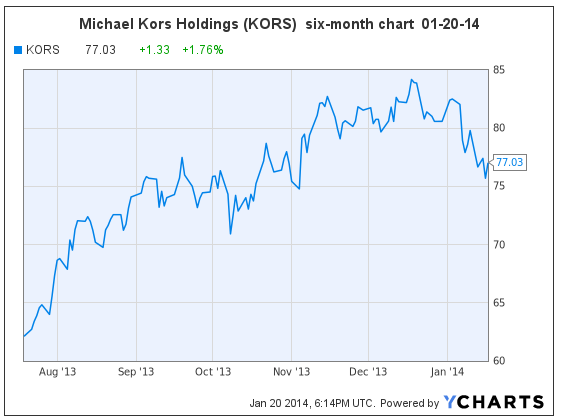 * * * *
Shares of media & entertainment giant Time Warner Inc. (TWX , $64.40) receded this week to the bottom of their four-month trading range of $64-$71.  I took advantage of the low price within the stable trading range, and bought more shares this week, in anticipation of the upcoming spin-off of its publishing business, Time Inc., to TWX shareholders in the second quarter of 2014.
Earnings growth projections remain the same as in my October 7 report: EPS are projected to grow 14% per year in 2013 through 2015.  The dividend yield is 1.9%, and the 2014 PE is 15.1.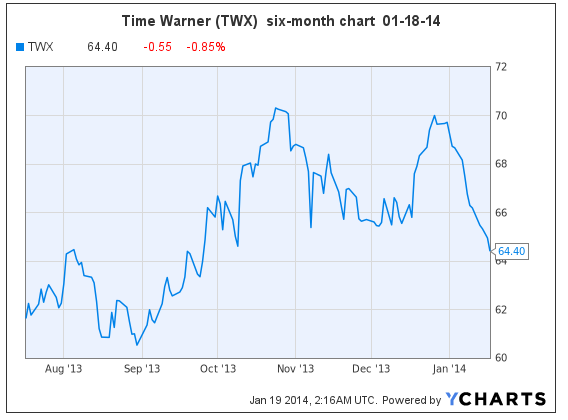 * * * * *
Shares of Union Pacific Corp. (UNP, $167.84) continue to look appealing since I wrote about the stock on Dec. 27.  Growth & income investors should review the stock for possible inclusion in their portfolios.

* * * * *
Walgreen Co. (WAG, $59.16) shares experienced a pullback in an uptrend last week.  On January 10 I said, "If I loved the company and wanted to own the stock, I would wait for a dip below $59 to accumulate shares."  It looks like that opportunity might arrive on Monday.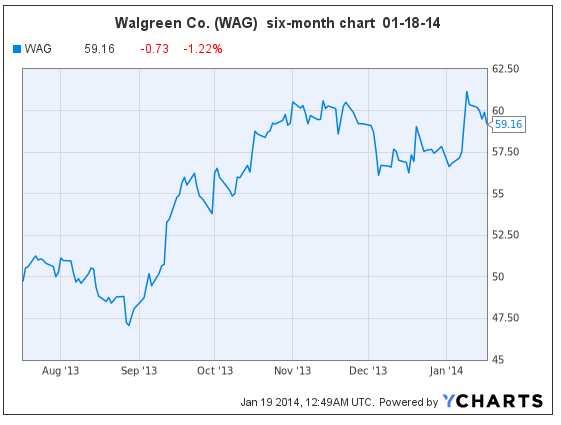 * * * * *
I'm adding to my position in Tyco International (TYC, $41.38) on Monday morning.  Here are my comments from December.  Earnings projections have increased a fraction since that time, and so has the PE.  The chart appears to have begun a breakout yesterday.
Goodfellow LLC Rating: Buy, Growth, Growth & Income.  (01/18/14)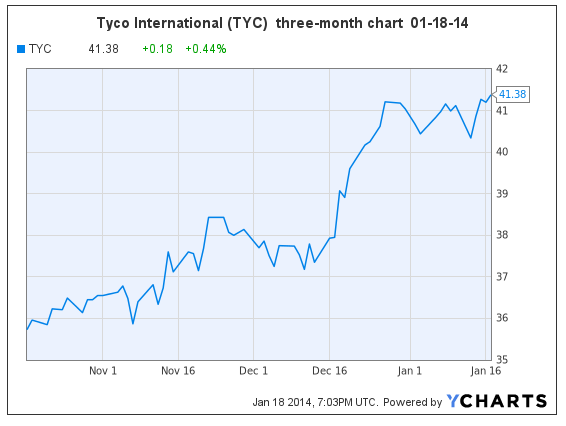 * * * * *
Happy investing!
Crista Huff
President
Goodfellow LLC
* * * *
Investment Disclaimer Release of Liability: Through use of this website viewing or using you agree to hold www.GoodfellowLLC.com and its employees harmless and to completely release www.GoodfellowLLC.com and its employees from any and all liability due to any and all loss (monetary or otherwise), damage (monetary or otherwise), or injury (monetary or otherwise) that you may incur. Goodfellow LLC and its employees are not paid by third parties to promote nor disparage any investment.
Recommendations are based on hypothetical situations of what we would do, not advice on what you should do. Neither Goodfellow LLC nor its employees are licensed investment advisors, tax advisors, nor attorneys. Consult with a licensed investment advisor and a tax advisor to determine the suitability of any investment.
The information provided herein is obtained from sources believed to be reliable but is not guaranteed as to accuracy or completeness. When information is provided herein from third parties — such as financial news outlets, financial websites, investment firms, or any other source of financial information – the reliability or completeness of such financial information cannot be guaranteed. The information contained on this website is provided for informational purposes only and contains no investment advice or recommendations to buy or sell any specific securities.
This is not an offer or solicitation for any particular trading strategy, or confirmation of any transaction. Statements made on the website are based on the authors' opinions and based on information available at the time this page was published. The creators are not liable for any errors, omissions or misstatements. Any performance data quoted represents past performance and past performance is not a guarantee of future results.
Investments always have a degree of risk, including the potential risk of the loss of the investor's entire principal. There is no guarantee against any loss.
* * * *
Goodfellow LLC is a subscription-only stock market website. We strive to identify financially healthy companies in which traders and investors can buy shares and earn dividends and capital gains. See disclaimer for the risks associated with investing in the stock market. See your tax advisor for the tax consequences of investing. See your estate planning attorney to clarify beneficiary and inheritance issues associated with your assets.