Merck & Co., Inc. (MRK$48.74) announced plans today to fire 8500 employees, in addition to the previously announced workforce cuts of 7500, totalling 20% of Merck's entire workforce.  The company will take a near-term restructuring charge of up to $1.1 billion.
The company is struggling with government delays in new medicine approvals, and lack of revenue growth due to generic competition.  As a result, Merck plans to revamp its research and development to focus on core therapeutic areas, including its strongest area, diabetes, and also vaccines, cancer, and hospital care.  Merck will likely need to spend aggressively to acquire companies that can enhance its drug pipeline.
New CEO Ken Frazier is aiming for $1 billion in cost cuts in 2014, and $2.5 billion in savings in 2015.  Company headquarters will be moved to Kenilworth, NJ.
Wall Street expects Merck's earnings per share to fall 9% this year, then climb 3-5% per year for the next two years.   2014 revenues are expected to be flat. The dividend yield is 3.5% and the PE is 14.  Morgan Stanley expects earnings to remain flat from 2014 through 2018.
Merck's stock is on a very slow multi-year uptrend.  It's been trading sideways since early April.  The trading range is narrowing, and the stock could conceivably break through upside resistance at $49.50 and travel to $54 in the near future. 
Not only is there no compelling reason to buy Merck shares, but we would consider selling once it approaches $54, and move on to a stock with stronger earnings growth.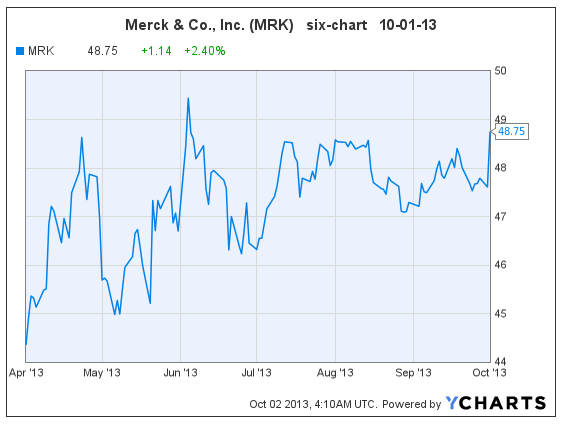 * * * * *
Happy investing!
Crista Huff
President
Goodfellow LLC
* * * *
Investment Disclaimer
Release of Liability: Through use of this website viewing or using you agree to hold www.GoodfellowLLC.com and its employees harmless and to completely release www.GoodfellowLLC.com and its employees from any and all liability due to any and all loss (monetary or otherwise), damage (monetary or otherwise), or injury (monetary or otherwise) that you may incur.
Goodfellow LLC and its employees are not paid by third parties to promote nor disparage any investment. Recommendations are based on hypothetical situations of what we would do, not advice on what you should do.
Neither Goodfellow LLC nor its employees are licensed investment advisors, tax advisors, nor attorneys. Consult with a licensed investment advisor and a tax advisor to determine the suitability of any investment.
The information provided herein is obtained from sources believed to be reliable but is not guaranteed as to accuracy or completeness. When information is provided herein from third parties — such as financial news outlets, financial websites, investment firms, or any other source of financial information – the reliability or completeness of such financial information cannot be guaranteed.
The information contained on this website is provided for informational purposes only and contains no investment advice or recommendations to buy or sell any specific securities. This is not an offer or solicitation for any particular trading strategy, or confirmation of any transaction. Statements made on the website are based on the authors' opinions and based on information available at the time this page was published. The creators are not liable for any errors, omissions or misstatements. Any performance data quoted represents past performance and past performance is not a guarantee of future results. Investments always have a degree of risk, including the potential risk of the loss of the investor's entire principal. There is no guarantee against any loss.
* * * *
Goodfellow LLC is a subscription-only stock market website. We strive to identify financially healthy companies in which traders and investors can buy shares and earn dividends and capital gains. See disclaimer for the risks associated with investing in the stock market. See your tax advisor for the tax consequences of investing. See your estate planning attorney to clarify beneficiary and inheritance issues associated with your assets.