Bloomberg ran an article this morning,  discussing activist investor Nelson Peltz' frustration with PepsiCo's (PEP) management team and their decisions.  "The investor, whose fund owns 0.8 percent of PepsiCo, said the board doesn't appreciate how frustrated shareholders are."
Frankly, the details of Peltz' gripes aren't important.  Shareholders are frustrated?  Good.  Let them cash in their Pepsi shares and move on to a company with growing earnings and a bullish stock chart.
Why do we buy stocks?  We buy stocks for more capital appreciation than we can find in other investments.
Why do we sell stocks?  We sell stocks (a) when we need cash for various reasons (college tuition, divorce, home purchase, etc.); (b) when our investment's outlook has become less bullish; and (c) when the investment has failed to provide capital appreciation.
Successful stock investors have an exit strategy.  Did you notice that I did not list "digging in your heels and whining" as an exit strategy?  This is a "loser" mentality.  A "winner" mentality would acknowledge the risks of a situation up front, and have a plan in place for different outcomes: what if the stock fails to rise?  What if the stock plummets?  What if the whole market plummets?
Not all of your stocks are going to go up.  It helps to think of your stock as "a chunk of money" and not as "this company that I love".  You shouldn't own a stock because you love their product, their media glamour, or their potential: you own stocks to make money.  If you are not making money, let go of the stock and reinvest your money into a stock which is more likely to rise today.  Sure, your stagnant/falling stock might go up eventually, but you'll make money quicker in a stock which is rising today.  Move the "chunk of money" into a place where it's most likely to grow, and let go of your emotional fixation on the stock that isn't helping you make money.
People who can't make sell decisions belong in mutual funds, because an unmanaged portfolio of emotionally-selected stocks is NEVER going to outperform a mutual fund.  It will only cause you constant irritation.
(the article continues after the two stock charts, below)
PepsiCo's Stock Chart:  What's All the Fuss About?
Looking at the one-year stock chart, which was also featured in the Bloomberg article, I can see that it appears that the stock hasn't "done much" recently.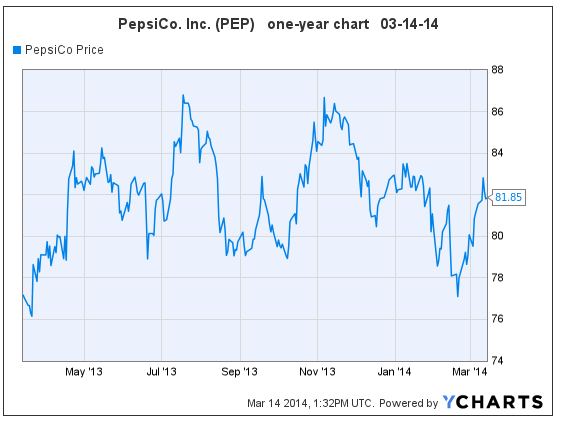 However, "There are three kinds of lies: lies, damned lies, and statistics." *
Charts can be manipulated in various ways.  In fact, the one-year PEP chart shows only the very end of a 4.5-year bull run in PEP stock.  Clearly, most investors made lots of money in PepsiCo stock in recent years.  The only people who didn't make money yet are people who bought near the high points during the last seven months.  (See the five-year chart, below.)
(continue reading below chart)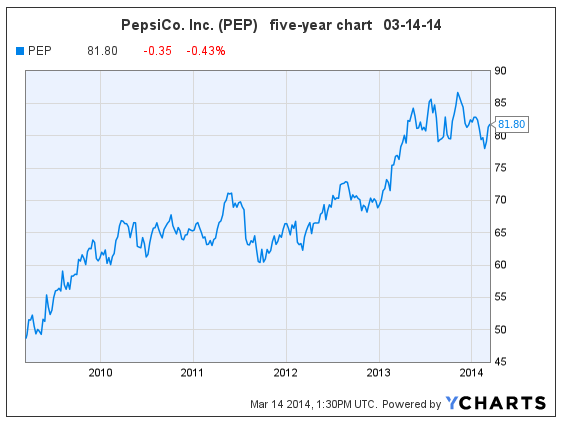 Apparently Nelson Peltz is whining over spilled milk.  He can't possibly have lost very much money in his Pepsi investment, even if he bought at the high last July.
Getting Down to Basics:  Is Pepsi a Good Stock to Own?
In order to make investment decisions, I measure stocks with two types of criteria: fundamental and technical analysis.
Wall Street expects Pepsi's earnings per share (EPS) to grow 3%, 8%, and 9% in 2014 through 2016.  These numbers are too low for me to consider buying Pepsi shares because the company doesn't make it past my very first threshold of strong earnings growth.  One would assume that Nelson Peltz also has earnings estimates available to him, when making his investment decisions.  Why would anybody buy shares in a slowly-growing company when they could buy shares in a faster-growing company with an equally-large dividend?
I am constantly amazed at the poor stocks that people choose to own.  It seems so obvious to me that to optimize capital appreciation potential, one would need to pick stocks with aggressive earnings growth and bullish charts.  Yet so many people pick companies that lack earnings growth, and they don't look at the charts at all.
If you want to improve your stock portfolio performance, buy better stocks.  People who subscribe to Goodfellow LLC get good stock ideas from me every week.  It costs very little for a one-week trial subscription.  Afterwards, you can subscribe for a longer period of time, and begin improving your stock portfolio today.
* Popularized by Mark Twain, and attributed to Benjamin Disraeli.
* * * * *
Happy investing!
Crista Huff
President
Goodfellow LLC
* * * *
Investment Disclaimer Release of Liability: Through use of this website viewing or using you agree to hold www.GoodfellowLLC.com and its employees harmless and to completely release www.GoodfellowLLC.com and its employees from any and all liability due to any and all loss (monetary or otherwise), damage (monetary or otherwise), or injury (monetary or otherwise) that you may incur. Goodfellow LLC and its employees are not paid by third parties to promote nor disparage any investment.
Recommendations are based on hypothetical situations of what we would do, not advice on what you should do. Neither Goodfellow LLC nor its employees are licensed investment advisors, tax advisors, nor attorneys. Consult with a licensed investment advisor and a tax advisor to determine the suitability of any investment.
The information provided herein is obtained from sources believed to be reliable but is not guaranteed as to accuracy or completeness. When information is provided herein from third parties — such as financial news outlets, financial websites, investment firms, or any other source of financial information – the reliability or completeness of such financial information cannot be guaranteed. The information contained on this website is provided for informational purposes only and contains no investment advice or recommendations to buy or sell any specific securities.
This is not an offer or solicitation for any particular trading strategy, or confirmation of any transaction. Statements made on the website are based on the authors' opinions and based on information available at the time this page was published. The creators are not liable for any errors, omissions or misstatements. Any performance data quoted represents past performance and past performance is not a guarantee of future results.
Investments always have a degree of risk, including the potential risk of the loss of the investor's entire principal. There is no guarantee against any loss.
* * * *
Goodfellow LLC is a subscription-only stock market website. We strive to identify financially healthy companies in which traders and investors can buy shares and earn dividends and capital gains. See disclaimer for the risks associated with investing in the stock market. See your tax advisor for the tax consequences of investing. See your estate planning attorney to clarify beneficiary and inheritance issues associated with your assets.