CarMax Shares Roll Backward on Third Quarter Earnings Miss
(KMX, $48.64, down $4.41 in early trading)
CarMax, Inc. reported third quarter earnings this morning, disappointing Wall Street with a slight miss on earnings per share and margin  estimates.  Used vehicle sales were up 15%, vs. a 21% increase last quarter.
More important, though, is the fact that Wall Street doesn't seem to have a good grasp of how CarMax is performing quarter-to-quarter.  Morgan Stanley missed their estimates this quarter by a wide margin, and the Street in general seems to be over-reacting on recent earnings reports, both good and bad.
Earnings are projected to grow 22%, 9%, and 9% over fiscal years 2014 through 2016 (Nov. year-end).  The PE is 21.5.  Wall Street increased its 2014 earnings growth projections on CarMax from 17% to 22% after last quarter's strong performance results, while decreasing estimates for the next two years.
On September 25, we told Ransom Notes Radio listeners that the stock seemed fully valued, and "we encourage investors to be cautious and use stop-loss orders." The stock price immediately began a price correction, recovered, and has fallen dramatically again today.  While holding the shares probably won't greatly harm any investors, they could probably earn better capital gains in a company with stronger projected earnings growth.  Personally, I would trade out at $51.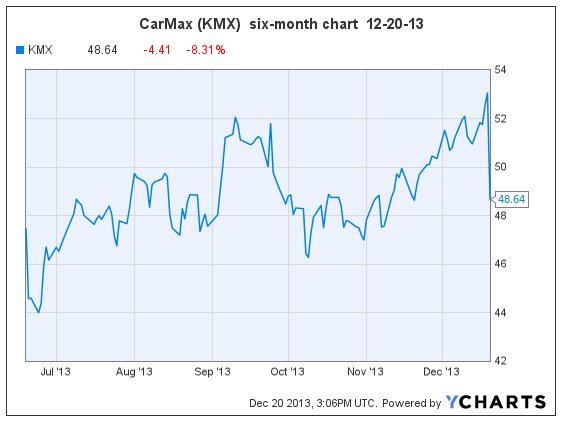 * * * * *
IAC/Interactive Announces Reorganization; Stock Soars
(IACI, $69.55, up $9.46 midday)
Shares of IAC/InterActive Corp. are up about 15% today.  Standard & Poor's commented today, "IACI announces it is reorganizing, and we are raising our 12-month target price by $9 to $69, based on revised relative analysis. Greg Blatt is stepping down as CEO and will become chairman of the new Match Group that will initially largely consist of Match.com and related businesses.  We think investors are excited about a possible Match Group spinoff."
The stock is up 51% since I added it to the Goodfellow LLC Growth Stock Portfolio for Spring 2013 on April 26, and it's up 16% since Dec. 13 when I said, "The chart is bullish, and the stock price is reaching new highs today.  Current shareholders should hold the stock for additional capital gains."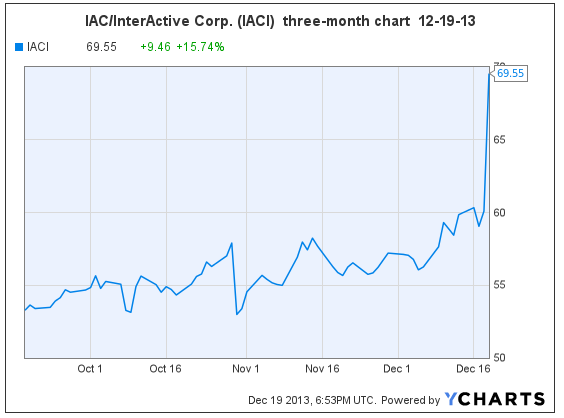 * * * * *
Oracle Shares are Poised to Break Out on the Upside
(ORCL, $36.52, up $1.92 midday)
Shares of Oracle Corp. are up over 5% today.  The company reported that second-quarter software sales were down 1%, better than the expected drop of 4-6%.  Earnings per share came in at $0.69 vs. the consensus $0.67.  Oracle operates on a May fiscal year.  
Standard & Poor's commented today, "ORCL is seeing traction from its cloud-computing efforts, with 35% growth in bookings for these products.  We see future sales growth coming from existing accounts adopting more cloud-based offerings."
Reuters is reporting twelve investment firms raising their price targets on Oracle shares today.
Oracle does not have a Goodfellow LLC "buy recommendation" because earnings are projected to grow less than 10% per year for the next three years.  Our successful stock selections at Goodfellow LLC require significantly higher earnings growth.
The stock is poised to break through three-year upside resistance.  Oracle shares could climb immediately, or trade between $34-$36 in the near-term.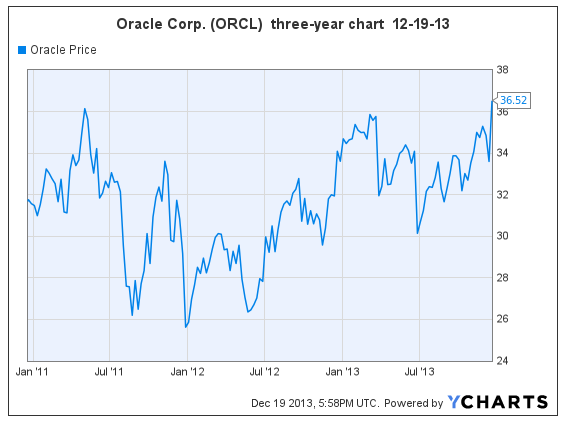 * * * * *
As expected per my Dec. 8th article, Boeing Company (BA, $135.88) announced a new $10 billion share buyback authorization and a 50% dividend increase. 
I'm still cautious on the stock due to the high valuation and overextended chart, although admittedly the chart is becoming more constructive, indicating that the stock could begin reaching new highs again in the near term.  Nevertheless, my money will continue to seek out undervalued growth stocks, in order to minimize risk.
Goodfellow LLC Rating:  Hold, Growth & Income, Public.  (12-17-13)
* * * * *
S&P Initiates Coverage on Michael Kors Holdings
(KORS, $82.28, up $0.08 midday)
Standard & Poor's has initiated coverage on luxury goods maker Michael Kors Holdings Ltd. with a Four-Star Buy rating.  "We think KORS is successfully taking share in a growing global accessories market with fashion-forward products and a tiered pricing strategy appealing to a wide range of shoppers spanning high end to value. With 82.5% of total revenue coming from the U.S. in FY 13, we think KORS has ample opportunity for international expansion. We view e-commerce as a largely untapped growth driver."
Morgan Stanley commented on Dec. 4, "KORS' investor meeting highlights the strengths that make the stock one of our Best Ideas. We believe management continues to find new avenues of revenue growth and at 24x CY14 P/E, valuation looks inexpensive on 24%+ EPS growth."
The Wall Street consensus earnings per share (EPS) growth estimate is currently 44%, 23% and 22% for fiscal years 2014 through 2016.  The company operates on a March fiscal year.  The PE is 29.
The stock is up 30.3% since I recommended it at Townhall Finance on May 29 at $63.16.  (The S&P 500 is up 7.8% in the same time period.) 
* * * * *
Facebook to Offer Video Advertisements
(FB, $54.78, up $0.96 in early trading)
Standard & Poor's reported today, "According to an unconfirmed report from the Wall Street Journal, Facebook Inc. (FB) will start selling video advertisements later this week. The ads would start appearing in users' desktop and mobile News Feeds this week. We think video content and advertising is a significant and largely untapped opportunity for FB, as the company looks to increase user engagement and monetization."
Wall Street currently expects Facebook's earnings per share (EPS) to grow 57%, 35% and 31% in fiscal years 2013 through 2015.  The 2014 PE is 49 — a little pricey.
I last wrote about FB shares on October 3, saying, "We suggest protecting profits with stop-loss orders.  New investors could lower their risk by waiting for a market pullback before jumping in."  The share price proceeded to fall more than 10% by Thanksgiving, and then begin its recovery.
Facebook shares are up 92% since I said "buy" on Ransom Notes Radio on May 2.  Subscribe now to read my current recommendation on what to do with Facebook's stock.
* * * * *
Avago Technologies to Purchase LSI Corp. in Cash Deal
(AVGO, $49.78, up $4.13 midday)
Reuters reported this morning, "Avago Technologies Ltd., whose chips are used in Apple Inc.'s (AAPL) products, will buy LSI Corp . (LSI) for $6.6 billion in cash, the companies said on Monday.  The $11.15 per share offer is a 41 percent premium to LSI's Friday closing price.  LSI's chips are used in storage devices such as hard disks and flash drives."
Financing of the deal will include a $4.6 billion loan, and a $1 billion cash investment from Silver Lake Partners, a venture capital firm which invests in technology companies.  
The purchase of LSI is expected to be immediately accretive to Avago's cash flow and earnings per share (EPS).  Morgan Stanley commented today, "On a combined basis, AVGO's largest segment [measured in revenue] would be Enterprise Storage (38%), followed by Wireless Communications (25%), Wired Infrastructure (23%) and Industrial (14%)."
AVGO shares have a dividend yield of 2.05%, and the ex-dividend date is December 18.  
Shares of Avago are up 9% midday.  Additionally, the share price is up 32% since we told investors to buy AVGO on July 1, on Ransom Notes Radio, when the stock prices was $37.66. 
If I owned LSI shares I would sell them now, around $11.00 per share, and reinvest the capital into a stock with strong earnings growth.  
Avago shares do not meet Goodfellow LLC "buy recommendation" criteria due to projected flat EPS in fiscal 2016.  That being said, if I owned AVGO shares today, I would hold them, because the chart is bullish.  After trading sideways for almost three years, the stock broke out to new highs in September, rested a bit, and began reaching new highs again on today's news.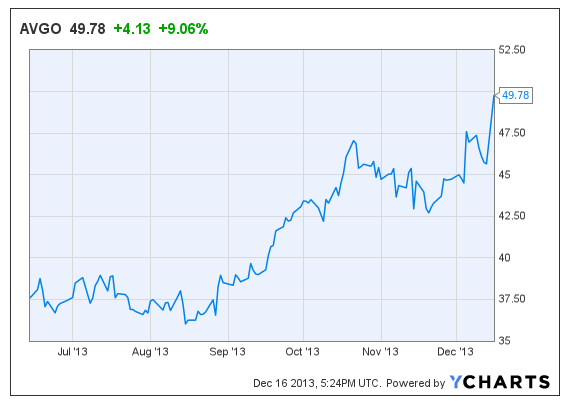 * * * * *
We're getting that price pullback in shares of Adobe Systems Inc. which I predicted on December 13.  (ADBE, $58.55, down $2.34 in morning trading.)  Read more here.
* * * * *
Happy investing!
Crista Huff
President
Goodfellow LLC
* * * *
Investment Disclaimer
Release of Liability: Through use of this website viewing or using you agree to hold www.GoodfellowLLC.com and its employees harmless and to completely release www.GoodfellowLLC.com and its employees from any and all liability due to any and all loss (monetary or otherwise), damage (monetary or otherwise), or injury (monetary or otherwise) that you may incur.
Goodfellow LLC and its employees are not paid by third parties to promote nor disparage any investment. Recommendations are based on hypothetical situations of what we would do, not advice on what you should do.
Neither Goodfellow LLC nor its employees are licensed investment advisors, tax advisors, nor attorneys. Consult with a licensed investment advisor and a tax advisor to determine the suitability of any investment.
The information provided herein is obtained from sources believed to be reliable but is not guaranteed as to accuracy or completeness. When information is provided herein from third parties — such as financial news outlets, financial websites, investment firms, or any other source of financial information – the reliability or completeness of such financial information cannot be guaranteed.
The information contained on this website is provided for informational purposes only and contains no investment advice or recommendations to buy or sell any specific securities. This is not an offer or solicitation for any particular trading strategy, or confirmation of any transaction. Statements made on the website are based on the authors' opinions and based on information available at the time this page was published. The creators are not liable for any errors, omissions or misstatements. Any performance data quoted represents past performance and past performance is not a guarantee of future results. Investments always have a degree of risk, including the potential risk of the loss of the investor's entire principal. There is no guarantee against any loss.
* * * *
Goodfellow LLC is a subscription-only stock market website. We strive to identify financially healthy companies in which traders and investors can buy shares and earn dividends and capital gains. See disclaimer for the risks associated with investing in the stock market. See your tax advisor for the tax consequences of investing. See your estate planning attorney to clarify beneficiary and inheritance issues associated with your assets.