S&P REITERATES HOLD RECOMMENDATION ON SHARES OF TARGET
"We are lowering our FY 14 (Jan.) operating EPS estimate by $0.03 to $3.59 to reflect the near-term impact of the recent credit card data breach, in particular the chain-wide 10% discount the weekend before Christmas and call center/investigative expenses.  However, due to higher market and peer P/E multiples, we increase our target price by $1, to $67.  We think the discount was slightly dilutive to sales, and have reduced our Jan-Q comp estimate to flat, from a 0.5% increase.  We have also trimmed our gross margin expectation slightly to reflect the cost of the discounts."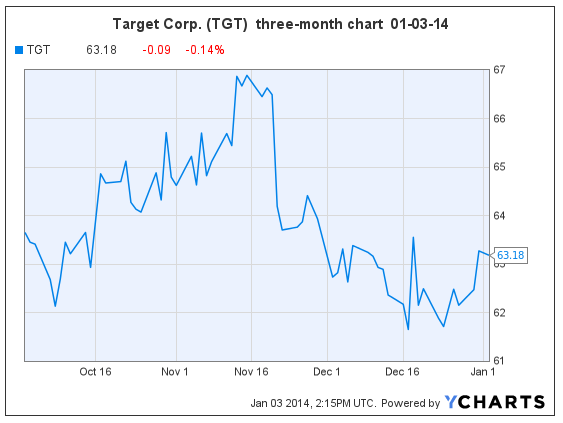 * * * * *
Morgan Stanley Comments on DreamWorks 
(DWA, $35.79, up $0.56 in late trading)
In a research review of DreamWorks Animation SKG Inc. today, Morgan Stanley reiterated its "underweight" rating on the stock, due to the high PE vs. other media stocks.
DreamWorks is well-positioned for new releases in the coming years, and is expanding  consumer product sales to provide a more steady income stream in the future.  2014 film releases include Mr. Peabody & Sherman, How to Train Your Dragon 2, and Home.
After losing money in 2012, DreamWorks' earnings are expected to come in solidly profitable in 2013, then rise 11% and 70% in 2014 & '15.  The 2014 PE is 40.
The 2014 earnings outlook is not strong enough to warrant a buy rating from Goodfellow LLC.
The stock is up 88.6% since we recommended it to Ransom Notes Radio listeners on March 22.   Thereafter, we cautioned investors several times that earnings growth would be slowing, and the PE was climbing.
At this point, I suggest that shareholders use stop-loss orders at $32.50 or $30.50, to protect capital gains.

* * * * *
S&P Comments on Merck's R&D Reorganization Plans
(MRK, $49.84, up $0.04 midday)
S&P commented on Merck & Co. today, "MRK plans a radical overhaul of its R&D organization, creating new hubs in areas of medical education and R&D such as Boston, San Francisco, London and Shanghai, according to an unconfirmed report in the Wall Street Journal. The report added that MRK is also planning to sell of dozens of its existing R&D compounds. We believe these plans, which put greater emphasis on outside R&D, could spark a rejuvenation in MRK's present internally-based R&D engines, which recently suffered a string of setbacks."
Merck shares are not recommended at Goodfellow LLC due to lack of earnings growth.  Earnings per share (EPS) fell in 2013, are expected to be flat in 2014, with slow growth in 2015.
Merck shares reached a high of $61.18 in January 2008. and will probably break past the Dec. 2 annual high of $50.42 in the near-term.  If I owned the stock, I'd hold it for further near-term gains, and put in a stop-loss at $47.25, with plans to raise the stop-loss immediately after the stock breaks out.  Traders could plan to buy shares on the breakout.  Buy & hold investors should focus on stocks with strong projected earnings growth.  Subscribe now for excellent stock suggestions.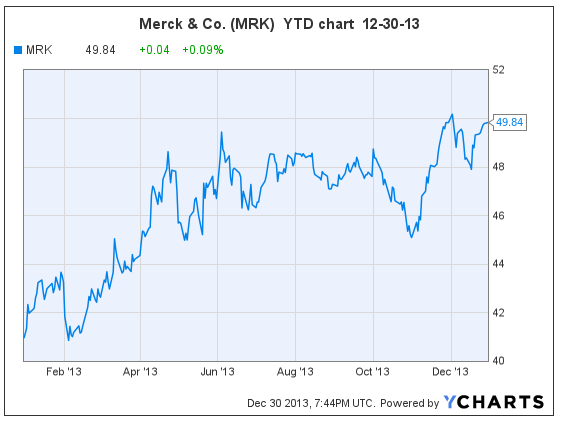 * * * * *
Happy investing!
Crista Huff
President
Goodfellow LLC
* * * *
Investment Disclaimer
Release of Liability: Through use of this website viewing or using you agree to hold www.GoodfellowLLC.com and its employees harmless and to completely release www.GoodfellowLLC.com and its employees from any and all liability due to any and all loss (monetary or otherwise), damage (monetary or otherwise), or injury (monetary or otherwise) that you may incur.
Goodfellow LLC and its employees are not paid by third parties to promote nor disparage any investment. Recommendations are based on hypothetical situations of what we would do, not advice on what you should do.
Neither Goodfellow LLC nor its employees are licensed investment advisors, tax advisors, nor attorneys. Consult with a licensed investment advisor and a tax advisor to determine the suitability of any investment.
The information provided herein is obtained from sources believed to be reliable but is not guaranteed as to accuracy or completeness. When information is provided herein from third parties — such as financial news outlets, financial websites, investment firms, or any other source of financial information – the reliability or completeness of such financial information cannot be guaranteed.
The information contained on this website is provided for informational purposes only and contains no investment advice or recommendations to buy or sell any specific securities. This is not an offer or solicitation for any particular trading strategy, or confirmation of any transaction. Statements made on the website are based on the authors' opinions and based on information available at the time this page was published. The creators are not liable for any errors, omissions or misstatements. Any performance data quoted represents past performance and past performance is not a guarantee of future results. Investments always have a degree of risk, including the potential risk of the loss of the investor's entire principal. There is no guarantee against any loss.
* * * *
Goodfellow LLC is a subscription-only stock market website. We strive to identify financially healthy companies in which traders and investors can buy shares and earn dividends and capital gains. See disclaimer for the risks associated with investing in the stock market. See your tax advisor for the tax consequences of investing. See your estate planning attorney to clarify beneficiary and inheritance issues associated with your assets.