Rating Change on IAC/InterActive Corp.
(IACI, $59.88, up $1.44 midday) 12/13/13
Shares of IAC/InterActive Corp. are breaking out of a short-term trading range and reaching new highs this week.  Subscribe now to read additional comments, and my buy/hold/sell recommendation on IAC/InterActive Corp.  (12-13-13)
* * * * *
Adobe: Fourth Quarter Thrills on Subscription Growth; Downward Earnings Revisions Shock the Street
(ADBE, $59.79, up $5.80 midday)
Adobe Systems Inc. reported strong fourth quarter results after yesterday's close, adding another 402,000 Creative Cloud subscriptions, surpassing Wall Street estimates of 306,000.  The company met its quarterly revenue objectives.  Adobe also repurchased 7.9 million shares of stock during the quarter and 21.6 million shares in the full-year.
The bad news is that Wall Street had expected FY'14 EPS of $1.61, and Adobe guided that number dramatically downward to $1.10, below the final 2013 number of $1.34.  The company also lowered earnings estimates for 2015 and 2016, with expectations of reinvesting cash flow for continued revenue growth.  This changes the game on Adobe stock for investors who concentrate on earnings growth.
Morgan Stanley stated today, "Adobe has leading market share in some of the most dynamic secular growth areas in software: web development, creative design, dynamic media and internet applications. As such, the longer-term growth story should be better than most areas of tech."
I've been accurately guiding investors through the trading ranges and upturns of Adobe stock all year, including on June 27, Sept. 18, and Oct. 30.
* * * * *
Visa Shares Rise on MasterCard News
(V, $205.66)
Shares of Visa Inc. rose over 3% on Wednesday, propelled by MasterCard's (MA) announcement of a stock split, a dividend increase, and a new share repurchase program.  (Scroll down for MasterCard news.)
Wall Street expects Visa's earnings to increase by 16-17% per year, in fiscal 2014 through 2016.  The company announced another $1.5 billion stock repurchase plan in August, and carries no long-term debt.  The PE is high at 23.3, and the dividend yield is 0.77%.
* * * * *
MasterCard Announces $3.5 Billion Share Repurchase
(MA, $794.00, up $30.39 in morning trading)
Shares of MasterCard Inc. rose 4.5% in early trading today, reaching new highs, after the company announced a 10-for-1 stock split, a dividend increase, and a $3.5 billion share buyback.
Shareholders will receive ten shares of stock on January 21, 2014, at 1/10th the price, for each share of stock which they currently own.
The quarterly dividend will increase from $0.60 to $1.10 per current share, giving the stock a current yield of 0.55% — a relatively tiny dividend, and not one worth figuring into a buying decision on the stock.
MasterCard has $514 million remaining under the previously authorized repurchase program.
The company's earnings per share (EPS) are expected to grow 20%, 17% and 19% in fiscal years 2013 through 2015.  The 2014 PE is 25.6.
The stock price is up 19% since I reiterated my buy recommendation on Sept. 12, and it's up 215% since my first buy recommendation on March 29, 2011 (with the S&P 500 up 37% in that time period).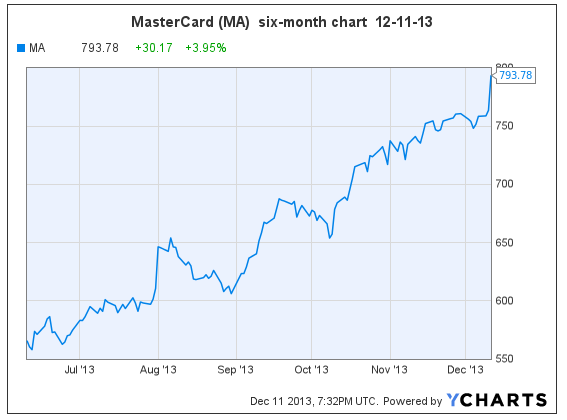 * * * * *
Starbucks Shares Slide on Immaterial News
(SBUX, $77.42, down $2.31 in morning trading)  
Starbucks shares are down 3% in early trading today, amidst news that an obscure investment firm slightly lowered its first quarter revenue outlook on the company, and an inconsequential promotion was launched one day early yesterday, embarrassing the company.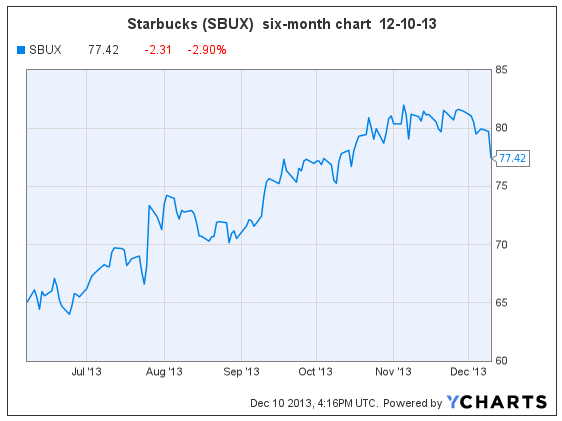 * * * * *
Edwards Lifesciences Revises 2014 Revenue & Earnings Downward
Edwards Lifesciences (EW, $62.73) shares were down 5.37% yesterday, after the company disappointed Wall Street with 2014 revenue estimates from its new Sapien heart valve.  Sapien sales are expected to reach $719.2 million in 2013, and $700-$820 million in 2014, down from Wall Street's estimate of $844.7 million.
Importantly, Edwards lowered 2014 earnings estimates to $3.00 per share, which will be roughly flat with 2013 earnings.  In that light, I am removing EW from the Goodfellow LLC buy list, because the earnings growth rate has changed to a level which does not meet buy-rating criteria.
The stock is in a trading range of $62-$66.50.  The company remains solidly profitable and healthy.  If I owned shares, I would seek to trade out around $65 and move on to a growth stock.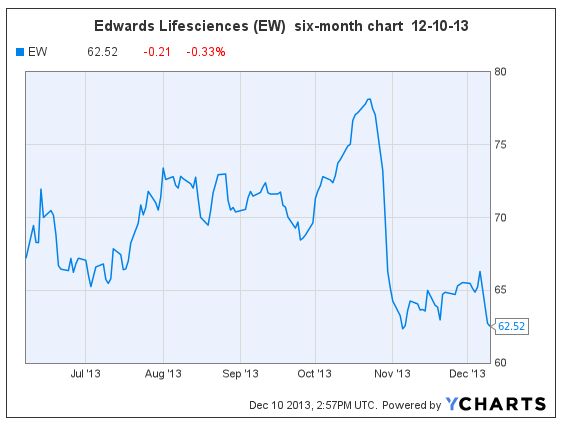 * * * * *
FDA Approves Gilead Hepatitis Treatment
(GILD, $75.25, up $1.26 in early trading)
The FDA has approved Gilead Sciences' Sovaldi (sofosbuvir) for treatment of hepatitis C.  Gilead Sciences is a biopharmaceutical company which develops treatments for infections, cancer, respiratory disorders, and cardiovascular conditions.  The company is a leader in HIV drugs, and will likely lead in the treatment of Hepatitis C, via current and pending FDA approvals.  Other late-stage trials are leading toward various cancer treatments.
Read my full report on Gilead Sciences here.
* * * * *
Morgan Stanley reported this weekend that Boeing will likely announce a dividend increase and a new share buyback authorization on December 9 or 16.  "We expect BA's board to approve a meaningful increase in buyback authority – a key catalyst prior to year-end. We model ~$3 billion in 2014 buybacks and consider this conservative."  
Read my full report on Boeing here.
Goodfellow LLC Rating:  Hold, Growth & Income, Public.  (12-08-13)
* * * * *
Happy investing!
Crista Huff
President
Goodfellow LLC
* * * *
Investment Disclaimer
Release of Liability: Through use of this website viewing or using you agree to hold www.GoodfellowLLC.com and its employees harmless and to completely release www.GoodfellowLLC.com and its employees from any and all liability due to any and all loss (monetary or otherwise), damage (monetary or otherwise), or injury (monetary or otherwise) that you may incur.
Goodfellow LLC and its employees are not paid by third parties to promote nor disparage any investment. Recommendations are based on hypothetical situations of what we would do, not advice on what you should do.
Neither Goodfellow LLC nor its employees are licensed investment advisors, tax advisors, nor attorneys. Consult with a licensed investment advisor and a tax advisor to determine the suitability of any investment.
The information provided herein is obtained from sources believed to be reliable but is not guaranteed as to accuracy or completeness. When information is provided herein from third parties — such as financial news outlets, financial websites, investment firms, or any other source of financial information – the reliability or completeness of such financial information cannot be guaranteed.
The information contained on this website is provided for informational purposes only and contains no investment advice or recommendations to buy or sell any specific securities. This is not an offer or solicitation for any particular trading strategy, or confirmation of any transaction. Statements made on the website are based on the authors' opinions and based on information available at the time this page was published. The creators are not liable for any errors, omissions or misstatements. Any performance data quoted represents past performance and past performance is not a guarantee of future results. Investments always have a degree of risk, including the potential risk of the loss of the investor's entire principal. There is no guarantee against any loss.
* * * *
Goodfellow LLC is a subscription-only stock market website. We strive to identify financially healthy companies in which traders and investors can buy shares and earn dividends and capital gains. See disclaimer for the risks associated with investing in the stock market. See your tax advisor for the tax consequences of investing. See your estate planning attorney to clarify beneficiary and inheritance issues associated with your assets.