Quanta Services Surprises Wall Street with Strong 4Q13, and 2014 Outlook
(PWR, $35.23, up $0.69 midday)
Quanta Services Inc. reported fourth quarter and full year earnings yesterday, pleasing Wall Street and launching the stock upwards.  Fourth quarter adjusted earnings per share (EPS) from continuing operations were $0.50 vs. the consensus $0.40.
Quanta Services provides specialized infrastructure and network services to the electric power, natural gas, and fiber optic industries.
* * * * *
DIRECTV Reports Quarterly Earnings Surprise; Adds to Repurchase Plan
(DTV, $74.94, up $2.00 midday)
Satellite TV broadcaster DIRECTV reported a strong fourth quarter, with earnings, free cash flow, and Latin American margins coming in higher than analysts expected.  The company also increased its share repurchase program by $3.5 billion.
Earnings per share (EPS) came in at $1.53, significantly higher than the consensus estimate of $1.28, and two cents lower than a year ago.
The company has 31.8 million customers in the U.S. and Latin America.
Prior to today's earnings report, Wall Street expected DIRECTV's EPS to rise 16% and 15% in 2014 & '15.  Based on those numbers, the 2014 price-earnings ratio (PE) is 13.0, within a normal range of 9-23 (excluding high aberrations).  Analysts will likely adjust their earnings projections in the coming days.
As of Sept. 30, the balance sheet held $19.2 billion in debt, and $1.6 billion in cash & equivalents.  The large amount of balance sheet debt precludes DTV from earning a buy rating at Goodfellow LLC.
DIRECTV's stock chart is bullish.  The stock broke out of a short-term trading range today, and is likely to continue climbing.  There's price support at $68, where the stock bounced in early February.
On May 7, 2013, we told Ransom Notes Radio listeners and Townhall Finance readers that "Growth stock investors should make an immediate decision on whether to own shares in DIRECTV."  The stock has since risen 21%, compared to the S&P 500 index, which is up 13.1%.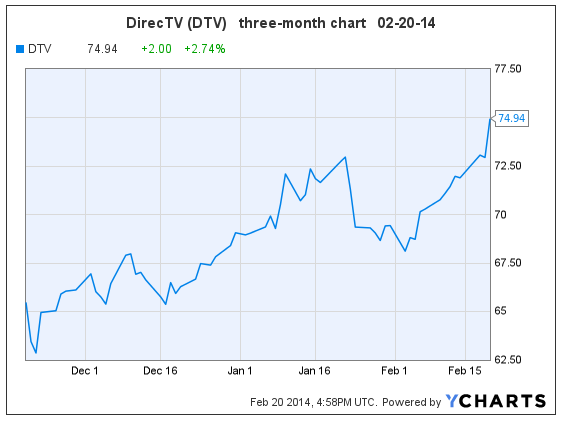 * * * * 
Nabors Industries' Stock Reaches Two-Year Price Resistance
(NBR, $21.92, up $0.77 in early trading)
Shares of Nabors Industries rose as high as $22.77 this morning.  I wrote about Nabors for website subscribers yesterday, and again after today's run-up.
I told investors to buy NBR four times since November, and then reviewed the price action twice more this week.  Subscribers were given accurate guidance on fundamentals, charts, buy & sell targets, and company news.  If you had been a subscriber, you could easily have earned back the cost of a one-year subcription to Goodfellow LLC on this one stock.
* * * * *
In aftermarket news today, Safeway Inc. (SWY, $34.61) is exploring the sale of the company.
Safeway announced the sale and closure of several key company segments in 2013.  At that time, long-term debt levels stood at 60%; too high for a buy rating at Goodfellow LLC.
After a big 2013 earnings drop, projected 2014-15 earnings growth is attractive.  However, at 20.5, the 2014 PE is much higher than those of its grocery peers.  It would be hard to therefore imagine a buyout offer coming in much higher than the current share price.
Shareholders should keep their shares to see what develops.
Goodfellow LLC rating:  Hold, Growth & Income, Public.  (02-19-14)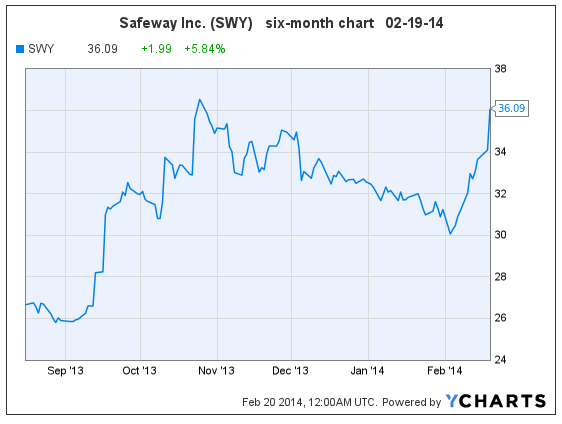 * * * * *
Terex Outperforms in 4Q; Lowers '14 Guidance
(TEX, $41.49, down $2.45 midday)
Machinery manufacturer Terex Corp. reported strong fourth quarter earnings after yesterday's market close, driven by higher than expected margins, with an assist from a lower tax rate.  Adjusted earnings per share (EPS) were $0.65 vs the consensus estimate of $0.49.  Ongoing restructuring initiatives continue to add to performance.
Revenue came in on target, rising 12.5% to $1.8 billion, year-over-year.  The backlog stands at $1.83 billion, with various company segments performing better and worse than expected.
The company's full-year 2014 guidance came in lower than the market expected, causing the stock to fall today.  

* * * * *
Nabors Industries Blows Away Wall Street 4Q Estimates
(NBR, $20.54, up $1.88 in early trading)
Oil service & drilling company Nabors Industries' stock jumped over 10% this morning on yesterday's favorable fourth quarter earnings report.  Unadjusted 4Q earnings per share (EPS) were $0.50 vs. $0.09 a year ago.
Fourth quarter EPS from continuing operations came in at $0.42, vs. the consensus estimate of $0.20.  EPS were enhanced by increased international operating margins due to lower costs, tax benefits, and a bankruptcy settlement.  Last year's 4Q included a charge for discontinued operations.  EPS were affected by U.S. onshore pricing pressure, which is expected to slowly alleviate.
Revenue was $1.6 billion, flat to last year, and slightly higher than expectations.
On Feb. 11 I said, "Shares of Nabors Industries are pushing up against medium-term price resistance today, and appear capable of a near-term breakout.  Watch for the shares to trade around $18 for a short while.  The next resistance level is at $23."
* * * * *
Celgene Board of Directors Recommends Stock Split
The Board of Directors of Celgene Corp. (CELG, $163.93) plans to recommend a two-for-one stock split to shareholders at its annual meeting in June 2014.  Celgene is a biopharmaceutical company which creates and markets therapies to treat cancers, and immune & inflammatory diseases.
* * * * *
Comcast Agrees to Buy Time Warner Cable
In one of the biggest media M&A transactions in history, Comcast Corp. (CMCSA, $53.70) and Time Warner Cable (TWC) have agreed that Comcast will purchase TWC in a $45.2 billion all-stock deal.  The acquisition will create a national cable empire.
In other news, Comcast Corp. saw its 1980's movie re-make, Endless Love, rank fifth at the box office on its debut weekend, reaching $13.4 million in sales.
* * * * *
Priceline.com (PCLN, $1,279.98) will report fourth quarter earnings on February 20.   In anticipation of the report, Morgan Stanley commented last week, "We believe Priceline can outperform consensus estimates as it continues to post strong organic international bookings growth and fears of margin degradation dissipate."
Priceline.com shares are up 67% since we said "buy" on Ransom Notes Radio on May 13, 2013.
* * * * *
Helix to Announce Earnings Results on February 19
Helix Energy Solutions Group Inc. (HLX, $22.27) will announce fourth quarter and full-year 2013 results after the close, on February 19.  Helix is an international energy service company.
Wall Street expects 2013 earnings per share (EPS) to be down 37%; then to rise 53% and 25% in 2014  & '15 (December year-end).  The 2014 price-earnings ratio (PE) is 13.7, within a normal range of 7-22.
Wall Street likes the stock, with an average rating of "buy" among seven analysts covering the stock.  Morgan Stanley says that HLX has demonstrated "solid execution and we view recent underperformance as a buying opportunity."
The chart is bearish, and the stock has given back all of its gains from 2013.  Shareholders will make more money by selling today, and reinvesting their capital in a growing company with a bullish stock chart.  The stock will most likely trade in the $21.50-$24.00 range in the near-term.
There is no reason to either buy this stock, nor short it, compared to myriad other opportunities in the stock market.

* * * * *
Soros Makes Big Bet on Stock with Falling Earnings
"Soros Fund Management LLC, the family office of billionaire George Soros, boosted its stake in Teva Pharmaceutical Industries Ltd. (TEVA), making the Israeli drugmaker its largest holding in the fourth quarter," reports Bloomberg.
Teva Pharmaceutical Industries Ltd. (TEVA, $44.19), the world's largest generic drug manufacturer, is based in Israel, and operates globally.  Teva had record revenues of $20.3 billion in 2012, and achieved that number again in 2013.  
(scroll down to see TEVA's five-year and three-month stock charts)
While the company is solidly profitable, earnings per share have been declining in recent years.  Wall Street expects Teva's earnings per share (EPS) to fall 8%, 1%, and 3% in 2014 through 2016 (December year-end).  The price-earnings ratio (PE) is 9.6.  The quarterly dividend yield is currently 2.51%; and the long-term debt ratio is 31%.
I told Ransom Notes Radio listeners and Townhall Finance readers to avoid Teva on May 13, 2013 and again on June 12, 2013, when Teva was hit with a $1.6 billion litigation award to Pfizer Inc.  I would never recommend a stock with falling earnings, no matter how bullish the chart.
TEVA's chart turned bullish recently, currently trading between $43-$46.  The chart is conducive to a near-term breakout.  Current shareholders should hold the stock and use stop-loss orders around $42.75 to protect their downside.  Other investors should look for stocks with strong earnings growth.
Subscribe now to Goodfellow LLC for outperforming stock ideas, screened for excellent fundamentals and charts.
All eight 2013 & 2012 Goodfellow LLC stock portfolios
dramatically outperformed both the S&P 500 and the Dow!
View our outstanding 2013 and 2012 stock portfolio results.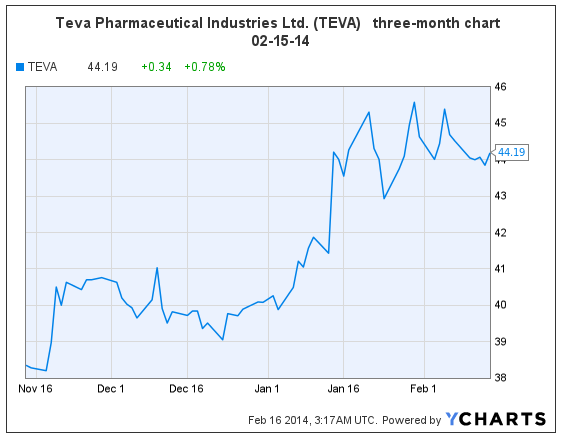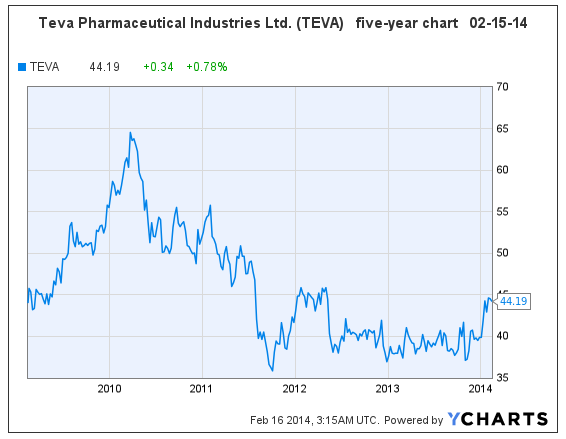 * * * * *
Happy investing!
Crista Huff
President
Goodfellow LLC
* * * *
Investment Disclaimer Release of Liability: Through use of this website viewing or using you agree to hold www.GoodfellowLLC.com and its employees harmless and to completely release www.GoodfellowLLC.com and its employees from any and all liability due to any and all loss (monetary or otherwise), damage (monetary or otherwise), or injury (monetary or otherwise) that you may incur. Goodfellow LLC and its employees are not paid by third parties to promote nor disparage any investment.
Recommendations are based on hypothetical situations of what we would do, not advice on what you should do. Neither Goodfellow LLC nor its employees are licensed investment advisors, tax advisors, nor attorneys. Consult with a licensed investment advisor and a tax advisor to determine the suitability of any investment.
The information provided herein is obtained from sources believed to be reliable but is not guaranteed as to accuracy or completeness. When information is provided herein from third parties — such as financial news outlets, financial websites, investment firms, or any other source of financial information – the reliability or completeness of such financial information cannot be guaranteed. The information contained on this website is provided for informational purposes only and contains no investment advice or recommendations to buy or sell any specific securities.
This is not an offer or solicitation for any particular trading strategy, or confirmation of any transaction. Statements made on the website are based on the authors' opinions and based on information available at the time this page was published. The creators are not liable for any errors, omissions or misstatements. Any performance data quoted represents past performance and past performance is not a guarantee of future results.
Investments always have a degree of risk, including the potential risk of the loss of the investor's entire principal. There is no guarantee against any loss.
* * * *
Goodfellow LLC is a subscription-only stock market website. We strive to identify financially healthy companies in which traders and investors can buy shares and earn dividends and capital gains. See disclaimer for the risks associated with investing in the stock market. See your tax advisor for the tax consequences of investing. See your estate planning attorney to clarify beneficiary and inheritance issues associated with your assets.