Harley Davidson Surges on Dividend Increase & Share Buyback
(HOG, $64.71, up $2.56 midday)
Motorcycle giant Harley Davidson Inc. has increased its dividend by 31%, to $0.275 per quarter, giving the stock a current yield of 1.7%.  The company has also increased its share repurchase program by 20 million shares.  The stock responded by surging upward over 4% this morning.
On November 19 I said, "The stock price has been trading sideways for a few months, after a late-summer run-up, and appears ready to begin climbing again.  Expect some resistance in the low $70′s."  The price rose to $70.04 on January 9, then fell below $61 with the broader market drop.
Subscribe now to see additional comments, earnings projections, charts, and my buy/hold/sell recommendation.
* * * * *
Disney Outperforms in First Quarter
(DIS, $76.44, up $4.68 in early trading)
The Walt Disney Co. beat analysts' estimates with strong first quarter earnings, led by film studio and cable network performance.  Adjusted earnings per share (EPS) rose 32% year-over-year, and came in far ahead of the consensus estimate $0.92.  Revenue rose 8.6%, a bit higher than expected.
The company plans to repurchase $8 billion of stock in 2014, and that news is, of course, figured into the analysts' earnings estimates.  The dividend is paid annually in December, currently yielding 1.1%.
Subscribe now to see additional comments, earnings projections, charts, and my buy/hold/sell recommendation.
* * * * *
IAC/InterActive Corp. Disappoints in Fourth Quarter
(IACI, $64.81, down $4.04 in early trading)
Shares of IAC/InterActive Corp. fell today after reporting disappointing 4Q earnings.  Earnings per share (EPS) came in at $0.88 vs. the consensus estimate of $0.91.  Revenue fell 5.3% from a year ago, to $724.5 million, down from the $743.7 million estimate.
I removed the stock from Goodfellow LLC coverage on Dec. 13, due to slow projected 2014 earnings growth of about 7%.
On January 14 I said, "I would continue to hold shares for additional gains, and put in a stop-loss order at $67.50."  Shareholders who did not take that advice should begin practicing using stop-loss orders on their less volatile stocks, so that when their stocks unexpectedly fall, they retain more of their capital, and are able to subsequently "buy low" during market downturns.
IACI fell through recent price support, and could easily fall to $60 in this weak market.

* * * * *
Merck Slightly Underperforms in 4Q, Stock Rises
(MRK, $54.63, up $1.12)
Global healthcare giant Merk & Co. reported fourth quarter earnings per share (EPS) this morning, a fraction below analysts' estimates.  EPS rose 6% vs. last year, and sales were down 4% due to patent expirations and adverse foreign exchange conditions.
Merck shares do not earn a buy rating at Goodfellow LLC due to lack of earnings growth.  Earnings per share (EPS) fell in 2013, are expected to be flat in 2014, with 7% growth in 2015.
Merck shares are up 9.6% since December 30 when I told investors to hold the stock, saying "Merck shares … will probably break past the Dec. 2 annual high of $50.42 in the near-term.  Traders could plan to buy shares on the breakout."
Continue to hold MRK, and use stop-loss orders to protect the downside.  I would put in a stop at $51.50, and be prepared to raise it as soon as it becomes clear that MRK shares are going to remain above $53.50.
To reiterate, I would never buy a stock like MRK which lacks earnings growth.  To see more about my investment strategy at Goodfellow LLC, and our recommended stocks, subscribe now.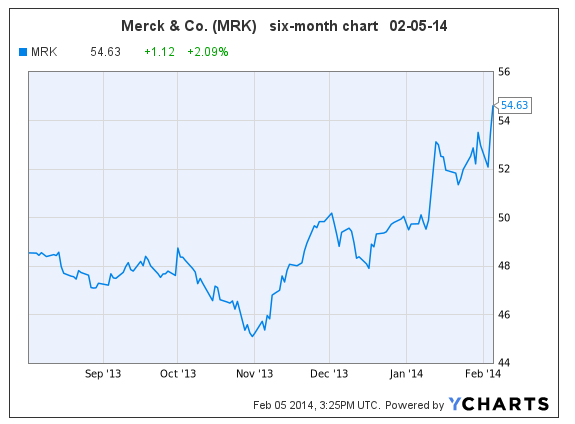 * * * * *
Michael Kors Reports Third Quarter Blowout
(KORS, $89.78, up $13.11 midday)
Shares of apparel & accessory manufacturer Michael Kors Holdings (KORS) are reaching new highs again as the company reports a surprisingly strong third quarter.  Earnings per share (EPS) and same store sales were higher than expected, with solid growth across all product categories.
KORS shares are up 40% since we said "buy" on Ransom Notes Radio on May 29, 2013.  
* * * * *
Clorox Earnings Miss on Second Quarter
(CLX, $85.63, down $0.73 midday)
Clorox reported second quarter 2014 earnings per share (EPS) of $0.88 today, vs. the consensus estimate of $0.91.  The earnings miss was due to higher ad spending and tax rates.  Revenue pleased analysts on the upside, as did gross margins.
The company guided analysts lower on full-year 2014 projections (June year-end), due to adverse foreign exchange rates.
Clorox's earnings per share (EPS) are expected to grow 5-7% per year for the next 3 years.  The 2014 PE is 18.9, and the dividend yield is 3.3%.  The long-term debt ratio is very high at 94%.
The EPS growth rate is too low, and the PE & debt ratios too high, to earn a buy rating at Goodfellow LLC. The stock has recently fallen to support levels around $85/$86, established last spring and summer.  If I owned the stock, I would plan to sell near resistance at $89/$90, and then reinvest in a stock with strong earnings growth and a bullish chart.
It is unreasonable to expect a company with lackluster balance sheet data to perform well in a neutral stock market. Also, any investors who didn't have a stop-loss order in below $92 when the stock fell in January should now learn how to do that so that they don't end up unnecessarily leaving money on the table in the future.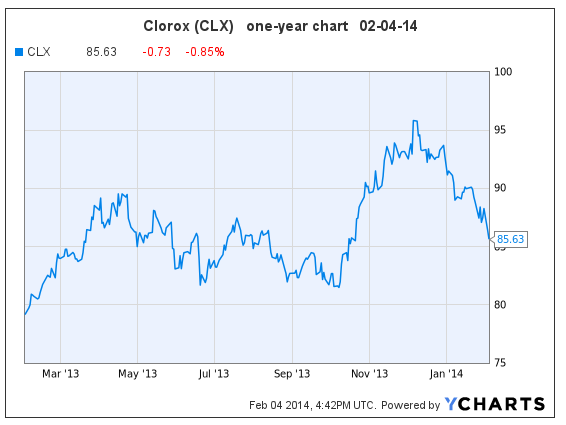 * * * * *
Ford & GM Shares Fall on Poor January Sales
(F, $14.52, down $0.44 midday)   (GM, $35.40, down $0.68 midday)
January sales at Ford Motor Co. and General Motors fell 7.5% and 12%, respectively, stunning analysts who expected drops of 2.2% and 2.5%.  Cold weather kept buyers away from car dealerships.
Ford shares do not earn a buy rating at Goodfellow LLC due to high debt and falling 2014 earnings.  The chart is very weak, but will likely find support here at the lows from last May/July 2013.  It seems too late to short the stock, and way too early to buy.
If I owned Ford today, I'd sell it and reinvest in a growth stock with a bullish chart.  The best it might reach in the short-term is about $15.80.  Subscribe now and see Monday's "Buy List" for weekly ideas on such stocks.
I wrote about GM on January 13, and listed the reasons that I wouldn't own the stock.  However, the chart & earnings scenario is completely different on GM than it is on Ford.  If I owned GM shares, I would hold them for an expected near-term rebound to about $38.50, then reassess at that time.
Goodfellow LLC Rating on General Motors: Hold, Public.  (02-03-14)
(scroll down farther for GM's chart)
* * * * *
Happy investing!
Crista Huff
President
Goodfellow LLC
* * * *
Investment Disclaimer Release of Liability: Through use of this website viewing or using you agree to hold www.GoodfellowLLC.com and its employees harmless and to completely release www.GoodfellowLLC.com and its employees from any and all liability due to any and all loss (monetary or otherwise), damage (monetary or otherwise), or injury (monetary or otherwise) that you may incur. Goodfellow LLC and its employees are not paid by third parties to promote nor disparage any investment. Recommendations are based on hypothetical situations of what we would do, not advice on what you should do. Neither Goodfellow LLC nor its employees are licensed investment advisors, tax advisors, nor attorneys. Consult with a licensed investment advisor and a tax advisor to determine the suitability of any investment. The information provided herein is obtained from sources believed to be reliable but is not guaranteed as to accuracy or completeness. When information is provided herein from third parties — such as financial news outlets, financial websites, investment firms, or any other source of financial information – the reliability or completeness of such financial information cannot be guaranteed. The information contained on this website is provided for informational purposes only and contains no investment advice or recommendations to buy or sell any specific securities. This is not an offer or solicitation for any particular trading strategy, or confirmation of any transaction. Statements made on the website are based on the authors' opinions and based on information available at the time this page was published. The creators are not liable for any errors, omissions or misstatements. Any performance data quoted represents past performance and past performance is not a guarantee of future results. Investments always have a degree of risk, including the potential risk of the loss of the investor's entire principal. There is no guarantee against any loss. * * * * Goodfellow LLC is a subscription-only stock market website. We strive to identify financially healthy companies in which traders and investors can buy shares and earn dividends and capital gains. See disclaimer for the risks associated with investing in the stock market. See your tax advisor for the tax consequences of investing. See your estate planning attorney to clarify beneficiary and inheritance issues associated with your assets.