V.F. Corp. Completes Recent Run-up
(VFC, $58.95, down $0.44 in afternoon trading)
Shares of V.F. Corp. peaked in early January, and are now establishing a trading range, most likely between $58-$63.50.
On December 23, when the price was $61.45, I said, "The 2014 PE is 19.9, indicating an overvalued stock.  The chart is overextended."
Shares in V.F. Corp. (VFC) split four-for-one on December 20, 2013.  See additional comments from Nov. and Oct.
Subscribe now to see earnings projections, PE, and my recommendation on whether to buy/sell/hold V.F. Corp. shares.

* * * * *
Warning: Alexion Pharmaceuticals is Overvalued, Heading Into Earnings Report
(ALXN, $139.91, up $0.10 midday)
Alexion Pharmaceuticals stock is on a tear, way into overvalued territory, and due to report earnings before the market opens on Thursday, January 30.  Odds are STRONG that the stock will see a lot of profit-taking that day.  If you're in Alexion for short-term gains, and you don't have a tight stop-loss order on the stock right now, you're out of your mind.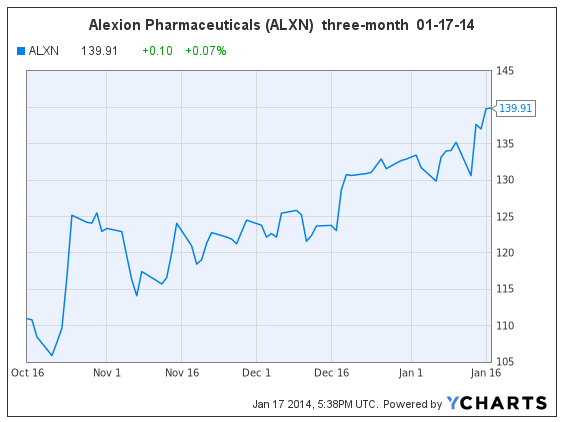 * * * * *
Morgan Stanley Reports Full Year Earnings
(MS, $33.38, up $1.38 in morning trading)
Investment banker Morgan Stanley reported fourth quarter and full year earnings today, pleasing Wall Street with strong performance in the areas of equities, and investment management.  The CFO indicated the company's intentions to increase share repurchases and dividends.  Revenues came in low from commodities, and interest rates continue to hamper fixed income performance.
This week, Reuters reported, "Morningstar named Dennis Lynch and the Morgan Stanley Investment Mangement Growth Team as the 2013 U.S. Domestic-Stock Fund Manager of the Year."  The award honors Morgan Stanley for 2013 performance, and long-term risk adjusted performance of its mutual funds.
Prior to today's report, earnings per share (EPS) were expected to grow 23% and 19% in 2014 & '15.  The PE is 13.6 and the dividend yield is 0.6%.
Shares are up 13.1% since October 21 when I said, "Investors should buy now, and will likely experience more than 10% short-term capital appreciation."  And shares are up at least 28% since last summer, when we told Ransom Notes Radio listeners, "Growth stock investors should accumulate shares under $26."
* * * * *
Best Buy — Worst Stock 
(BBY, $27.22, down $10.35 midday)
Shares of Best Buy are down 28% midday as the company reported weaker-than-expected holiday sales.  Comparable store sales fell 0.9% year-over-year; however, online sales grew 23.5%.  Standard & Poor's commented today, "Greater-than expected promotional activity in the industry during the holiday season is likely to persist into 2014, in our view, weighing on gross margins, although we see some offset from more aggressive expense reductions."
Prior to today's sales report, full-year earnings per share (EPS) were expected to fall -7% when Best Buy wraps up its fiscal year on January 31; then climb 16% and 20% in 2015 & '16.  Those estimates will likely be revised downward in the coming days, as Wall Street reevaluates Best Buy's growth prospects.
The 2015 PE is quite low at 9.6.
I haven't written about Best Buy since February 2013, when I briefly commented on falling earnings, the falling stock price, and a failed buyout attempt.  I will not consider recommending BBY shares until I see the newest earnings projections, and until the stock chart turns bullish.  Current shareholders who weren't using stop-loss orders have lost their opportunity to rescue their gains from second half 2013.
My expectation is that the stock will close around $30 today, and then bounce up to $34 in the very near-term.  If I currently owned BBY shares, I would put in a sell order at $34, then move on to a stock with strong earnings growth projections and a bullish chart.
Goodfellow LLC Rating:  Hold, Growth, Value, Volatile, Public.  (01-16-14)

* * * * *
General Motors May Start Paying Dividends
(GM, $39.98, down $0.04 in early trading)
General Motors Co. President Dan Ammann said yesterday that the company is getting closer to reinitiating a quarterly dividend payout.
The U.S. Treasury recently sold all its holdings in General Motors, closing the book on GM's 2009 government bailout, and bankruptcy.  The company is now free to repurchase shares and/or establish a quarterly dividend.  However, the company still has a large unfunded pension obligation hanging overhead.
GM's revenues are expected to climb in the low-single-digits in 2014.  Large 2013 European losses are expected to taper in 2014.
GM's earnings-per-share (EPS) growth projections remain unchanged since my August report; expected to increase 5% this year, then 35% and 19% in 2014 & '15.  The 2014 PE is very low at 8.7.
I last wrote about GM on Aug. 6, 2013 on Ransom Notes Radio, when I told investors to hold their shares.
GM does not earn a Goodfellow LLC buy-rating, largely due to the serious government hand-holding it receives, and its history of dodging responsibilities to employees, shareholders and taxpayers, who have been left holding the bag multiple times:
once when the stock became worthless in 2009,

a second time when the U.S. government recently sold its GM holdings at a loss,

and a third time now as employees worry whether their pension payouts will ever materialize.
If I owned the stock, I would hold it due to strong projected earnings growth and low PE.  In addition, a new dividend will prompt mutual funds to purchase large amounts of shares, contributing to an increased stock price.
That being said, I don't invest in companies with intricate government ties.  Such companies don't operate under capitalism, but rather, socialism.  The U.S. stock market, and all of my investment criteria, are based on free market economics.  When poseurs slip into the mix, their allure can surely be tempting — who wouldn't want to own a stock with 35% earnings growth and a PE of 8.7?  However, investors need to remember the story, The Emperor's New Clothes.
My stock market approach is just as much about mitigating risk as it is about fundamental and technical criteria.  98% of the time, I weed out investment risk via the charts and numbers; but in this case, I'm weeding out the risk by avoiding companies with close ties to the U.S. government.
Goodfellow LLC rating:  Aggressive Growth, Hold, Volatile, Public.  (01-13-14)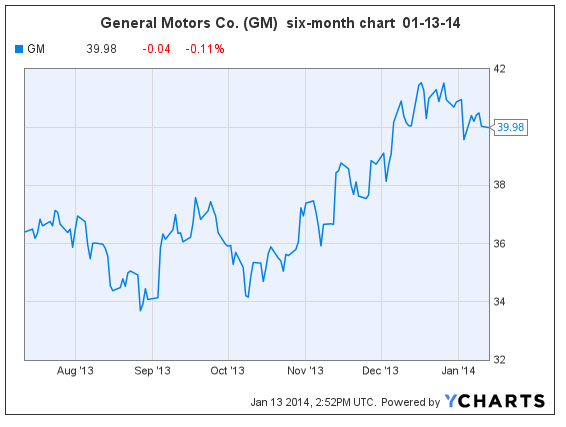 * * * * *
Happy investing!
Crista Huff
President
Goodfellow LLC
* * * *
Investment Disclaimer
Release of Liability: Through use of this website viewing or using you agree to hold www.GoodfellowLLC.com and its employees harmless and to completely release www.GoodfellowLLC.com and its employees from any and all liability due to any and all loss (monetary or otherwise), damage (monetary or otherwise), or injury (monetary or otherwise) that you may incur.
Goodfellow LLC and its employees are not paid by third parties to promote nor disparage any investment. Recommendations are based on hypothetical situations of what we would do, not advice on what you should do.
Neither Goodfellow LLC nor its employees are licensed investment advisors, tax advisors, nor attorneys. Consult with a licensed investment advisor and a tax advisor to determine the suitability of any investment.
The information provided herein is obtained from sources believed to be reliable but is not guaranteed as to accuracy or completeness. When information is provided herein from third parties — such as financial news outlets, financial websites, investment firms, or any other source of financial information – the reliability or completeness of such financial information cannot be guaranteed.
The information contained on this website is provided for informational purposes only and contains no investment advice or recommendations to buy or sell any specific securities. This is not an offer or solicitation for any particular trading strategy, or confirmation of any transaction. Statements made on the website are based on the authors' opinions and based on information available at the time this page was published. The creators are not liable for any errors, omissions or misstatements. Any performance data quoted represents past performance and past performance is not a guarantee of future results. Investments always have a degree of risk, including the potential risk of the loss of the investor's entire principal. There is no guarantee against any loss.
* * * *
Goodfellow LLC is a subscription-only stock market website. We strive to identify financially healthy companies in which traders and investors can buy shares and earn dividends and capital gains. See disclaimer for the risks associated with investing in the stock market. See your tax advisor for the tax consequences of investing. See your estate planning attorney to clarify beneficiary and inheritance issues associated with your assets.