There's a lot going on in the stock market today, January 24.  Emerging markets and currencies are in upheaval, and earnings reports are flowing in, contributing to this week's market volatility.
I'll briefly mention any relevant news, with links to news stories, and then tell you what I would do with each of today's stocks.  (Please note:  Goodfellow LLC buy-recommended stocks are featured in a separate weekly feature, Featured Stocks in Action.)
* * * * *
Honeywell Reports Earnings Beat
(HON, $89.31, down $0.49 midday)
Aerospace and technology company Honeywell International Inc. reported fourth quarter earnings which exceeded last years earnings by 13%, and exceeded analysts' estimates as well.
Earnings per share (EPS) are expected to grow 12% and 10% in 2014 & '15.  The 2014 PE is 16.1.  The earnings growth rate is a little too slow to earn a buy rating at Goodfellow LLC.
On October 18 I said, "The stock price has run-up 30% YTD, and appears capable of breaking past short-term upside resistance at $87 in the near-term."  The stock broke out a week later, and the chart remains bullish.  If I owned the shares, I would use a stop-loss order around $87.75 to protect my downside.
Goodfellow LLC Rating:  Hold, Growth & Income, Public.  (01-24-14)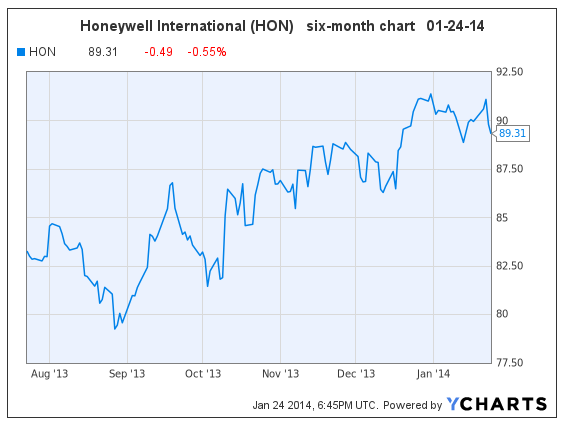 * * * * *
Icahn Urges Apple to Buy Back More Shares
(AAPL, $550.54, down $5.64 midday)
Earnings per share (EPS) are expected to grow 10%, 10%, and 5% in fiscal years 2014 through 2016 (Sept. year-end).  The 2014 PE is 12.6.  The earnings growth rate is too slow to earn a buy rating at Goodfellow LLC.
I encouraged investors to hold their shares of Apple on December 23, due to the bullish chart.  The stock has been trading between $529-$572 since Thanksgiving.  My suggestion is to use stop-loss orders to protect profits, and let the stock continue to rise while the chart is bullish.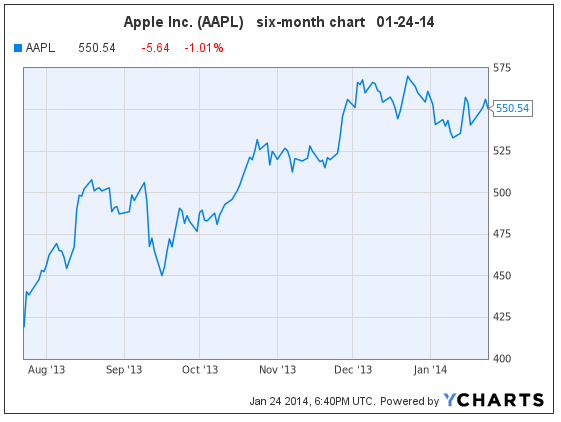 * * * * *
Procter & Gamble Reports Second Quarter Earnings
(PG, $80.43, up $2.19 midday)
Consumer goods manufacturer Procter & Gamble Co. reported slightly-higher-than-expected second quarter earnings growth today, sending the stock surging upward.  However, profit was down 16% vs. last year.
Earnings per share (EPS) are expected to grow 5%, 9%, and 9% in fiscal years 2014 through 2016.  The 2014 PE is 19.0.  The earnings growth rate is too slow, and the PE is comparably too high, to earn a buy rating at Goodfellow LLC.
The stock chart is weak.  If I owned the stock, I would sell now, and certainly no higher than $81.75.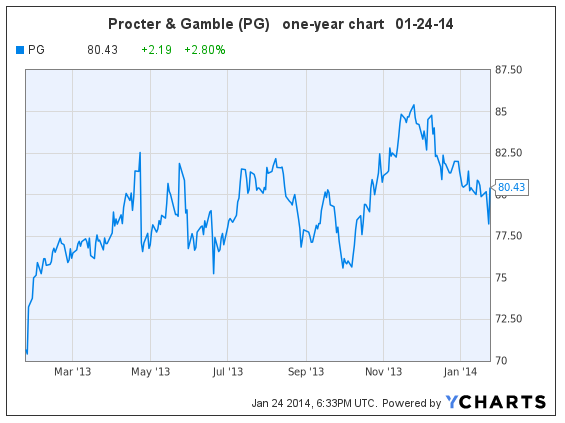 * * * * *
Microsoft Stock Rises on Second Quarter Earnings Beat
(MSFT, $37.13, up $1.07 midday)
Earnings are projected to be flat in 2014, then grow 8% in 2015.  The 2014 PE is 13.8.
I wrote extensively about Microsoft on September 17, saying "earnings growth is too slow to give investors a compelling reason to buy the stock when they can buy companies like Verizon Communications (VZ), Dow Chemical (DOW), and Lorillard (LO) with a better combination of earnings growth & dividend yield."
Based on today's chart, if I owned Microsoft shares, I would protect the downside with a stop-loss order at $34.50, and I would be prepared to sell near-term at upside resistance around $37.75.  I am not comfortable owning stocks which lack earnings growth, because there's no logical reason for the price to go up.  Therefore, I would extricate myself from the stock as soon as is reasonably possible.
* * * * *
Bristol-Myers Reports Fourth Quarter Earnings
(BMY, $52.00, down $1.95 midday)
Pharmaceutical giant Bristol-Myers Squibb Company beat fourth quarter consensus estimates by a wide margin in today's earnings report.
Earnings are projected to grow 2% in 2014, then fall 6% in 2015.  The 2014 PE is 28.  An occasional quarterly earnings beat will not make a big dent in those numbers.  Bristol-Myers' stock does not meet the investment criteria to earn a buy recommendation at Goodfellow LLC.
On Sept. 12, I told Ransom Notes Radio listeners that the stock "lacks earnings growth" and is "grossly overvalued".  My opinion stands. The stock is on an uptrend.  If I owned the stock, I would have been stopped out today.  If I hadn't been using stop-loss orders, I would put in a limit order to sell near upside resistance at $54.25*, and then move on to a stock with strong earnings growth. 
(* Correction:  Please excuse the error in this original report, when this number read $33.25.)

* * * * *
Please read today's report on eBay Inc. (EBAY).
* * * * *
* * * * *
Dow Chemical Jumps as Activist Investor Reveals Interest
(DOW, $45.34, up $2.27 in early trading)
Activist investor Daniel Loeb revealed in a letter to investors that he has taken a large stake in Dow Chemical Co.  Loeb wants DOW to spin off its petrochemical arm.  DOW is currently divesting its chlorine business.
Dow Chemical shares are the largest investment in Loeb's hedge fund, Third Point.  The stock is up over 5% this morning on the news.
Subscribe now to read my comments from today on chemical stocks; and DOW's earnings, chart, and my buy/hold/sell recommendation.
* * * * *
Shares in Nike Inc. (NKE, $73.39) have fallen through price support, and are likely to bounce at $70.  The share price drop can most likely be linked to 2014 earnings growth projections, which have been falling for several months — currently at 11% — and the high PE.  (Nike operates on a May fiscal year.)
I warned investors that the share price was overextended, and to use stop-loss orders, on October 21, and again on November 15.
At this point, I won't be recommending Nike shares again until the earnings growth rate increases, as it is projected to do in fiscal 2015.  If I currently owned the shares, I would sell now and move on.  I think the best price anybody's going to see for the next few months will be $76.

* * * * *
Cheesecake Stock Turns Sour
Shares of The Cheesecake Factory Inc. (CAKE, $45.15) plummeted yesterday on the heels of a Barron's article warning investors away from high-PE restaurant stocks.  The Credit Suisse analyst, on whose research the article is based, favored CAKE shares over the bulk of the restaurant stocks she reviewed.  Presumably investors had stop-loss orders in, at the bottom of CAKE's well-established trading range.
Wall Street expects CAKE's 2013 earnings growth to be 13%; followed by 12% and 55% growth in 2014 & '15.  The 2014 PE is 19.0, and the 2015 PE is 12.3.
Revenue and earnings growth is coming from new store openings — approximately 8-10 new stores in 2013, and again in 2014; share repurchases; and wider operating margins resulting from economies of scale.
CAKE shares were featured in my August 2013 portfolio*.  The stock peaked at $49.74 in November, giving it a maximum three-month gain of 14.6%.
Near-term earnings growth has slowed enough that the stock does not currently earn a buy rating from Goodfellow LLC.  Shareholders who were not using stop-loss orders will probably see the stock trade between $44.50-$47.00 in the near-term.  If strong earnings growth projections remain relatively intact for 2015, I would expect the stock to retrace its recent highs within a few short months, barring any overall market correction.
Goodfellow LLC Rating: Hold, Growth & Income, Public. (01/18/14)
* My August 2013 portfolio rose 19.16% through year-end, beating the S&P 500 by a margin of 61%.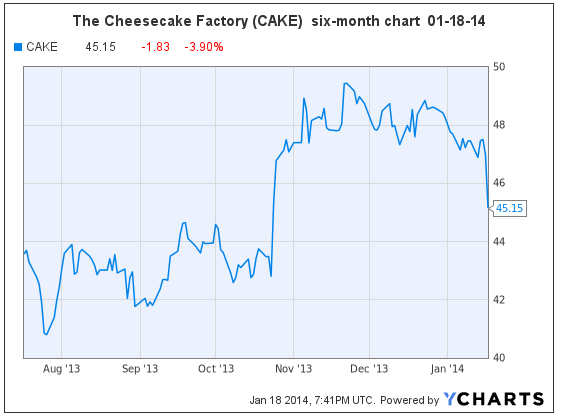 * * * * *
Happy investing!
Crista Huff
President
Goodfellow LLC
* * * *
Investment Disclaimer Release of Liability: Through use of this website viewing or using you agree to hold www.GoodfellowLLC.com and its employees harmless and to completely release www.GoodfellowLLC.com and its employees from any and all liability due to any and all loss (monetary or otherwise), damage (monetary or otherwise), or injury (monetary or otherwise) that you may incur. Goodfellow LLC and its employees are not paid by third parties to promote nor disparage any investment. Recommendations are based on hypothetical situations of what we would do, not advice on what you should do. Neither Goodfellow LLC nor its employees are licensed investment advisors, tax advisors, nor attorneys. Consult with a licensed investment advisor and a tax advisor to determine the suitability of any investment. The information provided herein is obtained from sources believed to be reliable but is not guaranteed as to accuracy or completeness. When information is provided herein from third parties — such as financial news outlets, financial websites, investment firms, or any other source of financial information – the reliability or completeness of such financial information cannot be guaranteed. The information contained on this website is provided for informational purposes only and contains no investment advice or recommendations to buy or sell any specific securities. This is not an offer or solicitation for any particular trading strategy, or confirmation of any transaction. Statements made on the website are based on the authors' opinions and based on information available at the time this page was published. The creators are not liable for any errors, omissions or misstatements. Any performance data quoted represents past performance and past performance is not a guarantee of future results. Investments always have a degree of risk, including the potential risk of the loss of the investor's entire principal. There is no guarantee against any loss. * * * * Goodfellow LLC is a subscription-only stock market website. We strive to identify financially healthy companies in which traders and investors can buy shares and earn dividends and capital gains. See disclaimer for the risks associated with investing in the stock market. See your tax advisor for the tax consequences of investing. See your estate planning attorney to clarify beneficiary and inheritance issues associated with your assets.