Williams-Sonoma Shares Surge on Full-Year 2014 Numbers
(WSM, $65.72, up 6.75 midday)
Shares of home products retailer Williams-Sonoma are surging 11% midday on the company's estimated 2014 full-year earnings per share (EPS) of $3.05 – $3.15 vs. the consensus $2.82 (January year-end).
The company reported fourth quarter 2014 earnings of $1.38 per share, above the consensus estimate of $1.35; and also projected lower first quarter EPS than Wall Street had expected.
Additionally, Williams-Sonoma announced a quarterly dividend increase of 6%, from $0.31 to $0.33.
Wall Street expects WSM's earnings per share (EPS) to grow 12%, 13% and 13% in 2015 through 2017 (January year-end).  I expect those numbers to adjust, after today's earnings surprise is factored in.
The 2015 PE is high at 20.6, and the dividend yield is 1.9%.  WSM's long-term debt ratio is less than 1%.
When I last wrote about Williams-Sonoma at Townhall Finance in September 2013, I said, "The stock is trading between $55 and $61, and appears stable and fully valued.   We would neither buy nor sell at this time."  The stock proceeded to trade sideways until today.
Today's breakout is bullish, and bodes well for near-term price appreciation.  However, I wouldn't buy the stock because it's overvalued right now.
Goodfellow LLC Rating:  Hold, Growth, Growth & Income, Public.  (03-13-14)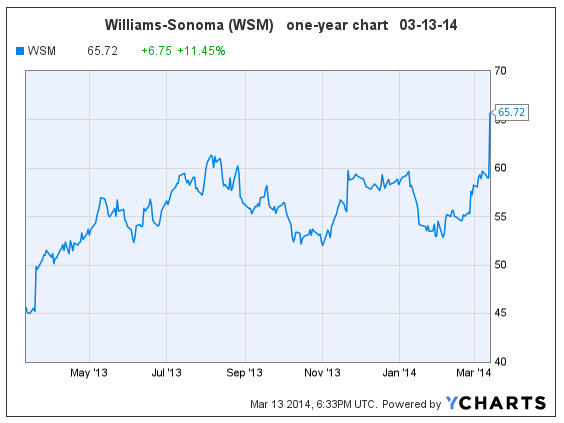 * * * *
Carl Icahn Continues to Push for PayPal Spin-Off at eBay
(EBAY, $56.84, down $1.14 midday)
Activist investor Carl Icahn continues to agitate against eBay Inc. with the nomination of two Icahn Enterprises employees to eBay's Board of Directors.  eBay's Chairman rejected the nominees as unqualified, and also cited the fact that each is serving on more boards of directors than is acceptable under eBay's guidelines.  (Read more from Reuters.)
I wrote extensively about Icahn's desire for a PayPal spin-off at eBay, on January 23.  Icahn's share ownership has since increased to approximately 2% of outstanding eBay common stock.
Earnings per share (EPS) growth projections at eBay have also increased since my January report, to 10%, 13% and 14% in 2014 through 2016 (December year-end).  The 2014 price-earnings ratio (PE) is high at 19.0.
The stock is finally breaking out from a medium-term trading range, currently trading between roughly $56-$60.  The chart is bullish, but the stock is overvalued.
If I owned the stock, I'd hold it, due to the bullish chart; and I wouldn't even worry about stop-loss orders, because there's so much price support in the low $50's.  I would neither buy the stock on spin-off speculation, nor short the stock right now.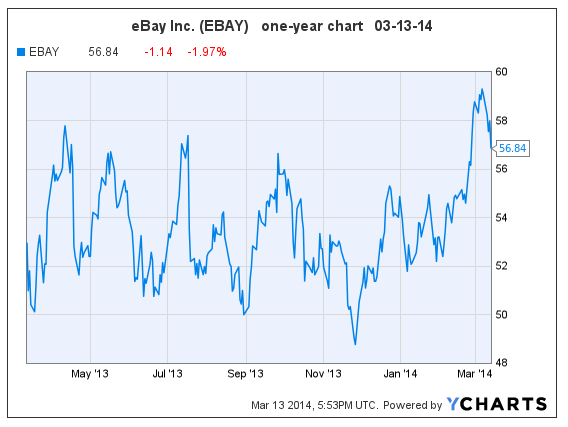 * * * * *
Pfizer's Celebrex Patent to Expire Earlier than Expected
A U.S. District Court has ruled that global biopharmaceutical company Pfizer Inc.'s reissue patent on Celebrex has been invalidated.  In light of the ruling, the current patent will expire May 30, 2014, 18 months earlier than expected.
Pfizer intends to appeal the ruling.
Morgan Stanley commented, "Now generics may enter on May 30, 2014.  …we view the news as immaterial."
Pfizer's earnings per share (EPS) are expected to grow between 0.5%-4.4% in each of the next three years, far too slowly to qualify for a buy rating at Goodfellow LLC.
The stock traded down late in today's trading on litigation news.  PFE shares are on a long-term rebound from the 2008 Financial Meltdown, and broke through upside resistance again last week.  I wouldn't expect the stock to trade any lower than $31 on the litigation disappointment.
More importantly, Pfizer has no decent earnings growth in sight.  If I owned the stock, I would let it rise, but use a stop-loss order around $31/$31.50 to protect my downside.  (Note:  I wouldn't put the stop-loss in, at this point, until after the stock bounces around tomorrow morning.  The stock could whipsaw a bit as investors search the news to see if the Celebrex ruling is significant or inconsequential.)
To reiterate, I would neither buy nor sell shares, based on the current earnings outlook and chart pattern.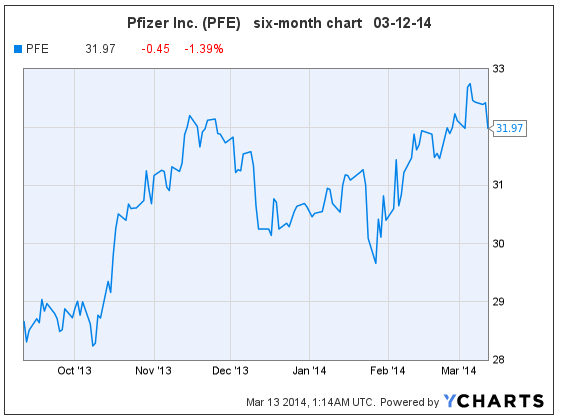 * * * * *
Boeing (BA):  Buy, Sell, Hold?
(BA, $126.29, down $0.60 midday)
The Boeing Company is in the news due to the disappearance of Malaysia Airlines flight 370.  There is a possibility that a flaw in the aircraft design or production could have led to a fatal malfunction.  Of course, there are also possibilities of problems relating to human error, terrorism, or natural occurrences (weather, etc.).
Standard & Poor's (S&P) commented today, "BA shares dropped 1.3% yesterday, we think related primarily to two items. First, uncertainty about the cause of Malaysia Airlines flight 370, and secondly, news that some 787s in production developed structural wing cracks. We think both of these items, while serious, ultimately are unlikely to harm BA. There is nothing so far to tie the missing plane to anything wrong with the aircraft. Second, BA caught the problems with the 787 wings in production and no planes in the marketplace have similar problems. With a huge backlog and strong demand, we remain positive on the shares."
Boeing shares do not meet the strict investment criteria for a buy rating at Goodfellow LLC because projected 2014 earnings per share (EPS) growth is very low at 4.4%.
The stock recently reached an all-time high of $144.57 in January, then fell to a low of $118.77 in early February, in synch with an overall stock market correction.  For the last four weeks, the stock has traded in a tight range of $126-$131.
I wouldn't normally own a stock with slow earnings growth and a fairly neutral chart.  If somebody gave me the shares as a gift today, I would put in a stop-loss order at $124, and let the stock rise if it wants to, expecting additional price resistance at roughly   $136.
If I were a long-term buy-and-hold investor, I would hold the stock, because earnings growth is expected to pick up somewhat in 2015 and 2016.
If I did not own the stock, I would neither buy it nor short it right now; but would rather invest in a growth stock with a bullish chart.  For good investment ideas, subscribe to Goodfellow LLC and read our weekly features, Monday's "Buy List" and Featured Stocks in Action.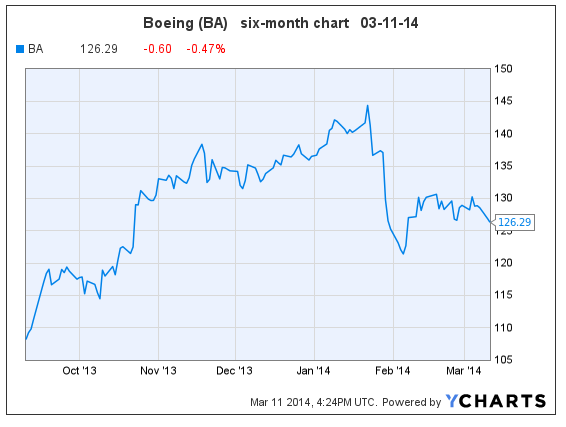 * * * * *
(CQB, $12.12, up $1.28 midday)
I'm not going to bother reporting extensively on Chiquita Brands' acquisition of Fyffes, because Chiquita does not remotely meet Goodfellow LLC investment criteria, due to its low price and high debt ratio.  I rarely recommend stocks with prices lower than $20 per share, due to their often-irrational volatility.  In addition, Chiquita's long-term debt/equity ratio is very high at 157%.At Goodfellow LLC, our goal is to outperform the S&P 500 index while minimizing risk.  We minimize risk by seeking to minimize volatility, through strict fundamental and technical criteria.
There is price resistance around $11.80-$12.00.  If I owned the stock, I would sell there, and move my capital into a growth stock with a bullish chart, which also meets my investment criteria.
Subscribe now to find better growth stock investment ideas.  For only $25, you can have full access to this growth stock website, to determine whether the investment ideas at Goodfellow LLC can outperform your other stock market resources.  Join us!


* * * * *
United Rentals Acquires Private Rental Businesses
(URI, $91.59, up $3.10 in early trading)
United Rentals announced yesterday that they will acquire National Pump, the second largest pump rental company in North America, for $780 million.  The deal will enhance URI's service to the petrochemical industry.
They will also acquire GulfCo, a rental business in Texas.
The stock is up 3.5% today on the acquisition news.
URI also expects to buy back $450 million of stock by April 2015.
URI is up 65.2% since we featured the stock on Ransom Notes Radio on July 17, 2013 at $55.43.
Subscribe now to read additional commentary on the United Rentals acquisitions, fundamental & technical analysis, and our buy/hold/sell recommendation on the stock.
* * * * *
Big Lots Surges after Reporting 4Q
Shares of Big Lots (BIG, $35.97) were up 23% on Friday after reporting fourth quarter 2014 earnings per share (EPS) of $1.45 vs. the consensus estimate $1.40.  Revenue came in slightly below projections.
Big Lots is a closeout retailer, with over 1500 stores in North America.  The company is in the midst of a series of strategic changes, including hiring a new CEO in May 2013, exiting its wholesale distribution business, closing 78 Canadian stores, the rollout of coolers and freezers, a new merchandising strategy, and Friday's announcement of a new $125 million share repurchase program.  
BIG does not earn a buy rating at Goodfellow LLC due to projected EPS growth of 2% in 2015 (January year-end).  At Goodfellow LLC, we focus on companies with strong earnings growth because their stocks more reliably produce capital gains.
The stock has been trading sideways for over four years, generally ranging $26-$47, and reaching a low point in February '14.  When the stock reaches price resistance at $38/$39, it could easily fall back down to support at $32.
If I owned the stock, I'd sell it now.  Normally, I would wait for a rebound to a recent resistance level.  But considering the weakness in the stock through February, and the irrational price gain on March 7, I would consider myself lucky to take the money and run.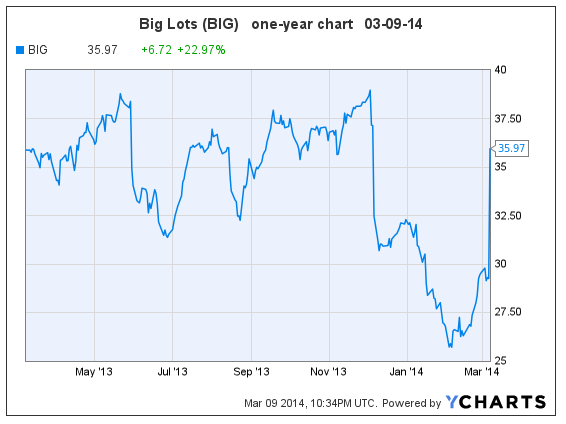 * * * * *
Happy investing!
Crista Huff
President
Goodfellow LLC
* * * *
Investment Disclaimer Release of Liability: Through use of this website viewing or using you agree to hold www.GoodfellowLLC.com and its employees harmless and to completely release www.GoodfellowLLC.com and its employees from any and all liability due to any and all loss (monetary or otherwise), damage (monetary or otherwise), or injury (monetary or otherwise) that you may incur. Goodfellow LLC and its employees are not paid by third parties to promote nor disparage any investment.
Recommendations are based on hypothetical situations of what we would do, not advice on what you should do. Neither Goodfellow LLC nor its employees are licensed investment advisors, tax advisors, nor attorneys. Consult with a licensed investment advisor and a tax advisor to determine the suitability of any investment.
The information provided herein is obtained from sources believed to be reliable but is not guaranteed as to accuracy or completeness. When information is provided herein from third parties — such as financial news outlets, financial websites, investment firms, or any other source of financial information – the reliability or completeness of such financial information cannot be guaranteed. The information contained on this website is provided for informational purposes only and contains no investment advice or recommendations to buy or sell any specific securities.
This is not an offer or solicitation for any particular trading strategy, or confirmation of any transaction. Statements made on the website are based on the authors' opinions and based on information available at the time this page was published. The creators are not liable for any errors, omissions or misstatements. Any performance data quoted represents past performance and past performance is not a guarantee of future results.
Investments always have a degree of risk, including the potential risk of the loss of the investor's entire principal. There is no guarantee against any loss.
* * * *
Goodfellow LLC is a subscription-only stock market website. We strive to identify financially healthy companies in which traders and investors can buy shares and earn dividends and capital gains. See disclaimer for the risks associated with investing in the stock market. See your tax advisor for the tax consequences of investing. See your estate planning attorney to clarify beneficiary and inheritance issues associated with your assets.