Financial Stocks Win Fed's Annual Stress Test
Shares of financial companies surged today, spurred on by annual results of the Federal Reserve's stress test, in which large financial institutions are examined for their abilities to withstand a severe economic downturn.  Only one of the 30 companies in the test failed to meet minimum balance sheet requirements.
The industry experienced an orderly stock market correction when the S&P 500 fell earlier this year.  The stocks having been rebounding in unison toward their January highs, and beyond.
On February 23 I said, "Financial stocks are showing a uniformity in their recovery from the recent market correction.  I encourage investors to 'buy low' within the financial sector."
Subscribe now to read more about four of the stocks which passed this years stress test, in my weekly feature, Featured Stocks in Action.
* * * * *
Toyota Settles Recall Litigation; Stock Continues Falling
(TM, $107.13, down $1.55 midday)
Toyota Motor Corporation, the world's biggest-selling car maker, has reached a $1.2 billion settlement with the U.S. Justice Department over consumer complaints associated with unintended vehicle acceleration.  The after-tax charge will be taken in Toyota's fourth quarter ending March 31, 2014.
Hundreds of personal-injury lawsuits remain to be settled.  Toyota will avoid criminal penalties.
Toyota has been handling the recall problems and cooperating with the U.S. Attorney's office for four years.  The $1.2 billion settlement comes on the heels of $1 billion that Toyota paid last year to resolve economic loss claims.  "During that time, we have made fundamental changes to become a more responsive and customer-focused organization, and we are committed to continued improvements," said a company spokeswoman.
In other news, after a six-year slump in European car sales, February sales rose for the sixth straight month.  Toyota led the pack with a sales increase of 14%.  Spain, Portugal, and Ireland are experiencing the biggest sales rebound within the EU.
Profits are expected to steadily rise at Toyota, enhanced by cost-cutting measures.  Morgan Stanley commented in February, "Management has said it will maintain a solid profitability through extensive cost management in Asia, the biggest concern on the fundamentals side."
The stock has a dividend yield of 2.0%.
Toyota's stock has huge price resistance in the low $130's, where the stock last traded in 2007 (see ten-year chart, below).  The stock worked toward retracing those highs through August 2013, at which point it began trading sideways.  Then the chart began collapsing in the Fall of 2013.  Minimally, the stock should fall to $100 before it begins stabilizing.  I would not expect a quick rebound.
If I owned this stock, I would sell it and reinvest in a company with strong earnings growth and a bullish chart.  Goodfellow LLC subscribers should look to our weekly feature,  Monday's "Buy List", for good investment ideas.
I would not buy this stock, due to the bearish chart.  There is room to make money in shorting the stock.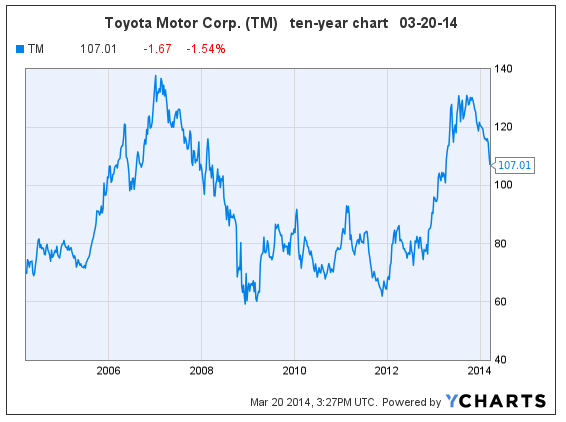 * * * * *
FedEx Reports Stormy Third Quarter Results
 (FDX, $139.46, up $0.89 in early trading)
FedEx Corp., the world's largest cargo airline, reported this morning that a preponderance of winter storms caused third-quarter earnings per share (EPS) to come in at $1.23, much lower than the $1.45 expected by Wall Street, and higher than $1.13 last year.  The company also warned analysts that full-year numbers will consequently come in lower than expected.
S&P commented today, "We think FDX continues to take market share and is well positioned for global economic growth."
The share price is up 42% since we told Ransom Notes Radio listeners to accumulate FedEx under $98 in early June 2013.
Subscribe now to read additional comments regarding FedEx Corp.'s earnings, stock chart, and my buy/hold/sell recommendation. 
* * * * *
Microsoft May Announce New Office for iPad Product This Month
Shares of software company Microsoft Corporation (MSFT, $39.55) rose 4% today, breaking through upside resistance, after Reuters reported that the company is likely to unveil a new Office for iPad product.  The new CEO, Satya Nadella, will purportedly present the concept at an upcoming March 27 meeting when he addresses media and industry executives.
Standard & Poor's commented today, "Given Nadella's experience and expertise, and what we see as MSFT's need to better pursue mobile and cloud opportunities, we think an Office offering for the iPad, which we believe is the leading tablet in and for enterprises, makes a lot of strategic sense."
Microsoft shares do not have a "buy" rating at Goodfellow LLC because earnings per share (EPS) are projected to grow quite slowly: 2%, 7%, and 9% in 2014 through 2016 (June year-end).  The 2014 PE is 14.6, in the middle of a six-year range of 9-19; and the dividend yield is 2.83%.  The long-term debt-to-capitalization ratio is low at 13%.
Microsoft shares broke through six-year price resistance in November, traded sideways for about four months, then broke out on the upside today with heavy volume.  I expect the shares to continue rising immediately.
The stock is overvalued, based on low earnings growth and comparably high PE; but the chart is undeniably bullish.  If I owned MSFT shares, I'd keep them, and use stop-loss orders to protect my downside.  Momentum investors should either purchase shares by Wednesday of this week, or take a pass.
Cautious stock investors should also take a pass, and instead concentrate on stocks of companies with strong earnings growth and bullish charts.
Read more about Microsoft in my September 2013 report.
* * * * *
Hewlett-Packard Shares Poised for Upside Breakout
(HPQ, $30.46, up $0.98 midday)
Shares of computer products company Hewlett-Packard Co. are up over 3% today.  Such a big move in share price is usually accompanied by bullish news or a chart breakout.  In the case of HPQ today, it looks like a chart breakout.
Declining PC sales have forced Hewlett-Packard to revamp its business model.  "HP has a two-year head start [vs. peers] on transforming and restructuring its business to meet the demands of a cloud world," said Morgan Stanley in recent comments after first quarter earnings were reported in February.
"HP seems to be achieving the impossible – keeping expectations low while accelerating revenue, cutting costs, investing for growth, and driving an improved cash cycle."  Management is committed to growing operating margins towards a goal of 10-11% in 2016+.
I last wrote about HPQ on December 4 with reference to global job layoffs.
Wall Street projects HPQ to grow earnings per share 4%, 4% and 7% in 2014 through 2016 (October year-end).  The price-earnings ratio is 8.2, and the dividend yield is 1.9%.
Hewlett-Packard shares are up 13% since my "trading buy" recommendation on November 26, and 36.5% since my August 22 buy recommendation on Ransom Notes Radio.  The stock is breaking past short-term upside resistance today.  

I want to be very clear on this: earnings growth at Hewlett-Packard is far too slow to earn a "buy" rating at Goodfellow LLC.  My previous buy ratings were in the context of my work at Ransom Notes Radio, and in the context of trading, but NOT with a stamp of approval from the Goodfellow LLC Rating system.
Sometimes it's very obvious from technical charts to predict what the stock is likely to do next.  In that light, I believe that HPQ is breaking past medium-term price resistance.  Shareholders should hold their stock for additional gains, and use stop-loss orders to protect their downside.  Experienced momentum investors could jump in here for near-term capital gains.
The lack of earnings growth presents an element of risk to the stock.  Cautious, risk-averse stock investors should concentrate on stocks with strong projected earnings growth and bullish charts.
Subscribe to Goodfellow LLC now for profitable stock ideas, screened via fundamental and technical analysis in order to minimize risk.
Goodfellow LLC Rating:  Hold, Value, Volatile, Public.  (03-18-14)
* * * * *
Hertz To Separate Equipment-Leasing Business from Car Rental Business
(HTZ, $26.91, down $0.31 in early trading)
Rental-car company Hertz Global Holdings will spin off its equipment-leasing division in a tax-free distribution to shareholders around early 2015.  Hertz expects to garner around $2.5 billion from the spin-off.  The money will be used to pay down debt, and to repurchase approximately $1 billion of stock.
Hertz Global Holdings will retain car rental brands Hertz, Dollar, Thrifty and Firefly. The equipment-leasing company will be called Hertz Equipment Rental Corp.
Subscribe now to read additional comments regarding Hertz Global's earnings, stock chart, and my buy/hold/sell recommendation.
* * * * *
Yahoo! to benefit from proposed Alibaba IPO
(YHOO, $39.13, up $1.53 midday)
Comments today from Standard & Poor's:
"Over the weekend, Alibaba Group, a leader in China e-commerce that is 24%-owned by [Yahoo! Inc.], announced it decided to start the IPO process for a U.S. listing.  Alibaba indicated this would make it more global and more transparent. We believe a U.S. IPO of Alibaba, especially over the nearer term, would help enhance its value and thus the value of YHOO's stake. We have estimated the after-tax value of YHOO's stakes in Alibaba and Yahoo Japan as collectively worth some $23 per share, with more than two-thirds coming from Alibaba. We think Alibaba will look to complete its IPO in '14."
I agree that the Alibaba Group IPO could easily add to the value of YHOO shares.
Yahoo! has not recently been on the Goodfellow LLC buy list because 2014 earnings growth is projected to be minimal, about 4%.  An Alibaba IPO would not affect that investment decision.

Over the last 15 months, YHOO stock has been climbing toward the January 2006 high of $43.66.  The short-term chart has good price support at $36.50/$37.00.
If I owned the stock, I'd use a stop-loss order to protect the downside, and hold the shares for potential appreciation relating to the Alibaba news.  
An opportunist could rationalize buying the stock in anticipation of a price increase relating to an Alibaba IPO.
* * * * *
Happy investing!
Crista Huff
President
Goodfellow LLC
* * * *
Investment Disclaimer Release of Liability: Through use of this website viewing or using you agree to hold www.GoodfellowLLC.com and its employees harmless and to completely release www.GoodfellowLLC.com and its employees from any and all liability due to any and all loss (monetary or otherwise), damage (monetary or otherwise), or injury (monetary or otherwise) that you may incur. Goodfellow LLC and its employees are not paid by third parties to promote nor disparage any investment.
Recommendations are based on hypothetical situations of what we would do, not advice on what you should do. Neither Goodfellow LLC nor its employees are licensed investment advisors, tax advisors, nor attorneys. Consult with a licensed investment advisor and a tax advisor to determine the suitability of any investment.
The information provided herein is obtained from sources believed to be reliable but is not guaranteed as to accuracy or completeness. When information is provided herein from third parties — such as financial news outlets, financial websites, investment firms, or any other source of financial information – the reliability or completeness of such financial information cannot be guaranteed. The information contained on this website is provided for informational purposes only and contains no investment advice or recommendations to buy or sell any specific securities.
This is not an offer or solicitation for any particular trading strategy, or confirmation of any transaction. Statements made on the website are based on the authors' opinions and based on information available at the time this page was published. The creators are not liable for any errors, omissions or misstatements. Any performance data quoted represents past performance and past performance is not a guarantee of future results.
Investments always have a degree of risk, including the potential risk of the loss of the investor's entire principal. There is no guarantee against any loss.
* * * *
Goodfellow LLC is a subscription-only stock market website. We strive to identify financially healthy companies in which traders and investors can buy shares and earn dividends and capital gains. See disclaimer for the risks associated with investing in the stock market. See your tax advisor for the tax consequences of investing. See your estate planning attorney to clarify beneficiary and inheritance issues associated with your assets.