Honeywell Hosts Investor Conference
(HON, $95.30, up $0.64 in early trading)
Worldwide avionics leader Honeywell International Inc. hosted an investment conference for research analysts yesterday.  The company foresees growing international GDP, strong demand for energy-efficient equipment, increasing margins, doubling earnings per share (EPS), an increasing dividend payout ratio, and up to $10 billion in acquisitions through 2018.  Analysts were disappointed at no mention of share repurchases.
Wall Street expects EPS to grow 11.5%, 10.8%, and 7.3% in 2014 through 2016 (December year-end).  The price-earnings ratio (PE) is 17.2, in a ten-year range of 13-21, excluding high and low aberrations.  The dividend yield is 1.89%.
The combination of the earnings growth rate and the dividend yield is too low to earn a buy recommendation at Goodfellow LLC.  (As a reminder, my strict investment criteria serve to lower the risk inherent in stock investing.)
On October 18 I said, "The stock price has run-up 30% YTD, and appears capable of breaking past short-term upside resistance at $87 in the near-term."  The stock broke out a week later, and the chart remains bullish.  If I owned the shares, I would use a stop-loss order around $87.75 to protect my downside.
The chart is bullish.  The stock broke through long-term resistance in December 2012 and has since risen about 55%.  There is good, recent price support at $88.50.
I wouldn't buy the stock, now or at price support, because it's easy enough to find undervalued stocks with bullish charts and stronger earnings growth rates.  If I owned the stock, I'd hold it for further growth, using a stop loss order at $92.25 or $88.00.  And then I would reinvest the capital into a better growth stock opportunity, so that my money remained invested for growth.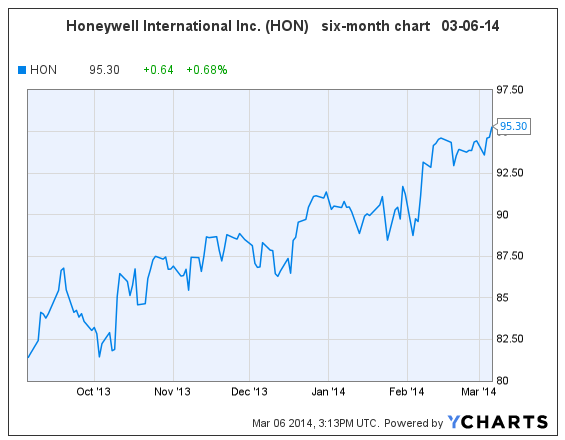 * * * * *
DISH & Disney Sign Broad Media Distribution Agreement
(DIS, $81.55, up $2.09 midday)
(DISH, $59.82, up $0.94 midday)
The Walt Disney Co. has agreed to provide a broad array of media content — via t.v., computer, smartphone and tablet technology —  to pay-TV provider DISH Network Corp.  Content includes programming from Disney, ESPN, ABC and more.  The companies have also agreed to dismiss all inter-company pending litigation.
Disney's projected earnings per share (EPS) growth has shifted since my February 6 report, to 19%, 13% and 15% in fiscal 2014 through 2016 (September year-end).  The 2014 PE is 20.2, and the dividend yield is 1.1%.
(scroll down for DIS & DISH stock charts)
DIS shares are reaching new highs again today.  The stock is fairly valued at the current price, although likely to continue climbing, given its current bullish momentum.  All-in-all, I'd rather buy an undervalued growth stock with a more bullish chart.  Please refer to my weekly feature, Monday's "Buy List", for buy-rated stocks from Goodfellow LLC.
Goodfellow LLC Rating on DIS:  Hold, Growth, Growth & Income.  (03-04-14)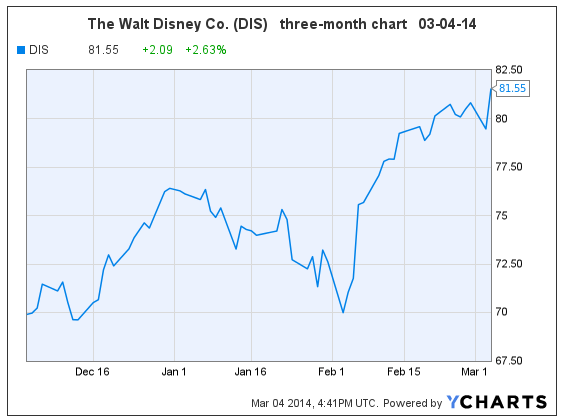 Wall Street expects DISH Network's earnings per share (EPS) to grow 3%, 9% and 12% in 2014 through 2016 (December year-end).  The company's 2013 long-term debt-to-capitalization ratio is very high at 86%; and the price-earnings ratio (PE) is 33.
The stock just broke out of a short term trading range, and shares will likely rise immediately.
DISH stock is full of red flags: slow earnings growth, very high PE, and high debt levels.  Shareholders should enjoy the ride while the chart is bullish, but use stop-loss orders.   Overvalued stocks eventually correct themselves.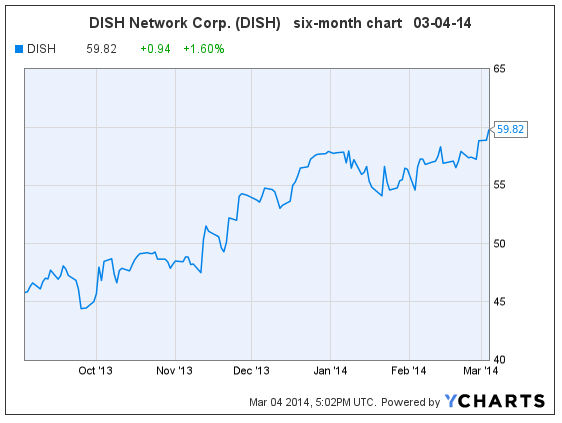 * * * * *
Happy investing!
Crista Huff
President
Goodfellow LLC
* * * *
Investment Disclaimer Release of Liability: Through use of this website viewing or using you agree to hold www.GoodfellowLLC.com and its employees harmless and to completely release www.GoodfellowLLC.com and its employees from any and all liability due to any and all loss (monetary or otherwise), damage (monetary or otherwise), or injury (monetary or otherwise) that you may incur. Goodfellow LLC and its employees are not paid by third parties to promote nor disparage any investment. Recommendations are based on hypothetical situations of what we would do, not advice on what you should do. Neither Goodfellow LLC nor its employees are licensed investment advisors, tax advisors, nor attorneys. Consult with a licensed investment advisor and a tax advisor to determine the suitability of any investment. The information provided herein is obtained from sources believed to be reliable but is not guaranteed as to accuracy or completeness. When information is provided herein from third parties — such as financial news outlets, financial websites, investment firms, or any other source of financial information – the reliability or completeness of such financial information cannot be guaranteed. The information contained on this website is provided for informational purposes only and contains no investment advice or recommendations to buy or sell any specific securities. This is not an offer or solicitation for any particular trading strategy, or confirmation of any transaction. Statements made on the website are based on the authors' opinions and based on information available at the time this page was published. The creators are not liable for any errors, omissions or misstatements. Any performance data quoted represents past performance and past performance is not a guarantee of future results. Investments always have a degree of risk, including the potential risk of the loss of the investor's entire principal. There is no guarantee against any loss. * * * * Goodfellow LLC is a subscription-only stock market website. We strive to identify financially healthy companies in which traders and investors can buy shares and earn dividends and capital gains. See disclaimer for the risks associated with investing in the stock market. See your tax advisor for the tax consequences of investing. See your estate planning attorney to clarify beneficiary and inheritance issues associated with your assets.