General Electric Reports Good Third Quarter
(GE, $25.59, up 91 cents in late trading)
General Electric reported third quarter earnings today which came in slightly ahead of consensus, with the caveat that estimates having been coming downward for several months.  Highlights include strong industrial margin expansion, a 32% increase in equipment orders, and increased corporate expenses.
Earnings are expected to grow 8%, 10%, and 8% over the next three years.  The PE is 15.6 and the dividend yield is 2.97%.  Long-term debt levels were recently high at 65%.
The share price broke past short-term upside resistance today.  Current shareholders should hold their shares and use stop-loss orders for downside protection.  We are not recommending the stock due to high debt levels and slow earnings growth.
* * * * *
United Rentals Comes In On Target in Third Quarter
(URI, $64.30, up $2.36 midday)
Construction equipment company United Rentals announced third quarter results this week, on target with revenue expectations, and slightly above earnings estimates.  The company also announced a $500 million share repurchase program, which eases Morgan Stanley's main concern of runaway capital expenditures, but may not leave room to make progress in paying down debt.  The long-term debt ratio is high, recently at 81%.
Growth is coming from an increase in non-residential construction, and should accelerate during an economic recovery.  Earnings growth projections have changed slightly since our September commentary, to 31%, 20% and 18% over the next three years.  The PE is very low at 13.1.
URI is up 57% since I began recommending the stock in Nov. 2012.  I reiterated my buy recommendation at $60.70 on October 4 after the stock broke through upside resistance.

The stock appears in the Goodfellow LLC Growth Stock Portfolio for 2013, and then again in the Goodfellow LLC Growth Stock Portfolio for Spring 2013.
* Note from Crista Huff:  I own United Rentals shares, and purchased more shares yesterday morning.
* * * * *
Honeywell Reports Mixed Third Quarter
(HON, $84.08, down $2.66 midday)
Aerospace and technology company Honeywell International reported third quarter earnings on target with consensus expectations.  Revenue came in weak; higher margins were offset by increases in taxes, interest and expenses.  Management then guided full-year earnings and revenue estimates a bit lower.
Morgan Stanley expects exceptional operating leverage to continue into 2014.
Earnings per share (EPS) are expected to grow 10%, 12%, and 9% over the next three years.  The dividend yield is 1.95% and the price earnings ratio (PE) is high at 17.
The stock price has run-up 30% YTD, and appears capable of breaking past short-term upside resistance at $87 in the near-term.  I strongly recommend that shareholders use stop-loss orders to protect this year's profits.
Goodfellow LLC Rating:  Hold, Growth & Income, Public.  (10-18-13)
* * * * *
Google Shares Soar Over $1000
(GOOG, $1000, up $111.21 in morning trading)
Google Inc. reported third quarter revenue of $14.89 billion vs. $13.3 billion a year ago, marking it's 15th consecutive quarter of 20%+ core revenue growth.  Earnings per share (EPS) came in at $8.75 vs. $6.53 last year.
These numbers came in slightly above analysts' estimates, but they sent Google shares soaring over $100 today, topping a $1,000 price point.  
The share price is up 77% since I began recommending the stock at $563.77 on Aug. 15, 2011.  And the stock is up 29% since we told Ransom Notes Radio listeners to buy Google shares below $775 on April 19.   
* * * * *
Agilent Technologies Shares Continue to Rise
Shares of measurement company Agilent Technologies (A, $52.65) broke through upside resistance and began reaching recent highs today.
Agilent plans to spin-off its electronic measurement business from its life sciences & diagnostic business in 2014.
Earnings are expected to fall 9% this year, then rise 12 and 13% in the next two years.  The PE is 18.
Agilent shares are up 12% since we reported on third quarter earnings on August 15, when the price closed at $46.96.  At that time, we told Ransom Notes Radio listeners to expect the stock "to pause when it hits long-term resistance at $52."  The stock then rose to $52 by Sept. 19, where it paused for four weeks.  Current shareholders should hold Agilent shares, both for the bullish chart, and the prospect that the spin-off will contribute to additional capital gains."
* * * * *
SanDisk Third Quarter Earnings Please Wall Street
(SNDK, $68.18, up $5.24 in late trading)
SanDisk Corp. reported a strong third quarter today, with margin improvement which is expected to remain strong throughout 2014.  Standard & Poor's commented, "We think a tight supply-demand landscape, secular shift towards solid state and benefits from technology transitions will support earnings gains."  The company manufactures data storage solutions in a range of consumer electronics.
On October 3, I said, "I'm discontinuing my buy recommendation on SanDisk Corp. (SNDK, $61.54) for the time being, due to a rapid slowdown in earnings growth in 2014.  I would absolutely hold the stock if I already owned it, and would simply use stop-loss orders to protect profits."
(10-17-13)
* * * * *
Verizon Reports Upside Earnings Surprise
Verizon Communications (VZ, $49.07, up $1.82 in late trading) reported a strong third quarter today, beating analyst estimates on earnings and revenue.
Consensus earnings per share (EPS) growth rates are currently estimated at 19%, 17%, and 10% over the next three years.  We could see those numbers rise slightly after today's upside earnings surprise.
* * * * *
Abbott Labs Reports Strong Third Quarter
Global healthcare company Abbott Laboratories (ABT, $35.90) reported third-quarter profit of 55 cents per share, vs. analysts' estimates of 51 cents.  Quarterly revenue was up 2%, but diagnostic tests experienced a broadbased revenue increase of 11%, led by a surge in infectious disease testing.  
Abbott raised its quarterly dividend from 14 cents to 22 cents, giving the stock a current yield of 2.45%.
Wall Street expects earnings per share (EPS) to increase 11% and 12% in 2014 and '15.  The price-earnings ratio (PE) is high at 18.
ABT stock began trading post-spin-off on January 2, 2013.  The stock rose through late May, then fell steadily through October.  There seems to be good price support at $32.70, and resistance at $36.
Goodfellow LLC Rating: Hold, Growth & Income, Public.  (10-16-13)
* * * * *
Apple to Unveil Product Upgrades
Apple Inc. (AAPL, $501.11) will unveil upgrades to various products including the iPad mini, larger iPads, Mac software, and the Mac Pro computer, on Oct. 22. 
Consensus estimates show earnings per share (EPS) falling -11% this year, then climbing 10% and 9% in the next two years.  The current yield is 2.43%.  The PE is 12.7.
Apple Inc. is not the growth story that it was in recent years.  There are many more stocks available with better earnings prospects and better charts.  That being said, I always include technical analysis in my reviews of Apple, because I know there are people who are addicted to buying the stock, so they might as well be buying/selling at the most opportune times.  The stock appears capable of climbing past recent highs of $513.74 in the near future, and will likely trade between $478 – $513 in the interim.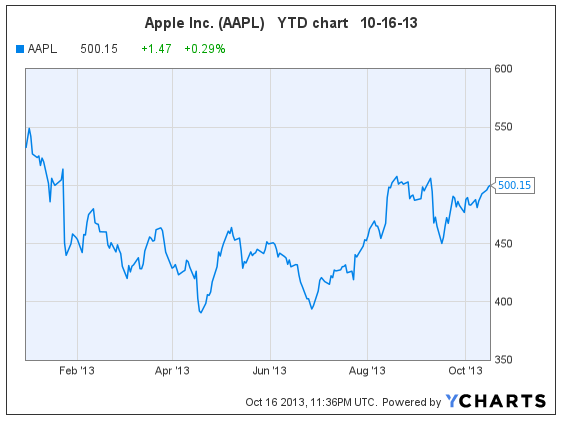 * * * * *
FedEx Announces Large Repurchase Authorization
Wall Street was pleased with FedEx Corp.'s (FDX, $116.25) announcement today of a new 32 million share repurchase authorization, which could increase 2015 earnings by 10%.  The company has $5 billion cash-on-hand.  The repurchase could be complete by December 2014.  
Prior to the announcement, 2014-16* earnings growth was expected to be 12%, 24%, and 18%.  The PE is 17.2, and the long-term debt ratio is 13%.
*Fiscal year ends in May.
* * * * *
Coca-Cola Hits Analysts' Target with Third Quarter Earnings
(KO, $37.91, unchanged midday)
The Coca-Cola Company reported earnings in-line with expectations today.  In recent months, second quarter sales problems — including bad global weather, weak economies, unfavorable foreign exchange rates, and negative PR on sugary soft drinks — rattled the stock price.  Today's report showed enough of an improvement in European sales that investors can probably take that worry off the table.  The company is also aggressively addressing weakness in emerging markets.
Earnings are expected to grow 4-8% per year for the next three years, down from projections of 6-9% per year just three months ago.
The dividend yield is 2.95% and the PE is 18.
KO shares rose for several years, peaked at $43.43 in May 2013, then fell to last fall's support levels around $37.  It's too late for shareholders to make a calculated sell decision to avoid the downside at this point, but they might consider selling on a rebound to $39 and moving their capital into a growth stock with a comparable dividend.
* * * * *
J&J Reports Slight Upside Surprise in Third Quarter Earnings
(JNJ, $90.77,  up 97 cents in early trading)
Healthcare giant Johnson & Johnson Inc. reported higher-than-expected third quarter profits today, and increased their full-year estimates.  New products are increasing J&J's sales growth, while competitors are dealing with the loss of patent protection on key products.  In addition, the company "anticipates submitting more than 10 new medicines for approval by regulators worldwide by 2017," reports Bloomberg.  New treatments are in the works for hepatitis C, blood cancers, and auto-immune diseases. 
Earnings are projected to grow 7% per year for the next three years, and the dividend yield is 2.9%.  The PE is 16.6.
The stock price broke past long-term upside resistance in January; recently trading sideways between $85 – $91, and could rebound soon to August highs of $94.  I see no compelling reason to buy or sell JNJ. shares.  
* * * * *
Shares in Lorillard Inc. (LO, $47.05) closed at a new high today, and appear ready to climb, although they could trade in the $45 – $47 area for a short while before continuing upwards.
The current dividend yield is a whopping 4.68%.
Lorillard does not qualify for a Goodfellow LLC  buy rating due to incredibly high debt levels.  However, current shareholders should retain their shares due to the bullish chart and huge dividend, and use stop-loss orders to limit downside risk.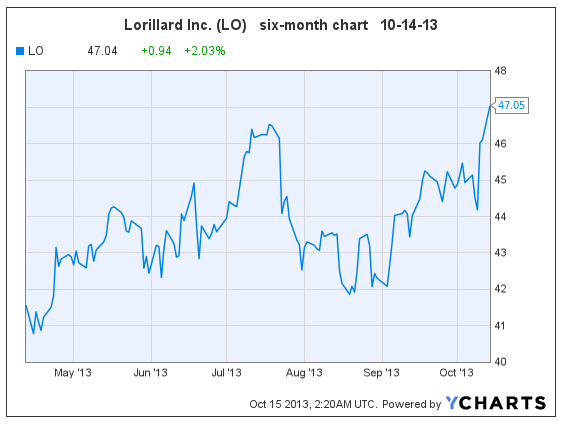 * * * * *
Home Appliance Demand Weakened in September
(WHR, $132.46, down $7.96 midday)
Whirlpool Corp. shares are down 5% today on news that appliance demand grew at a slower pace in September vs. August.  It is unclear at this time whether Whirlpool, and Wall Street analysts, expected a downtrend in sales growth for that time period.
The company declared its regular quarterly dividend today, and plans to release third quarter results on Oct. 22.
(10-14-13)
* * * * *
Expect Another Blowout Quarter from Michael Kors
(KORS, $73.27, up 39 cents this morning)
Morgan Stanley Research reported on upscale accessories maker Michael Kors Holdings Ltd. today, saying "We raise our price target to $83 ahead of the quarter on robust channel check indicators, Kors brand Google search growth, and on-going strength in wholesale."  Morgan Stanley gives KORS a "bull-case scenario" target price of $120, and says "KORS remains Retail's best growth story."
The second quarter* earnings report, due in early November, will likely come in above consensus, mirroring first quarter's success.  Expect Wall Street's earnings estimates to continue to ratchet upwards.  The first quarter earnings report in August outperformed on revenue, gross margins, expenses and inventory control, with especially strong revenue growth in Europe.
Full year earnings are expected to growth 40%.  The PE is 27.
The share price is up 15% since we recommended it to Ransom Notes Radio listeners on May 29 at $63.95.  (The S&P 500 is up 3% in that same time period.)  The price is up 30% since we began recommending it here at Goodfellow LLC on January 30 at $56.31.  (The S&P 500 is up 13% in that same time period.)
*The company ends its fiscal year in March.  (10/14/13)
To read our current recommendation on whether to buy, hold, or sell KORS shares, and at what prices, please subscribe now (free trial available).
* * * *
Happy investing!
Crista Huff
President
Goodfellow LLC
* * * *
Investment Disclaimer
Release of Liability: Through use of this website viewing or using you agree to hold www.GoodfellowLLC.com and its employees harmless and to completely release www.GoodfellowLLC.com and its employees from any and all liability due to any and all loss (monetary or otherwise), damage (monetary or otherwise), or injury (monetary or otherwise) that you may incur.
Goodfellow LLC and its employees are not paid by third parties to promote nor disparage any investment. Recommendations are based on hypothetical situations of what we would do, not advice on what you should do.
Neither Goodfellow LLC nor its employees are licensed investment advisors, tax advisors, nor attorneys. Consult with a licensed investment advisor and a tax advisor to determine the suitability of any investment.
The information provided herein is obtained from sources believed to be reliable but is not guaranteed as to accuracy or completeness. When information is provided herein from third parties — such as financial news outlets, financial websites, investment firms, or any other source of financial information – the reliability or completeness of such financial information cannot be guaranteed.
The information contained on this website is provided for informational purposes only and contains no investment advice or recommendations to buy or sell any specific securities. This is not an offer or solicitation for any particular trading strategy, or confirmation of any transaction. Statements made on the website are based on the authors' opinions and based on information available at the time this page was published. The creators are not liable for any errors, omissions or misstatements. Any performance data quoted represents past performance and past performance is not a guarantee of future results. Investments always have a degree of risk, including the potential risk of the loss of the investor's entire principal. There is no guarantee against any loss.
* * * *
Goodfellow LLC is a subscription-only stock market website. We strive to identify financially healthy companies in which traders and investors can buy shares and earn dividends and capital gains. See disclaimer for the risks associated with investing in the stock market. See your tax advisor for the tax consequences of investing. See your estate planning attorney to clarify beneficiary and inheritance issues associated with your assets.