Avery Dennison Reports 3Q EPS $0.69 vs. Consensus $0.64
(AVY, $47.22, up $3.17 midday)
Shares in Avery Dennison Corp. are up 7% midday as their third quarter earnings beat pleased Wall Street.  Avery Dennison is the leading worldwide manufacturer of pressure-sensitive materials for business use, and assorted products (tags & labels to the apparel industry; RFID items, etc.).
"Avery Dennison's third-quarter net income fell 37 percent, weighed down by costs tied to the sale of its office and consumer products and design and engineered solutions businesses, " reports Bloomberg Businessweek.
* * * * *
European Economies are Hampering Electrolux
(ELUXY, $50.94, down $3.57 in early trading)
Swedish appliance giant Electrolux saw its stock fall today on news of a third quarter earnings miss.  Earnings are down dramatically vs. the year-ago period.  The CEO commented, "Our European operations continued to be affected by challenging market conditions, especially in Southern Europe, having a negative impact on volumes and earnings."  The company announced new cost-cutting efforts — including closing a factory in Australia and cutting 2000 jobs — in expectation of 2013 revenue falling 1-2%.
If I owned the stock, I would trade out at $55, or possibly wait for $58, but then definitely sell and move on to a growth & income stock with better sales prospects and a bullish chart.
Traders could jump in right now and probably make about 8% in the near-term.
I reported on Electrolux (ELUXY) recently within an article about home appliance companies, Making Money in the Kitchen.
Goodfellow LLC Rating:  Trading Buy, Hold, Growth & Income, Volatile, Public.  (10-25-13)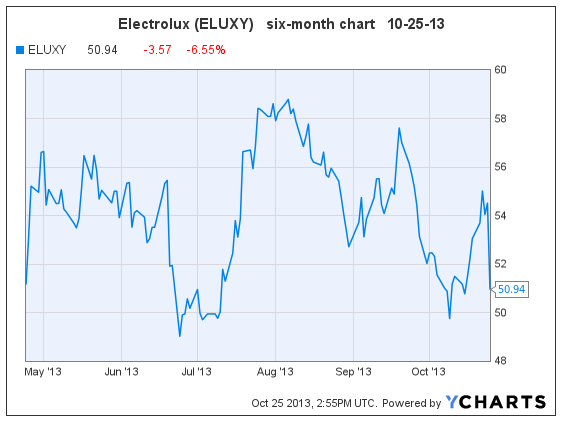 * * * * *
O'Reilly Reports Third Quarter Earnings Beat; Stock Tumbles
(ORLY, $125.08, down $9.23 today)
Shares in O'Reilly Automotive fell 6.9% on Thursday after third quarter earnings displeased the market.  
Earnings per share came in at $1.69 vs. consensus $1.65 and last year's $1.32.  The earnings beat was attributed to a lower-than-expected tax rate, offsetting lower-than expected operating income.  Sales were lower than expected, and gross margins came in higher than expected.  New stores are expected to total 190 in 2013 and 200 in 2014.
Both Morgan Stanley and S&P are concerned about the high PE vs. comparable stocks.
The shares began reaching new highs in mid-October, but today the price fell back down to support in the $125 – $127 area.
To read my October research report on O'Reilly, including balance sheet numbers and stock chart, subscribe now!  (10-24-13)
* * * * *
Lowe's Companies' Shares Reach New Highs
(LOW, $50.15, up 90 cents midday)
Shares in home improvement retailer Lowe's Companies continue to reach new highs, surpassing $50 today for the first time.  
Morgan Stanley analysts met with Lowe's management yesterday, and reported, "After years of volatility, LOW is more  confident than ever that execution is improving and it's clear that LOW has properly aligned the organization to achieve its strategic goals. Further, unlike many other retailers/restaurants, LOW's management noted that it did not see a materially negative impact from the recent government shutdown and the dip in consumer confidence that accompanied it. LOW continues to benefit from pent-up demand and the reemergence of discretionary home improvement projects."
Lowe's shares are up 26% since we reiterated our buy recommendation to Ransom Notes Radio listeners on June 20, and have more than doubled since I began recommending the stock on 12/15/11.
* * * * *
Dow Chemical Earnings Miss
(DOW, $40.23, down 81 cents midday)
Dow Chemical Company reported third quarter EPS of 50 cents vs. consensus 54 cents, and 42 cents a year ago.  Standard & Poor's commented today, "Long term, we see EPS rising as the company shifts more capital investment into less cyclical specialty chemicals and plastics as well as ag products."  Reuters added, "Dow Chemical and rival DuPont (DD) are shifting focus to production of seeds and pesticides, where sales have been booming, and are shedding businesses that are more exposed to swings in commodity prices."
The stock is up 23% since we began saying "buy DOW" on Ransom Notes Radio on Feb. 12, when the price was $32.76.  (The Dow Jones average is up 10.5% in comparison.)
* * * * *
Alexion's Soliris Continues to Bolster Earnings
(ALXN, $113.77, up $4.11 in early trading)
Alexion Pharmaceuticals beat the consensus third quarter estimate of 79 cents today, reporting 83 cents earning per share, led by increasing sales of its blockbuster drug Soliris which treats the rare disorders PNH and aHUS.  The company is guiding earnings and revenue outlooks upward for 2013 and 2014.
On February 14, when Alexion shares were $86.60, I told Ransom Notes Radio listeners, "Aggressive growth investors and traders should buy now, below $90."  The price is up 31% since then.
* * * * *
Ford Continues to Gain Strength in Earnings Growth
($17.79, up 27 cents in early trading)
Ford Motor Company reported a surprisingly strong third quarter, with EPS of $0.45 vs. consensus $0.37, led by North American and European sales.  "Ford produced a significant and high quality earnings beat with a confident outlook.  Europe losses have shrunk significantly excluding restructuring, raising the possibility of a near-breakeven result in 2014," reports Morgan Stanley today.
Earnings are expected to grow 11%, 15% and 27% in fiscal years 2013 – 2015.  The PE is 11.4 and the dividend yield is 2.25%.
The shares are up 32% since we told Ransom Notes Radio listeners to accumulate Ford shares on May 2 at $13.43, and several times thereafter.
I'm not ready to add Ford shares to research coverage at Goodfellow LLC, because there are too many iffy numbers: debt is high, PE is at the top of its five-year range, earnings growth is too slow in 2013, and I prefer to avoid stocks with share prices below $20.
That being said, the chart is relatively bullish, with resistance at $19.  The stock will likely trade in the upper teens, then break through resistance, based on excitement over future earnings growth.  Current shareholders should retain their shares, possibly accumulating more below $17.  But I reiterate, this stock has much more risk than any Goodfellow LLC buy-rated stock.
Goodfellow LLC Rating: Hold, Growth & Income, Public.  (10-24-13)
* * * * * 
Motorola Solutions Reports Third Quarter EPS $1.32 vs. Consensus $1.02
(MSI, $62.94, up $2.51 midday)
Motorola Solutions, Inc., formerly Motorola Inc., reported third quarter earnings today which came in 60% higher than last year due to lower operating and non-operating costs.  Revenue was down 2%, with enterprise revenue up and government revenue down.  The government backlog remains large.
MSI provides communication infrastructure for enterprise and government customers worldwide.  The company separated or sold three business entities in 2010 and 2011, including the sale of its wireless network infrastructure assets in April 2011.
Wall St. projects earnings per share (EPS) to grow 38% this year, but then fall 10% next year.   The price earnings ratio (PE) is 14.2 and the dividend yield is 1.97%.
The new Motorola Solutions (MSI) stock, after the spin-off of Motorola Mobility (MMI), began trading on Jan. 4, 2011.  The stock reached post-spin-off highs in April 2013, then experienced a big correction.  The stock is pushing up against medium-term resistance today, and will probably trade between $61 – $65 in the near-future. 
I am not recommending MSI shares due to next year's earnings drop.  However, the chart remains bullish, and current shareholders could therefore see additional capital gains.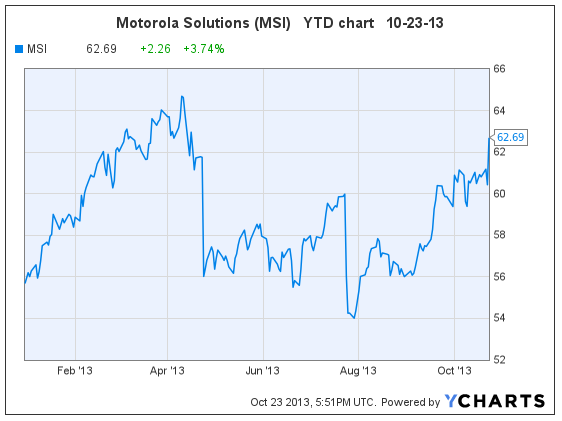 * * * * *
Delta Air Lines Quarterly Results Beat the Street
(DAL, $25.68, up 99 cents midday)
Delta Air Lines Inc. reported third quarter earnings of $1.41 per share vs. consensus $1.36 on better-than-expected revenue, net profit, and margins.  The company repurchased $100 million of stock during the quarter.
Delta's earnings projections have increased since our last two reports, now expected to grow 60% in 2013, then fall 3% in 2014.  The PE is 8.5.  The company is focusing on debt reduction; and return of capital via increased dividends and a $500 million share repurchase program.  Delta shares were added to the S&P 500 index in September.
On March 21, we told Ransom Notes Radio listeners to buy Delta on pullback to $14, then reiterated that opinion in July and September.  The stock is up 83% since our buy recommendation in March.       
While the share price could continue to climb, I would caution investors that this year's exciting earnings growth is about to grind to a halt, just like it did with Apple shares a year ago.  Shareholders should use stop-loss orders, because the day will come when professional investors bail out of Delta, in search of stocks with continued earnings growth.  Don't get caught holding the bag!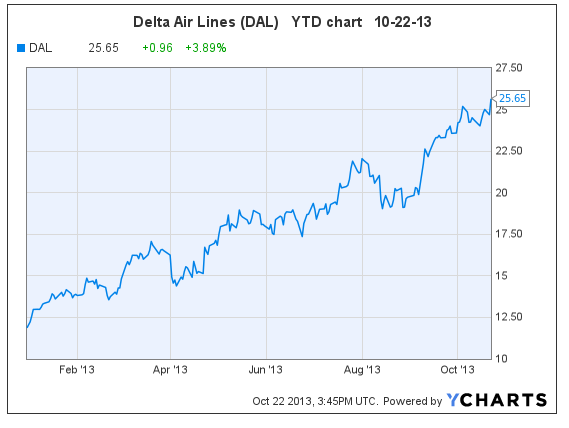 * * * * *
Whirlpool Pleases Wall Street with Third Quarter Results
(WHR, $142.95, up $11.98 in early trading) 
Whirlpool Corp. reported a strong third quarter, beating analyst estimates and sending the stock up about 9% in early trading.  Earnings per share came in at $2.72 vs. the consensus estimate of $2.61, and more than double the year-ago quarter's earnings, attributable to cost-cutting efforts.  The company also raised full-year earnings guidance, with expectations that appliance shipments will be up 9% for the year.
Standard & Poor's (S&P) commented today, "We believe continued strength in North America and a rebound in Europe will more than offset weakness in Brazil and Asia. Gross margins expanded to 18.1% from 15.7%, reflecting disciplined pricing. We project further margin expansion on modest pricing power and improved productivity."
The stock came down to $132.46 on October 14 when I wrote about vague worries over slowing appliance sales, and urged investors to accumulate Whirlpool shares.  The stock has since rebounded.
* * * * *
Schlumberger Reports Best Earnings Ever!
Oilfield services company Schlumberger Ltd. (SLB, $93.48) reported a great third quarter, beating analysts' estimates with its best EPS ever, increased revenue, significant share repurchases, and strong margins.  The company expects 2014 growth to be even stronger.  Consequently, Reuters reported nine investment firms raising their price targets on SLB shares today.
Earnings growth projections have changed slightly since our July research report, to 14%, 21%, and 17% over the next three years.  The PE is 19.6 and the dividend yield is 1.34%.
On July 21, I said, "The stock is pressing up against two-year price resistance.  Expect it to trade between $78 and $82 as it prepares to climb toward the next resistance level at $95.  Aggressive growth investors, growth stock investors and growth & income investors should jump in under $80 per share."  The stock briefly dipped below $80 in August, and is up 17% since then. 
* * * * *
V.F. Corp Reports Strong Earnings, Stock Split and Dividend Increase
(VFC, $212.38 up $8.08 midday)
Apparel manufacturer V.F. Corp. reported third quarter profit up 14%, above consensus estimates, with sales up 5% year-over-year.  The company also announced an upcoming four-for-one stock split, and increased its quarterly dividend to $1.05 per share.  Company brands include The North Face, Timberland, Wrangler, Lee and Nautica.
Higher gross margins in the quarter reflect a "continuing shift in revenue mix toward higher margin businesses and moderately lower product costs," reports Reuters.  A lower effective tax rate also contributed to the strong results.
Earnings per share (EPS) are expected to grow 13% – 14% per year over the next three years.  The dividend yield is 2.0%.  The PE has only reached this high (19.4) once in the last ten years.
VFC shares appear in our September report, Best Stocks Now, where I said that the stock "could break out and begin climbing by mid-October," which is exactly what took place.
The share price is up 36% since we told Ransom Notes Radio listeners to buy V.F. Corp. on February 15 at $156.55.
* * * * *
Morgan Stanley Reports Strong Third Quarter
(MS, $29.52, down 17 cents in early trading)
Investment banker Morgan Stanley outperformed its peers with across-the-board improvements in all reportable quarterly numbers.  Earnings per share (EPS), after charges, came in at 45 cents, beating the consensus estimate of 40 cents. Return on equity came in almost double the ROE from a year ago.
The company repurchased $123 million of stock in the quarter, after authorizing a $500 million share buyback in July.
Full year EPS are expected to be solid this year, after a 2012 loss, and then grow another 29% and 13% in the next two years.  The PE is 11.5 and the dividend yield is 0.7%.
On July 18, I said, "Growth stock investors should accumulate shares under $26."  Those shareholders are up at least 13% so far.
* * * * *
Happy investing!
Crista Huff
President
Goodfellow LLC
* * * *
Investment Disclaimer
Release of Liability: Through use of this website viewing or using you agree to hold www.GoodfellowLLC.com and its employees harmless and to completely release www.GoodfellowLLC.com and its employees from any and all liability due to any and all loss (monetary or otherwise), damage (monetary or otherwise), or injury (monetary or otherwise) that you may incur.
Goodfellow LLC and its employees are not paid by third parties to promote nor disparage any investment. Recommendations are based on hypothetical situations of what we would do, not advice on what you should do.
Neither Goodfellow LLC nor its employees are licensed investment advisors, tax advisors, nor attorneys. Consult with a licensed investment advisor and a tax advisor to determine the suitability of any investment.
The information provided herein is obtained from sources believed to be reliable but is not guaranteed as to accuracy or completeness. When information is provided herein from third parties — such as financial news outlets, financial websites, investment firms, or any other source of financial information – the reliability or completeness of such financial information cannot be guaranteed.
The information contained on this website is provided for informational purposes only and contains no investment advice or recommendations to buy or sell any specific securities. This is not an offer or solicitation for any particular trading strategy, or confirmation of any transaction. Statements made on the website are based on the authors' opinions and based on information available at the time this page was published. The creators are not liable for any errors, omissions or misstatements. Any performance data quoted represents past performance and past performance is not a guarantee of future results. Investments always have a degree of risk, including the potential risk of the loss of the investor's entire principal. There is no guarantee against any loss.
* * * *
Goodfellow LLC is a subscription-only stock market website. We strive to identify financially healthy companies in which traders and investors can buy shares and earn dividends and capital gains. See disclaimer for the risks associated with investing in the stock market. See your tax advisor for the tax consequences of investing. See your estate planning attorney to clarify beneficiary and inheritance issues associated with your assets.