Valeant Pharmaceuticals Reports Third Quarter Earnings
Valeant Pharmaceuticals (VRX, $105.72) posted a quarterly net loss due to restructuring and impairment charges, but cash earnings per share (EPS) came in at $1.43 vs. consensus $1.41 and last year's $1.15.  Full year EPS remain on track to grow 36%.
Valeant recently acquired Bausch & Lomb, and today  increased its expectations on cost-savings from the merger.  Morgan Stanley remarked, "We were encouraged to learn that since VRX closed the acquisition on August 5, Bausch has delivered same store sales organic growth of 10% as compared to the prior year."
S&P commented today, "We see VRX driving growth through its disciplined M&A business model."  Valeant continues to pursue small acquisitions for cash, and is open to a merger of equals as well.
Subscribe now to read my comments from today and my current buy/hold/sell recommendation on Valeant Pharmaceuticals. (10/31/13)
* * * * *
Visa Fourth Quarter Disappoints; Outlook Remains Strong
Visa Inc. reported fourth quarter profit of $1.85, down from $2.47 a year ago, due to higher income taxes.  Revenue was up 9%.  Going forward, the company expects mid/high double-digit earnings growth and low double-digit revenue growth, despite continued pressure from a weak global economy and adverse foreign exchange conditions.
Visa also added $5 billion to its share repurchase program.
This morning, Reuters reported that six Wall Street firms raised their price targets on Visa shares, and one company lowered its price target.
* * * * *
Alexion Pharmaceuticals' (ALXN, $125.50) stock continues to rise since reporting third quarter earnings last week.
On October 24, I said, "The chart is looking more bullish now, and it's possible that we could see the stock break past short-term resistance at $118 in the near future." The stock broke through upside resistance the next day.
On February 14, when Alexion shares were $86.60, I told Ransom Notes Radio listeners, "Aggressive growth investors and traders should buy now, below $90."  The price is up 45% since then.
To get my current buy/hold/sell recommendation on Alexion Pharmaceuticals, subscribe now to read my comments from today.  (10/30/13)
* * * * *
Adobe Stock Continues to Reach New Highs
(ADBE, $54.20, down $0.66 midday)
Software company Adobe Systems' stock continues to climb, reaching new highs again yesterday.  On Sept. 18 I said, "The stock, which broke past resistance today, could briefly bounce below $50 again before climbing higher, but we really wouldn't quibble over the purchase price at this point."  The share price then bounced below $50 on Oct. 8-10, broke through upside resistance on Oct. 21, and is now up 17.3% since I told Ransom Notes Radio listeners to buy Adobe on June 19.  (The S&P 500 is up 8.6% since that day.)
To get my current buy/hold/sell recommendation on Adobe Systems, subscribe now to read my comments from today.  (10/30/13)
* * * * *
IAC/InterActive Stock Plunges on Weak Fourth Quarter Revenue Outlook
After reaching new highs yesterday, the stock of IAC/InterActiveCorp. fell 13% to $50/$51 today.  A weak fourth quarter revenue outlook was the culprit.  IAC/InterActive provides online services for internet companies which offer diversified consumer products and services, including Match.com.
Third quarter earnings per share came in at $1.13 after yesterday's close, way above estimates of $0.77, and above $0.43 last year, but revenue up 5.9% was apparently lower than expected.  Fourth quarter revenue is expected to be down vs. last year.  Wall Street firms are tweaking price targets today.
With today's price drop, the 2013 PE is 13.1 and the dividend yield is 1.9%.
To get my current buy/hold/sell recommendation on IAC/InterActiveCorp., subscribe now to read my comments from today.  
Goodfellow LLC Rating: Accumulate, Aggressive Growth, Growth & Income, Value.  (10-30-13)
* * * * *
Goodyear Reports Third Quarter up 51%; Stock Plunges
The Goodyear Tire & Rubber Company (GT, $20.76) reported third quarter earnings per share (EPS) today, up 51% vs. last year, but missing analysts' revenue and EPS estimates.  The stock promptly fell 6%.  Gross margins came in higher than expected.  The company added that its full-year performance outlook remains unchanged.
To get my current buy/hold/sell recommendation on Goodyear, subscribe now to read my comments from today.  (10/29/13)
* * * * *
IBM Announces $15 Billion Repurchase Plan Addition
As quarterly sales continue to fall, International Business Machines (IBM, $182.12) encouraged shareholders today by adding $15 billion to its stock buyback program, which now totals $20.6 billion.  
IBM's earnings per share (EPS) are estimated to grow 11%, 7% and 10% in 2013 through 2015.  The dividend yield is 2.1%, and the PE is 10.8.  The long-term debt ratio is high at 50%.
IBM stock peaked in March, then fell through last week.  The new repurchase plan should provide tremendous price support, with near-term resistance at $187 and $195.
I wouldn't buy shares of a stock with such a weak chart, and would rather trade out at resistance and put my capital into a growth stock with a bullish chart.  
Goodfellow LLC Rating:  Hold, Growth & Income, Public.  (10/29/13)
* * * * *
FDA to Approve Gilead Hepatitis Treatments
(GILD, $69.03, down $0.65 midday)
On Friday, October 25, the FDA recommended approval for two Gilead Sciences hepatitis C treatments, slated for final approval by December 8.
Earnings per share (EPS) are expected to be flat this year.  Future EPS projections have increased since my July 26 report, to 56% and 55% growth in 2014 & '15.
On June 10, we told Ransom Notes Radio listeners that the stock would probably bounce once more at $49, then recover to $56, both of which happened by July 11.  The stock price is up 41% since then, most recently breaking past upside resistance in mid-October.  We would wait for a pullback to $66 to accumulate more shares.
Goodfellow LLC Rating:  Hold, Aggressive Growth, Public. (10/28/13)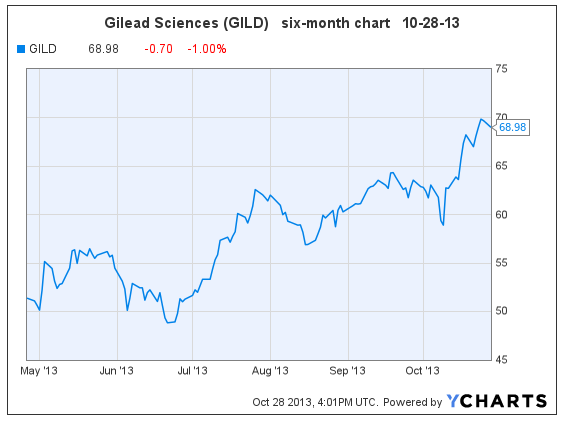 * * * * *
Edwards' Price Drop Gives Shareholders Heart Attack
(EW, $73.34, down $3.72 in early trading)
Edwards Lifesciences Corp., maker of artificial heart valves, reported third quarter earnings per share today of $0.68 vs. the consensus $0.66 and last year's $0.58.  It's not uncommon for stocks to rise on anticipation of good earnings (or other good news) and then fall when the actual news comes out, especially with aggressive growth stocks. 
To get my current buy/hold/sell recommendation on Edwards Lifesciences, read my comments from today, and my research report from October 9.
* * * * *
Happy investing!
Crista Huff
President
Goodfellow LLC
* * * *
Investment Disclaimer
Release of Liability: Through use of this website viewing or using you agree to hold www.GoodfellowLLC.com and its employees harmless and to completely release www.GoodfellowLLC.com and its employees from any and all liability due to any and all loss (monetary or otherwise), damage (monetary or otherwise), or injury (monetary or otherwise) that you may incur.
Goodfellow LLC and its employees are not paid by third parties to promote nor disparage any investment. Recommendations are based on hypothetical situations of what we would do, not advice on what you should do.
Neither Goodfellow LLC nor its employees are licensed investment advisors, tax advisors, nor attorneys. Consult with a licensed investment advisor and a tax advisor to determine the suitability of any investment.
The information provided herein is obtained from sources believed to be reliable but is not guaranteed as to accuracy or completeness. When information is provided herein from third parties — such as financial news outlets, financial websites, investment firms, or any other source of financial information – the reliability or completeness of such financial information cannot be guaranteed.
The information contained on this website is provided for informational purposes only and contains no investment advice or recommendations to buy or sell any specific securities. This is not an offer or solicitation for any particular trading strategy, or confirmation of any transaction. Statements made on the website are based on the authors' opinions and based on information available at the time this page was published. The creators are not liable for any errors, omissions or misstatements. Any performance data quoted represents past performance and past performance is not a guarantee of future results. Investments always have a degree of risk, including the potential risk of the loss of the investor's entire principal. There is no guarantee against any loss.
* * * *
Goodfellow LLC is a subscription-only stock market website. We strive to identify financially healthy companies in which traders and investors can buy shares and earn dividends and capital gains. See disclaimer for the risks associated with investing in the stock market. See your tax advisor for the tax consequences of investing. See your estate planning attorney to clarify beneficiary and inheritance issues associated with your assets.