Safeway Reports Third Quarter Earnings Amidst Myriad Changes
(SWY, $33.39, up $1.82 in morning trading)  
Safeway Inc. reported third quarter earning below expectations.  Standard & Poor's Research commented, "margins are deteriorating faster than we had previously expected on higher shrinkage costs and increased pricing competition."
The company also announced that it will leave the Chicago market in early 2014, where it currently operates 72 underperforming Dominick's stores.  The store closures will generate a cash tax benefit of approximately $425 million, which will be used to repurchase stock.
As we previously reported on Ransom Notes Radio, Safeway will sell its Canadian stores to Sobeys in the fourth quarter of 2013.  The sale will generate $6.6 billion cash, much of which will be used to pay down debt.
It's currently difficult to compare Safeway's earnings per share (EPS) figures, based on the dramatic impact of the  Sobeys transaction to future sales and income, the Dominick's closures, and a drop in outstanding shares by 25%.  The balance sheet will be much stronger with the large decrease in debt.  As such, the stock will command a PE on the higher end of its range, which varied between 6 – 17 over the last five years.
Presuming the current share price and 2014 estimated EPS of $1.74, that gives us a 2014 price-earnings ratio (PE) of 19.0.  EPS are expected to grow 15% in 2015 vs. 2014.  The dividend yield is 2.4%.
The stock broke out of a trading range and rose significantly in September, then began trading sideways.  Despite the fact that it is reaching recent highs again today, I believe that the stock will need to come back down and trade sideways for a while before continuing any uptrend.  I see no reason to buy Safeway shares, and would use stop-loss orders to protect recent gains.
Goodfellow LLC rating:  Hold, Growth & Income, Public.  (10-11-13)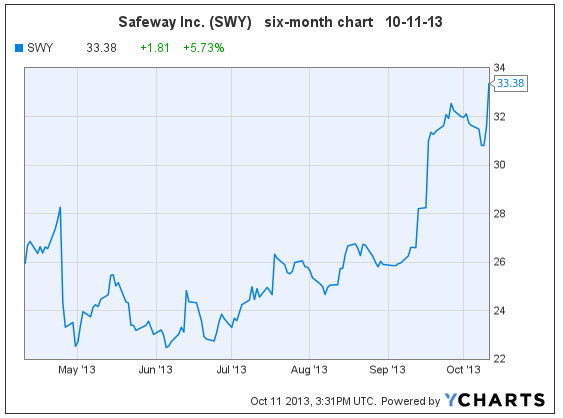 * * * * *
United Technologies (UTX, $104.90) raised its dividend by 10% this week, to $0.589 per quarter.  The current yield is 2.2%.  Click on the "subscribe" link, above, and then read our longer report on UTX from Sept. 15.
* * * * *
Morgan Stanley reported today on the annual Cerner Health Conference, attended by thousands of customers and partners.  We just wrote about Cerner Corp. (CERN, $54.71) on October 4, but here's an update from the conference.
Cerner is a leading healthcare information technology company.  Standard & Poor's Research  says, "we believe more healthcare providers are choosing Cerner as an alternative to their existing vendors as healthcare technology requirements become more complex."
RCM was the busiest area of the conference, as the industry is focused on controlling costs and increasing margins.  Cerner also offered new systems to manage chronic disease; and to manage the amount of time that physicians spend on documentation.
On March 4, I told Ransom Notes Radio listeners, "The stock has a very attractive chart pattern and appears immediately ready to rise."  It turns out that the stock broke out of a trading range that day, and has since risen 22% (vs. the S&P 500 +9.9%).
On August 5 I told Goodfellow LLC subscribers, "We would buy shares on the open market or risk losing a good buying opportunity."  The stock broke out in September, and is up 9% since our August report (vs. the S&P 500 -2.0%), and up 32% since I began recommending shares in January (vs. the S&P 500 +14.5%).  (Note that the stock had a 2:1 split in July.)
To see a stock chart and learn more about Cerner's financial outlook, and whether I recommend that investors buy/sell/hold, and at what prices, subscribe now and then read more here.  (10/08/13)
* * * * *
"Gravity" Buoys Warner Bros. Revenue
Warner Bros. released "Gravity" this weekend, topping all competition with $55.6 million in North American ticket sales.   "Gravity" is a 3D outer-space thriller starring Sandra Bullock and George Clooney.  Warner Bros. is a division of Time Warner Inc. (TWX, $66.46).
Time Inc. will spin off from Time Warner in first quarter 2014.
My history of price recommendations on Time Warner shares:
Shares are up 79% since I began recommending them at Goodfellow LLC on March 3, 2012 at $37.14.

Shares are up 24% since I began recommending them at $53.52 on Ransom Notes Radio on February 15, 2013, while the S&P 500 is up 11.2% in the same time period. 
On May 19, 2013, I said, "New investors should try to accumulate shares on a pullback.  There's no new support level yet, although $55/$56 is a fair assumption."  And that is exactly where it bounced on month later. 
On September 11, 2013 I said, "The share price experienced an orderly correction within an uptrend during August, and could easily begin reaching new highs again near-term."  The shares then began reaching new highs on September 26.
To read our current recommendation on whether to buy, hold, or sell TWX shares, and at what prices, please subscribe now (free trial available).
* * * *
Happy investing!
Crista Huff
President
Goodfellow LLC
* * * *
Investment Disclaimer
Release of Liability: Through use of this website viewing or using you agree to hold www.GoodfellowLLC.com and its employees harmless and to completely release www.GoodfellowLLC.com and its employees from any and all liability due to any and all loss (monetary or otherwise), damage (monetary or otherwise), or injury (monetary or otherwise) that you may incur.
Goodfellow LLC and its employees are not paid by third parties to promote nor disparage any investment. Recommendations are based on hypothetical situations of what we would do, not advice on what you should do.
Neither Goodfellow LLC nor its employees are licensed investment advisors, tax advisors, nor attorneys. Consult with a licensed investment advisor and a tax advisor to determine the suitability of any investment.
The information provided herein is obtained from sources believed to be reliable but is not guaranteed as to accuracy or completeness. When information is provided herein from third parties — such as financial news outlets, financial websites, investment firms, or any other source of financial information – the reliability or completeness of such financial information cannot be guaranteed.
The information contained on this website is provided for informational purposes only and contains no investment advice or recommendations to buy or sell any specific securities. This is not an offer or solicitation for any particular trading strategy, or confirmation of any transaction. Statements made on the website are based on the authors' opinions and based on information available at the time this page was published. The creators are not liable for any errors, omissions or misstatements. Any performance data quoted represents past performance and past performance is not a guarantee of future results. Investments always have a degree of risk, including the potential risk of the loss of the investor's entire principal. There is no guarantee against any loss.
* * * *
Goodfellow LLC is a subscription-only stock market website. We strive to identify financially healthy companies in which traders and investors can buy shares and earn dividends and capital gains. See disclaimer for the risks associated with investing in the stock market. See your tax advisor for the tax consequences of investing. See your estate planning attorney to clarify beneficiary and inheritance issues associated with your assets.