Goodfellow LLC's "Stocks in the News"
This is public commentary on newsworthy stocks.  
To gain access to Goodfellow LLC's buy-rated stocks and research,
Union Pacific Corp. Pre-Announces Third Quarter
(UNP, $154.20 in early trading)
Union Pacific Corp. surprised Wall Street by pre-announcing a third quarter estimate after yesterday's close that was 3% below consensus, due to the flooding in Colorado, and weak coal and ag traffic.  These issues are perceived to be non-recurring.  Ag volumes could even surprise on the upside in the fourth quarter.  As such, Morgan Stanley will not be tweaking full year estimates, and comments "we would be buyers on any weakness in the wake of this news."
The pre-announcement also revealed that UNP expects record EBIT margins for the third quarter, reflecting strong pricing trends.  Union Pacific does not normally give earnings guidance to analysts.
Analysts expect earnings to grow 15%, 15% and 12% over the next three years.  The PE is 16.2 and the dividend yield is 2.1%.
After a long run-up in price, the stock has been trading steadily between $150 and $165 since May.  The share price is up 6% since we told Ransom Notes Radio listeners to buy UNP on April 19, and up 47% since we began recommending UNP shares in July 2011 here at Goodfellow LLC.
To receive advice on buy & sell prices, and expectations of near-term price action on UNP shares, subscribe now!
Goodfellow LLC rating:  Buy, Growth, Growth & Income  (10-04-13)
* * * * *
Pandora Pleases the Street with September Statistics 
(P, $27.54 in early trading)
Pandora Media Inc. announced September listener hours yesterday, and the stock closed up 5% for the day.  Year-over-year gains in active listeners, listener hours and market share each showed strong double-igit percentage gains.  The month-to-month  increases did not seem to be affected by Apple's iTunes Radio launch on September 18th.
The company took a small loss last year, and will make a small profit this year.  Next year's PE is 100, which is not actually out of line compared to the very aggressive future earnings growth expectations.
The stock price is up 46% since we urged Ransom Notes Radio listeners to "buy low" during the August market correction.  Shares broke out of a trading range this morning.  Aggressive growth investors could jump in here, and everybody should use stop-loss orders in anticipation of volatility.
Goodfellow LLC Rating: Aggressive Growth, Volatile, Public.   (10-03-13)
* * * * *
Cisco and Facebook to Offer Free Wi-Fi in Retail Locations
(FB, $50.13 in early trading) (CSCO, $23.28 in early trading)
Cisco Systems Inc. and Facebook Inc. are planning to jointly offer free Wi-Fi access to consumers at retail locations via their Facebook log-ins.  The log-in would take consumers to the business's Facebook page, complete with special offers and discounts.  Cisco is looking to sell network equipment, and FB plans to benefit by selling targeted advertising to the retailers.
Cisco Systems has very weak projected earnings growth and an unstable stock chart.  The poor global economy has led to a workforce reduction of over 12,000 employees in the last two years.  We would find a good exit point on Cisco shares and move on to a growth stock with a bullish chart.
Facebook's earnings are growing aggressively via rapid success in mobile advertising.  The shares are up 74% since we started recommending them to Ransom Notes Radio listeners in May.  We suggest protecting profits with stop-loss orders.  New investors could lower their risk by waiting for a market pullback before jumping in.
Goodfellow LLC Rating on Facebook: Hold, Aggressive Growth, Public.  (10-03-13)
Goodfellow LLC Rating on Cisco Systems: Sell, Public.  (10-03-13)
* * * *
Eli Lilly Surprises Analysts
(LLY, $48.88 in early trading)
Pharmaceutical giant Eli Lilly & Co. surprised Wall Street at an analyst meeting by announcing a $5 billion share buyback.  The buyback, partially offset by new shares issued to employees, will reduce outstanding shares by about 5%.  The CFO added that they may have underestimated the 2014 earnings impact of some patent expirations, offset by anticipation of a better tax rate.
Lilly's earnings per share are expected to rise 22% this year, then fall 33% in 2014, reflecting the loss of patent protection on  Cymbalta and Evista.  However, the company has many drug therapies in its research pipeline, and is gaining ground in Japan, emerging markets, animal health, diabetes and oncology.  The dividend yield is hefty at 3.9%.
The stock price has shown weakness in recent months, currently trading between $49 and $55, although support levels seem to be strong.  Aggressive growth investors could buy low, sell at resistance, and collect the dividend.  There's no reason to believe the stock price will achieve much in the medium-term.
* * * * *
Pension Fund Files Suit Against Lululemon
(LULU, $74.40)
The Louisiana Sheriffs' Pension and Relief Fund will be the lead plaintiff in a suit against Canadian apparel manufacturer Lululemon Athletica Inc.  The complaint involves a yoga pants recall in March, and alleged secretive management changes, which allegedly caused the pension fund to lose approximately 9% on the stock.  However, since the share price drop coincided exactly with a four-week springtime market correction, and the share price is higher now than it was during the turmoil, we don't see how the pension fund has a legitimate complaint.
Earnings are projected to grow 8% this year, then 28 and 22 percent in the next two years.  The PE is 33.
The stock price is up 14% since we urged traders and aggressive growth investors to buy on Ransom Notes Radio  on September 12.  Shareholders should use stop-loss orders on this volatile stock.
Goodfellow LLC rating: Hold, Aggressive Growth, Volatile, Public.  (10-02-13)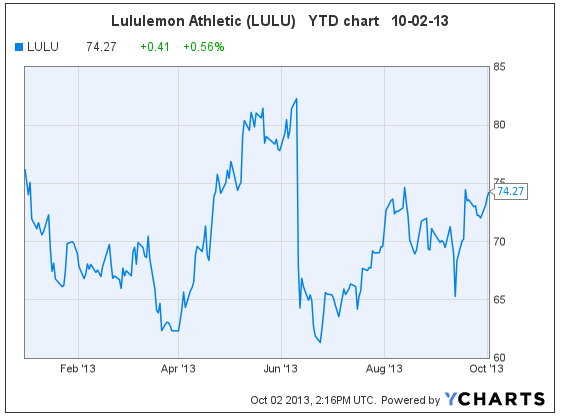 * * * *
New Mexican Excise Taxes to be Costly to Coca-Cola Femsa
(KOF, $128.05 in early trading)
"The proposed excise tax on soft drinks in Mexico, if approved, could have a material impact on [Coca-Cola Femsa's] volume and profit growth next year," reports Morgan Stanley.  The company would have to increase prices by 15% to offset the tax and inflation, and that could bring soft drink revenues down 7-10%, possibly wiping out all projected earnings growth for 2014.
Prior to the proposed tax, earnings were projected to grow 5, 12, and 11 percent over the next three years.  The PE is very high at 25.
After a four-year period during which the stock price increased six-fold, the stock lost a third of its value since springtime, and does not appear to have stabilized yet.  With a negative chart pattern, a very high PE, and new excise taxes on the horizon, we would sell shares in Coca-Cola Femsa.
* * * *
Private Firm to Buy Frontier Airlines
(RJET, $12.07 in early trading)
Indigo Partners LLC will buy Frontier Airlines from Republic Airways Holdings, Inc., in a transaction valued at $145 million, including $36 million in cash and assumption of debt.
After several years of net losses, and a bankruptcy at Frontier, Republic Airways and Frontier became profitable in 2012.  Republic's earnings are expected to grow 41% this year, and 15% next year.  The PE is 8.
The stock price more than doubled this year, and is recently trading erratically between $11 and $14.  With aggressive earnings growth and a very low PE, we would hold shares, and buy on dips.
* * * * *
TAM Study to Fly Regional Routes Is Positive for Embraer – Morgan Stanley
(ERJ, $32.47)
TAM, Brazil's largest airline, is considering buying twin-engine E-Jets from Embraer S.A. to fly regional routes. The Brazilian aviation market is comprised of large aircraft which rarely fly with a full passenger load.  With the Brazilian government considering spending $7 billion to improve 270 regional airports, there's a strong likelihood that Embraer will receive a significant increase in E-Jet orders.
Earnings are expected to grow 6% this year, then 28% next year.  The PE is 16.
The share price has ranged between $31 and $40 since January, and the chart remains weak.  While we like this stock, the chart is not conducive to making money near-term.  Shareholders should consider selling on a bounce up to $36 and moving on to a growth stock with a bullish chart.
* * * *
S&P MAINTAINS BUY OPINION ON SHARES OF GOODYEAR TIRE – S&P
(GT, $22.45)
S&P raised its price target on The Goodyear Tire & Rubber Co. to $27, and Deutsche Bank raised its target to $29, citing restrained rubber pricing; and the recently announced new dividend, and buyback program.
Wall Street's earnings growth estimates for Goodyear keep ratcheting upwards, currently expected to grow 23, 14 and 19 percent over the next three years.  The PE is low at 9.6, but the long-term debt ratio is quite high at 80%.
The stock price is up 21% since we told Ransom Notes Radio listeners to buy shares on July 30; now approaching resistance at $24.  While we see the stock as undervalued, we'd prefer that the stock stop climbing and establish a trading range before buying shares.  We would use any market correction as an opportunity to buy more shares.
* * * *
Pratt & Whitney wins $2.5 billion contract for weapons spare parts — Reuters
(UTX, $107.82)
"Pratt & Whitney, a unit of United Technologies Corp., has won a contract worth up to $2.5 billion to help provide the U.S. military with spare parts for weapons systems," reports Reuters.  "The contract will run through Sept. 30, 2018 and provide parts for the Army, Navy, Air Force and Marine Corps."  United Technologies is an aerospace and industrial conglomerate, producing jet engines, helicopters, elevators, and air conditioners.
Earnings are expected to grow 12-15 percent per year for the next three years.  The PE is 17.5, in a five-year range of 9-17, and the dividend yield is 2%.
The share price reached new highs in September, and seems somewhat overvalued.  We love the stock, and would be happy to buy  shares once a new support level is established.
Goodfellow LLC rating:  Accumulate, Growth & Income.  (10-01-13)
* * * * *
Happy investing!
Crista Huff
President
Goodfellow LLC
* * * *
Investment Disclaimer
Release of Liability: Through use of this website viewing or using you agree to hold www.GoodfellowLLC.com and its employees harmless and to completely release www.GoodfellowLLC.com and its employees from any and all liability due to any and all loss (monetary or otherwise), damage (monetary or otherwise), or injury (monetary or otherwise) that you may incur.
Goodfellow LLC and its employees are not paid by third parties to promote nor disparage any investment. Recommendations are based on hypothetical situations of what we would do, not advice on what you should do.
Neither Goodfellow LLC nor its employees are licensed investment advisors, tax advisors, nor attorneys. Consult with a licensed investment advisor and a tax advisor to determine the suitability of any investment.
The information provided herein is obtained from sources believed to be reliable but is not guaranteed as to accuracy or completeness. When information is provided herein from third parties — such as financial news outlets, financial websites, investment firms, or any other source of financial information – the reliability or completeness of such financial information cannot be guaranteed.
The information contained on this website is provided for informational purposes only and contains no investment advice or recommendations to buy or sell any specific securities. This is not an offer or solicitation for any particular trading strategy, or confirmation of any transaction. Statements made on the website are based on the authors' opinions and based on information available at the time this page was published. The creators are not liable for any errors, omissions or misstatements. Any performance data quoted represents past performance and past performance is not a guarantee of future results. Investments always have a degree of risk, including the potential risk of the loss of the investor's entire principal. There is no guarantee against any loss.
* * * *
Goodfellow LLC is a subscription-only stock market website. We strive to identify financially healthy companies in which traders and investors can buy shares and earn dividends and capital gains. See disclaimer for the risks associated with investing in the stock market. See your tax advisor for the tax consequences of investing. See your estate planning attorney to clarify beneficiary and inheritance issues associated with your assets.