(LO, $53.61, up $4.55 at today's market close)
(RAI, $53.29, up $2.46 at today's market close)
Today's financial rumors indicate that tobacco company Reynolds American Inc. (RAI, $53.29) is potentially interested in acquiring Lorillard Inc. (LO, $53.61).
Morgan Stanley commented on the rumors in a neutral manner this afternoon, indicating that the U.S. tobacco industry is already quite consolidated, and that the industry awaits FDA clarification on its position on menthol tobacco products.  Reynolds and Lorillard are purveyors of dominant menthol cigarette brands Newport and Kool, respectively.
In addition, there is a question as to whether Reynolds American will retain its corporate independence.  Here's why:  In 2004, Reynolds purchased Brown & Williamson Tobacco Co. from British American Tobacco PLC (BAT), giving BAT a 42% ownership in Reynolds.  BAT's 10-year moratorium on acquiring additional Reynolds shares expires this year on July 30.  Will BAT purchase enough additional shares of Reynolds to make Reynolds its subsidiary?
Wall Street expects Lorillard's earnings per share (EPS) to grow 12%, 9%, and 7% in 2014 through 2016.  The price-earnings ratio is 15.4, in a steady ten-year range of 7-18, and the dividend yield is 4.59%.  IF Lorillard were acquired at a price reflecting a PE of 18, that buyout price would be approximately $62.82.
The reason that I have not recommended Lorillard shares at Goodfellow LLC is because the long-term debt ratio is 238%.  My goal with stock investing is to find ways to make money while also minimizing risk.  As such, I rarely recommend stocks with debt ratios higher than 40%.
What to do with Lorillard shares?
First off, I own shares in Lorillard.  When markets get choppy, I tend to buy big dividend stocks while they're low, because they tend to have far less volatility than other growth stocks.  It was my previous intention to buy Lorillard during an orderly pullback in January, collect the March dividend and sell near the November high of $53.27 as the stock rebounded.
Now that the company might be in play, I'll hold my shares and see what materializes.  I think the risk/reward ratio is in my favor, and that the near-term downside is nominal, at maybe $51.  I have no intention of purchasing additional shares at the current price, although M&A speculators would certainly have reason to consider doing so.
Goodfellow LLC rating:  Hold, Growth & Income, Public.  (03-03-14)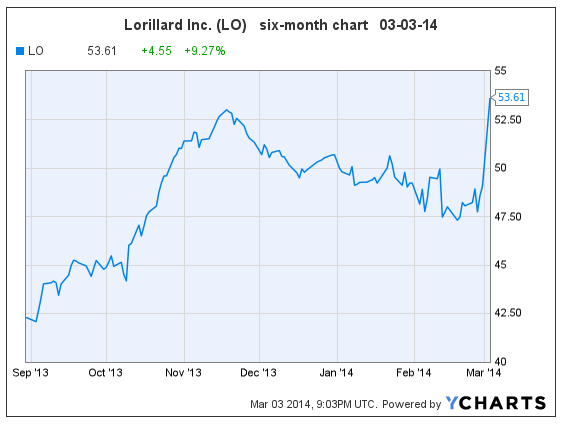 * * * * *
Happy investing!
Crista Huff
President
Goodfellow LLC
* * * *
Investment Disclaimer Release of Liability: Through use of this website viewing or using you agree to hold www.GoodfellowLLC.com and its employees harmless and to completely release www.GoodfellowLLC.com and its employees from any and all liability due to any and all loss (monetary or otherwise), damage (monetary or otherwise), or injury (monetary or otherwise) that you may incur. Goodfellow LLC and its employees are not paid by third parties to promote nor disparage any investment.
Recommendations are based on hypothetical situations of what we would do, not advice on what you should do. Neither Goodfellow LLC nor its employees are licensed investment advisors, tax advisors, nor attorneys. Consult with a licensed investment advisor and a tax advisor to determine the suitability of any investment.
The information provided herein is obtained from sources believed to be reliable but is not guaranteed as to accuracy or completeness. When information is provided herein from third parties — such as financial news outlets, financial websites, investment firms, or any other source of financial information – the reliability or completeness of such financial information cannot be guaranteed. The information contained on this website is provided for informational purposes only and contains no investment advice or recommendations to buy or sell any specific securities.
This is not an offer or solicitation for any particular trading strategy, or confirmation of any transaction. Statements made on the website are based on the authors' opinions and based on information available at the time this page was published. The creators are not liable for any errors, omissions or misstatements. Any performance data quoted represents past performance and past performance is not a guarantee of future results.
Investments always have a degree of risk, including the potential risk of the loss of the investor's entire principal. There is no guarantee against any loss.
* * * *
Goodfellow LLC is a subscription-only stock market website. We strive to identify financially healthy companies in which traders and investors can buy shares and earn dividends and capital gains. See disclaimer for the risks associated with investing in the stock market. See your tax advisor for the tax consequences of investing. See your estate planning attorney to clarify beneficiary and inheritance issues associated with your assets.