(Note: This article was reserved for Goodfellow LLC subscribers until January 28, 2017, when I made it available to the general public.)
State Street Stock Breaking Out — Buy Now!
(STT, $74.43, up $1.27 in early trading)
On Dec. 26 I said, "The stock chart on investment management company State Street Corp. is getting more constructive, and another upswing appears imminent.  I would buy now in anticipation of a near-term run-up…"
Goodfellow LLC rating:  Strong Buy, Growth & Income, Volatile.  (01-03-14)
* * * *
Comcast Shares Reach New Highs
(CMCSA, $51.46, down $0.51 midday)
Shares in media/entertainment giant Comcast Corp. reached new highs on New Year's Eve.
After Comcast shares broke out of another trading range on November 22, I said, "I would optimally buy on a dip below $49."  Investors had the opportunity to buy in the high $48's during the first half of December, and the stock has since been reaching new highs.
Earnings growth projections remain stable with my report on Comcast from November 25, increasing a fraction to 15% in both 2014 & '15.  The 2014 PE is 17.9.
Comcast's chart remains bullish.  I would accumulate shares on any bounce to $50.
Goodfellow LLC rating:  Accumulate, Growth, Growth & Income.  (01/02/14)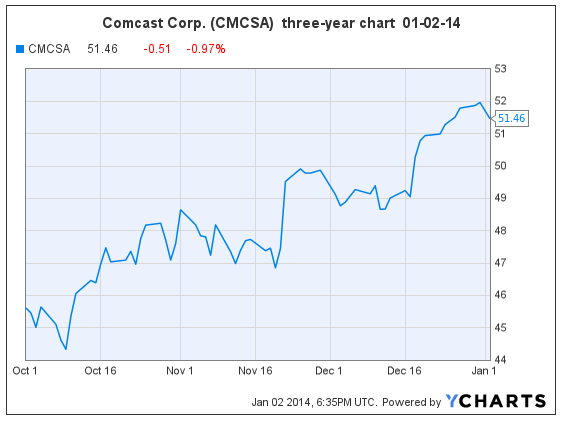 * * * * *
Harman Industries Shares at Perfect Price Today!
(HAR, $80.12, down $1.73 midday)
All stock investors are encouraged to consider HAR for immediate inclusion in their stock portfolios.  (Click on the links to read my recent report.)
Goodfellow LLC rating:  Strong Buy, Aggressive Growth, Growth, Growth & Income, Value, Volatile.  (01-02-14)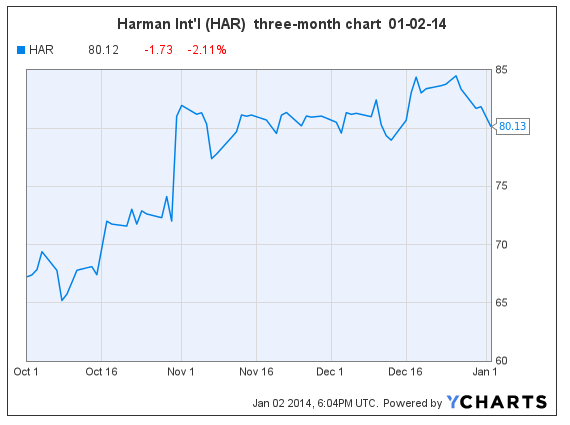 * * * * *
LyondellBasell Shares Break Out to New Highs
(LYB, $78.40, down $1.88 midday)
Shares of chemical company LyondellBasell Industries broke out of a stable trading range on New Year's Eve, and have pulled back with today's market downturn.  This is a perfect time to buy LYB, which is featured in the new Goodfellow LLC Growth & Income Stock Portfolio for 2014.
Consensus earnings per share (EPS) growth projections have increased nicely since my August research report, to 18% and 15% in 2014 & '15.  The 2014 price-earnings ratio (PE) is 10.9.
The quarterly dividend was increased twice in 2013, currently yielding 3.06%.
LYB shares are up 21% since I began recommending them on June 7 on Ransom Notes Radio at $64.87.  Then on October 5, I said, "I would consider buying shares on a pullback to $72."  The stock price bounced at $72 three days later, then immediately rose toward record highs on Dec. 31.
Investors should consider LYB for immediate purchase.
Goodfellow LLC Rating:  Strong Buy, Growth, Growth & Income, Value, Volatile. (01-02-14)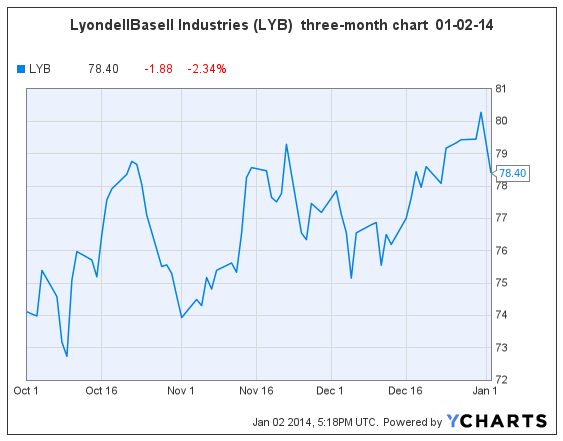 * * * * *
DuPont Shares Reach Ten-Year Highs
($64.08, down $0.89 in morning trading)
Shares of E.I. DuPont de Nemours & Co. are climbing to ten-year highs.  The stock will likely establish a new trading range shortly.
DuPont's earnings per share (EPS) are projected to grow 12.2% and 4.4% in 2014 & '15.  Due to the slowing 2015 EPS, I am removing DuPont from "buy rating" consideration at Goodfellow LLC.  However, current shareholders should hold the stock due to the bullish chart.
On September 29, in Best Stocks Now, I said, "DuPont shares broke past long-term resistance in mid-July.  We would buy now for the next run-up."  The price is up 8.6% (plus dividends), and still climbing.
Current shareholders aren't at any particular risk, but in general, using stop-loss orders after a strong two-year U.S. stock market run-up would be a wise idea.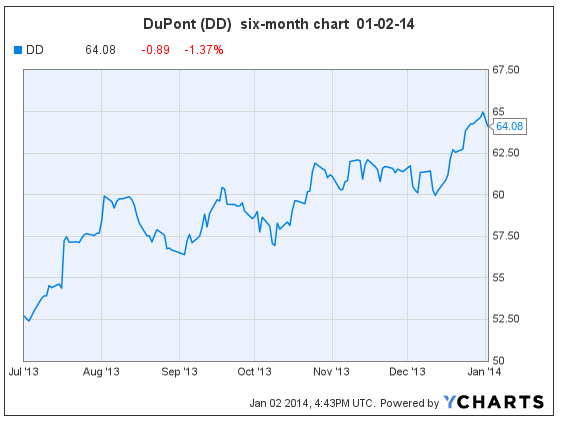 * * * * *
MasterCard Stock Continues to Soar
(MA, $833.72, up $5.85 midday)
Shares of MasterCard Inc. continue climbing to new highs, up 64.7% YTD.
The company's earnings per share (EPS) are expected to grow 20%, 18% and 18% in fiscal years 2013 through 2015.  The 2014 PE is high at 26.8.
The stock price is up 24.9% since I reiterated my buy recommendation on Sept. 12, and it's up 231% since my first buy recommendation on March 29, 2011 (with the S&P 500 up 39.4% in that time period).  Current shareholders should use stop-loss orders.
A 10:1 stock split will take place on January 21.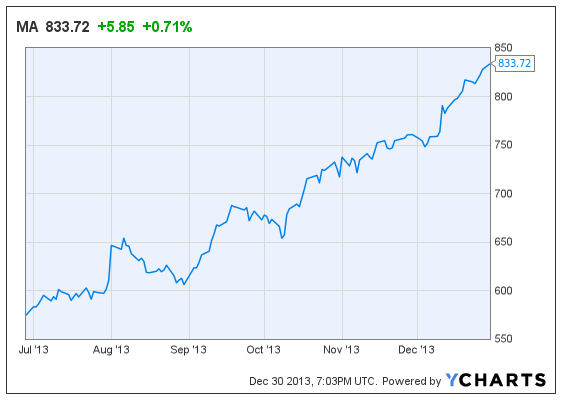 * * * * *
Valeant Pharmaceuticals Broke Out to New Highs This Morning 
(VRX, $116.45, up $2.85 midday)
Shares of Valeant Pharmaceuticals International Inc. are breaking out of an orderly three-month trading pattern today.
Valeant's consensus earnings growth projections have recently increased to 43% and 17% in 2014 & '15.  The 2014 PE is 13.3.  The one caveat on Valeant is the long-term debt ratio at 72%.  

On Nov. 11 at $105.12, I said that VRX "appears to be finishing a double-bottom chart pattern today."  The stock has since risen 10.8%.  However, no one has missed their opportunity to catch the pending run-up in Valeant's stock.
Read my additional comments from Oct. 31, and decide today whether this aggressive growth stock has a place in your stock portfolio.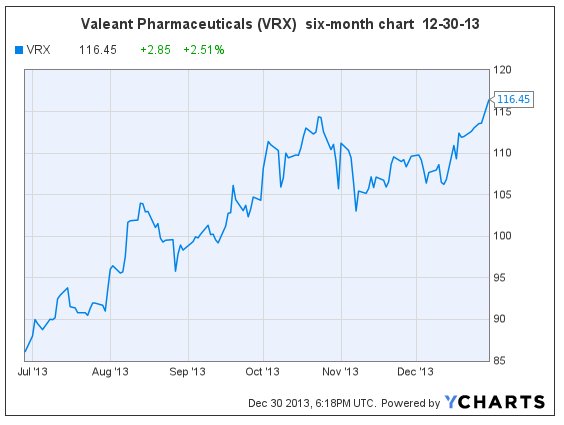 * * * * *
Disney Shares Reach New Highs
(DIS, $76.09, up $1.74 midday)
Shares in The Walt Disney Company continue to reach new highs today.  On Oct. 18 I said, "The stock now appears immediately ready to break past medium-term resistance and begin reaching new highs, quite possibly as soon as Monday, October 21, 2013."  Sure enough, the stock began closing at new highs on October 21, and has risen 14.6% since October 18, including the annual December dividend.
Earnings growth projections have fallen a bit since my Oct. 18 report, and the PE has risen with the stock price.  I would not chase the stock at this point; and would use stop-loss orders to protect recent profits.  As soon as I get stopped out, I will reinvest in another growth stock with a bullish chart.
Goodfellow LLC Rating:  Hold, Growth, Growth & Income.  (12-30-13)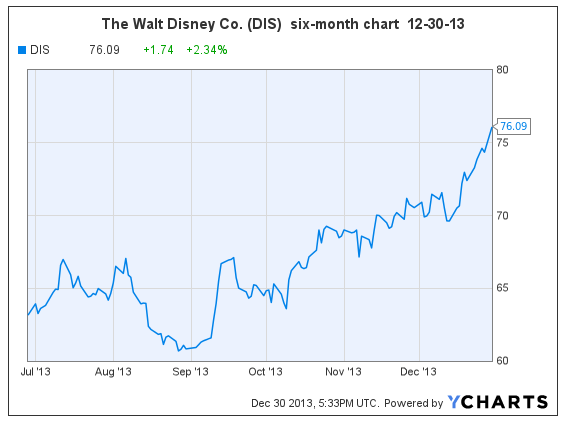 Crista Huff
President
Goodfellow LLC
* * * * *
Investment Disclaimer
Release of Liability: Through use of this website viewing or using you agree to hold www.GoodfellowLLC.com and its employees harmless and to completely release www.GoodfellowLLC.com and its employees from any and all liability due to any and all loss (monetary or otherwise), damage (monetary or otherwise), or injury (monetary or otherwise) that you may incur.
Goodfellow LLC and its employees are not paid by third parties to promote nor disparage any investment. Recommendations are based on hypothetical situations of what we would do, not advice on what you should do.
Neither Goodfellow LLC nor its employees are licensed investment advisors, tax advisors, nor attorneys. Consult with a licensed investment advisor and a tax advisor to determine the suitability of any investment.
The information provided herein is obtained from sources believed to be reliable but is not guaranteed as to accuracy or completeness. When information is provided herein from third parties — such as financial news outlets, financial websites, investment firms, or any other source of financial information – the reliability or completeness of such financial information cannot be guaranteed.
The information contained on this website is provided for informational purposes only and contains no investment advice or recommendations to buy or sell any specific securities. This is not an offer or solicitation for any particular trading strategy, or confirmation of any transaction. Statements made on the website are based on the authors' opinions and based on information available at the time this page was published. The creators are not liable for any errors, omissions or misstatements. Any performance data quoted represents past performance and past performance is not a guarantee of future results. Investments always have a degree of risk, including the potential risk of the loss of the investor's entire principal. There is no guarantee against any loss.