(Note: This article was reserved for Goodfellow LLC subscribers until January 28, 2017, when I made it available to the general public.)
Abercrombie Surprises Wall Street with Strong December Sales
(ANF, $36.23, up $3.02 midday)
Specialty apparel retailer Abercrombie & Fitch provided upward guidance on fourth quarter and full year 2014 earnings after the close yesterday.  The company "now expects full year adjusted non-GAAP earnings per diluted share to be in the range of $1.55 to $1.65," reports Reuters.  The change in outlook was prompted by unexpectedly strong December sales and well-controlled inventory.
Despite record 2013 revenue of $4.5 billion, this profitable company cannot seem to provide consistent earnings growth to shareholders.  Perhaps the next few years will be the beginning of an earnings uptrend.

Earnings per share (EPS) are projected to fall about 52% in 2014 (fiscal year-end January) —  largely attributed to store closures and restructuring expenses — then grow 47% and 21% in the next two years.  It is entirely likely that 2015 & '16 estimates will be revised upward, as Wall Street digests today's news.
The dividend yield is 2.22%, and the 2015 PE is quite low at 15.9.  The long-term debt ratio is tiny at 3%.
Abercrombie's stock price has been suffering at the low end of its ten-year trading history, and is most likely to continue trading in a range of $30 – $55.  There is tremendous price support at $30.  And while the chart is not yet bullish, I think almost any stock investor could buy now and be very pleased with their results within a few short months.
Goodfellow LLC Rating: Strong Buy, Trading Buy, Aggressive Growth, Growth & Income, Volatile, Value.  (01-10-14)

* * * * *
Walgreen Company's (WAG, $61.14) shares are up nicely YTD, on the heels of strong December same-store-sales.  Numbers came in much higher than expected, driven by pharmacy sales.
Earnings per share (EPS) are expected to grow 11%, 12% and 22% in the next three years (fiscal year-end August).  The PE is 17.7, within a normal range of 10-24; and the dividend yield is 2.06%.
On Sept. 18, I said, "Growth & income investors should buy on any pullback to the low $50's."  The stock bounced under $54 in late September, and is up 13% since then.
The stock ran up quite a bit so far in January, and has short-term price resistance between $60-$61.  Frankly, I'm not thrilled with WAG's slightly low 2014 earnings growth, and high PE; but the numbers get really strong beginning 18 months out, and the chart is decidedly bullish.  If I loved the company and wanted to own the stock, I would wait for a dip below $59 to accumulate shares.
Goodfellow LLC Rating:  Accumulate, Growth & Income.  (01/10/13)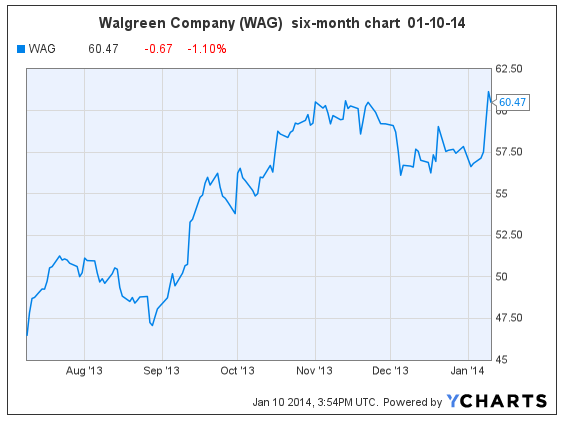 * * * * *
Michael Kors' Shares Drop to Support Levels
Shares of apparel & accessory manufacturer Michael Kors Holdings Ltd. (KORS, $77.90) are off from recent highs, after Citigroup downgraded the stock from Buy to Neutral.
KORS' earnings outlook has barely changed since my December 17 report.  Earnings per share (EPS) are currently expected to grow 44%, 23% and 21% for fiscal years 2014 through 2016.  The company operates on a March fiscal year.  The 2014 PE is 27.5.
You'll notice in the Barron's article that the company is still expected to exceed upcoming earnings estimates.  This week's price pullback is perfectly normal, with or without a rating downgrade.  I would continue to accumulate shares on any dip below $79.
Goodfellow LLC Rating: Accumulate, Aggressive Growth.  (01/08/14).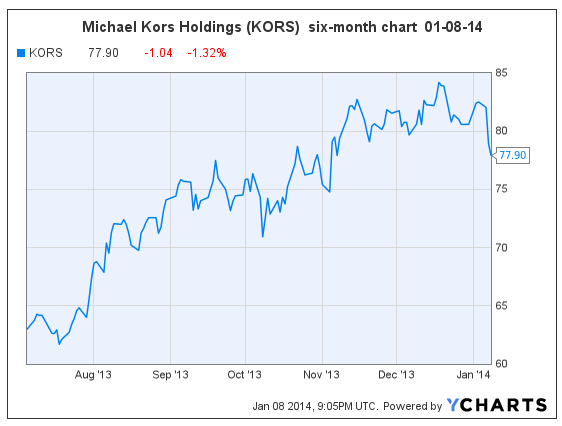 * * * * *
Harman Int'l Makes Waves at Consumer Electronics Show
Audio manufacturer Harman International Industries (HAR, $83.00) showcased new products yesterday from its Infotainment and Lifestyle divisions at the Consumer Electronics Show in Las Vegas, NV.
Morgan Stanley reported today, "The Lifestyle segment's Signal Doctor technology was the star of the exhibit, in our view.  Signal Doctor corrects highly compressed digital music and returns it to high quality audio.  It can be used on any DSP system including as an app on certain smartphones.  HAR also showcased its latest JBL and Infinity consumer audio products, which were highly impressive."
Harman shares appear in our recent feature, Monday's "Buy List".
Goodfellow LLC rating:  Strong Buy, Aggressive Growth, Growth, Growth & Income, Value, Volatile.  (01-08-14)
* * * * *
Valeant Pharmaceuticals Reiterates Bullish Outlook
(VRX, $124.83, up $12.21 midday)
Reuters reported today, "Valeant Pharmaceuticals International Inc., Canada's largest listed drugmaker, on Tuesday forecast 2014 adjusted earnings of $8.25 to $8.75 per share and revenue of $8.2 billion to $8.6 billion, both up about 40 percent from the previous year."
S&P said, "We are encouraged by Valeant's new goal of becoming one of the world's top five drug companies by market capitalization by the end of 2016, to be accomplished mostly via acquisitions.  Based on VRX's past record, we think that goal is achievable."
Valeant was featured in my January 5 article, Monday's Buy List, in which I highlighted my favorite five stocks for this week.
On December 30, I said, "no one has missed their opportunity to catch the pending run-up in Valeant's stock."  At this point, I would wait for a pullback to $120 or lower, and then accumulate shares.
Goodfellow LLC Rating: Accumulate, Aggressive Growth.   (01/07/14)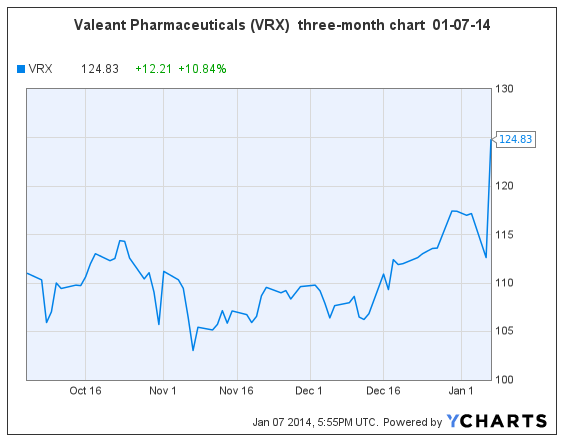 * * * * *
Citigroup (C, $53.81) shares broke through upside resistance today, as they continue to recover from the 2008 Financial Meltdown.
Citi is progressing with a long-term strategy of cutting expenses, shrinking non-core assets and increasing fee-based business.  Ongoing asset sales are boosting capital ratios.  Share buybacks are expected to total $7.4 billion in 2014.
Earnings per share (EPS) are expected to grow 21%, 14%, and 12% in fiscal years 2013 through 2015 (December year-end).  The 2014 PE is quite low at 10.1.
Citigroup shares are up 10.7% since I recommended buying low at $48.62 on Nov. 6. I continue to recommend that investors buy Citigroup now.
Goodfellow LLC Rating:  Strong Buy, Growth, Value, Volatile.  (01-06-14)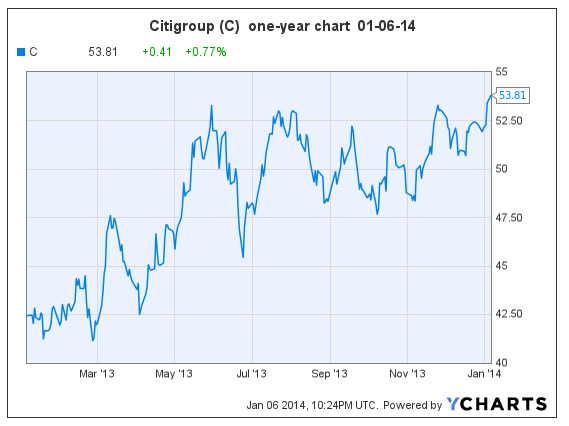 * * * * *
T-Mobile and Verizon Wireless Bolstered by Airwave Agreement
"T-Mobile US Inc. (TMUS, $32.28), the fourth-largest U.S. wireless carrier, agreed to buy spectrum from Verizon Wireless for about $2.4 billion in cash as part of an airwave swap that will give both companies more network capacity in areas where they need it," reports Bloomberg today.  Verizon Wireless is a wholly owned subsidiary of Verizon Communications (VZ, $48.42).
On October 17, I reported that Verizon's consensus earnings estimates would likely increase in the near-term.  It turns out that they increased significantly, to expectations of 23%, 24%, and 9% growth in 2013 through 2015, which is an astonishing growth rate for a stock with a huge dividend.
The dividend yield is 4.4%, which provides tremendous price support on the stock.   The 2014 PE is quite low at 13.4.
The biggest caveat to the Verizon story is the long-term debt ratio, which was 59% prior to taking on the Verizon Wireless acquisition from Vodafone. 
The price and dividend look fantastic, but the chart is neutral.  I don't normally recommended stocks with neutral charts, but the huge dividend really warrants investor attention.  I would accumulate shares under $49.50, and wait for the next run-up.  Watch for some price resistance at $51.
Goodfellow LLC Rating on VZ:  Accumulate, Growth, Growth & Income.  (01/06/13)
In comparison to Verizon, T-Mobile has erratic earnings growth, no dividend, a PE of 59; and just had a 14% run-up since early November.  My suggestion is to use tight stop-loss orders on TMUS shares.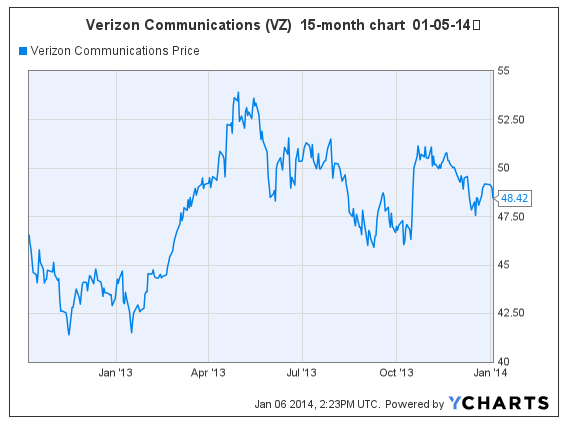 * * * * *
Investment Disclaimer
Release of Liability: Through use of this website viewing or using you agree to hold www.GoodfellowLLC.com and its employees harmless and to completely release www.GoodfellowLLC.com and its employees from any and all liability due to any and all loss (monetary or otherwise), damage (monetary or otherwise), or injury (monetary or otherwise) that you may incur.
Goodfellow LLC and its employees are not paid by third parties to promote nor disparage any investment. Recommendations are based on hypothetical situations of what we would do, not advice on what you should do.
Neither Goodfellow LLC nor its employees are licensed investment advisors, tax advisors, nor attorneys. Consult with a licensed investment advisor and a tax advisor to determine the suitability of any investment.
The information provided herein is obtained from sources believed to be reliable but is not guaranteed as to accuracy or completeness. When information is provided herein from third parties — such as financial news outlets, financial websites, investment firms, or any other source of financial information – the reliability or completeness of such financial information cannot be guaranteed.
The information contained on this website is provided for informational purposes only and contains no investment advice or recommendations to buy or sell any specific securities. This is not an offer or solicitation for any particular trading strategy, or confirmation of any transaction. Statements made on the website are based on the authors' opinions and based on information available at the time this page was published. The creators are not liable for any errors, omissions or misstatements. Any performance data quoted represents past performance and past performance is not a guarantee of future results. Investments always have a degree of risk, including the potential risk of the loss of the investor's entire principal. There is no guarantee against any loss.