Note: This article was reserved for Goodfellow LLC subscribers until March 21, 2016, when I made it available to the public. — Crista Huff
* * * * *
Biogen Idec. Shares Down 4% Midday  
(BIIB, $326.91, down $13.78 midday)
Shares of biotechnology company Biogen Idec are down 4% today.  There is no discernable negative company-specific news on Biogen today, other than biopharmaceutical & healthcare stocks falling as a group today.
On the positive side, Reuters reported on Biogen's new hemophilia drug today.  "The U.S. Food and Drug Administration is due to decide by mid-year whether to approve Alprolix, a new long-lasting hemophilia B clotting factor from Biogen Idec and partner Swedish Orphan Biovitrum."
Wall Street expects Biogen's earnings per share (EPS) to grow 27%, 24%, and 21% in 2014 through 2016 (December year-end).  The PE is 28.8.
On February 16 I said, "The stock is fairly valued from a fundamental point-of-view, with a bullish chart.  Momentum investors and aggressive growth investors should jump in here.  Everybody else should stay on the sidelines."  The stock then rose 7.7% in 8 days, and has now pulled back to the February 16 price.
There's no firm support level on the stock since it rose beginning in mid-February.  I would expect any near-term lows to extend no farther than $320, unless helped along by bad news.  Growth stock investors are encouraged to buy BIIB in the low $320's.  
Goodfellow LLC Rating:  Accumulate, Aggressive Growth.  (03-07-14)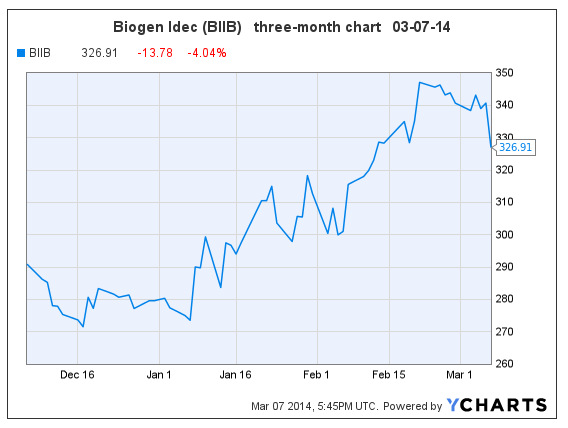 * * * * *
Sotheby's Shares Up on Repurchase News
(BID, $48.35, up $1.42 midday)
As an addendum to my March 3 article on Sotheby's, the company has repurchased $25 million of stock this week.  Sotheby's had announced a new $150 million share repurchase plan in late January.
Earnings per share (EPS) growth expectations continue to increase, now standing at 20%, 35%, and 7% in 2014 through 2016 (December year-end).  The price-earnings ratio (PE) is 21.4.
On March 3 I said, "I would accumulate shares under $48, with expectations of a short-term rebound and subsequent upside breakout."  I believe the opportunity to buy low has come and gone.  At this point, I would buy shares in the open market, with expectations of a quick rebound to $51, reaching $53 shortly thereafter.
Goodfellow LLC Rating:  Buy, Trading Buy, Aggressive Growth, Volatile.  (03-07-14)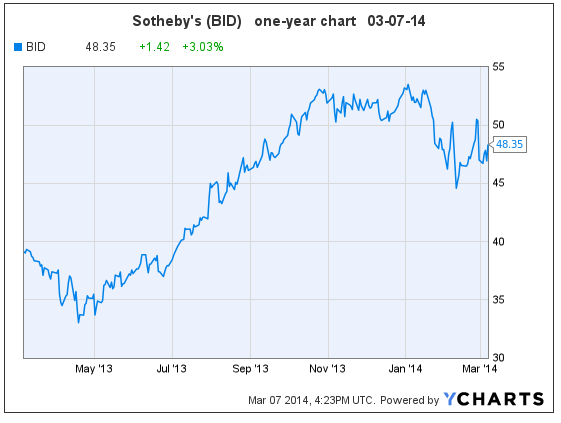 * * * * *
The awaited price correction on Celgene shares has arrived: Jump in!
(CELG, $152.28, down $4.33 in early trading)
Shares of biopharmaceutical company Celgene Corp. have traded down this week, without any apparent news acting as a catalyst.
In March, Celgene's Board of Directors announced plans to recommend a two-for-one stock split to shareholders at its annual meeting in June 2014.
Wall Street's earnings growth projections stand at 23%, 32%, and 28% in 2014 through 2016.  The PE is fair at 20.8.
On February 17 I encouraged investors to wait for the stock price to trade down again before buying shares.  The time to buy Celgene has arrived.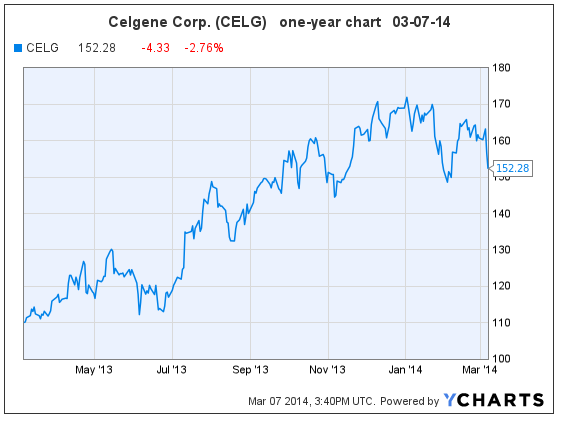 * * * * * 
Morgan Stanley Stock Approaching Price Resistance
(MS, $32.39, up $0.55 in early trading)
As I've mentioned in my weekly reports, Monday's "Buy List", financial stocks have bullish charts right now.  I gave shares of Morgan Stanley a strong buy rating on January 24, during the recent market correction.  The stock is up 6.7%, and rising rapidly toward price resistance at $33.52.  There's additional long-term resistance near $36.
Wall Street expects earnings per share (EPS) to grow 20%, 20%, and 17% in 2014 through 2016.  The PE is 13.1 and the dividend yield is 0.6%.
I would hold this undervalued aggressive growth stock for additional capital appreciation.*
Goodfellow LLC Rating:  Strong Buy, Aggressive Growth, Volatile, Value.  (03-07-14)
* from Crista Huff: I am a former Vice President at Morgan Stanley.  I purchased shares of the company's stock on 01-24-14.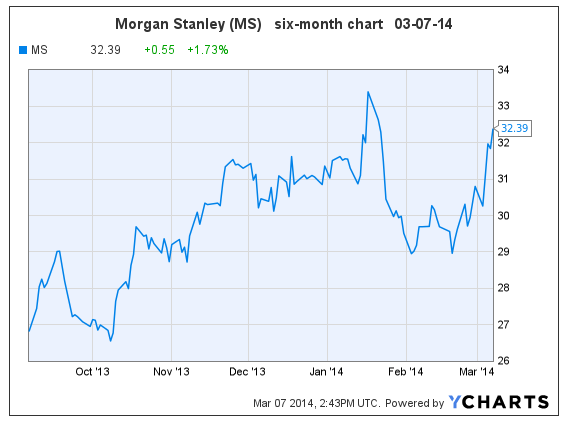 * * * * *
Today, Bloomberg published a long, bullish article about Walgreen Co. (WAG) stock, after the recent price run-up.  I think they're a day late and a dollar short.  Scroll down to my comments from March 5.
* * * * *
Time Warner Shares Approach Price Resistance
(TWX, $68.40, up $1.42 midday)
Time Warner Inc. shares are approaching price resistance at $70/$71, where they will likely pause and trade for a while between $67.00-$71.50.
Wall Street expects TWX's earnings per share (EPS) to grow 4%, 15%, and 20% in 2014 through 2016 (December year-end).  The dividend yield is 1.9%, and the 2014 PE is 17.4.
TWX shares are up 6.2%, plus dividends, since I reiterated my buy rating on January 18.
I'm displeased with the downward revision in projected 2014 EPS growth.   However, my recommendation is to hold the shares in anticipation of the second quarter 2014 spin-off of Time Inc.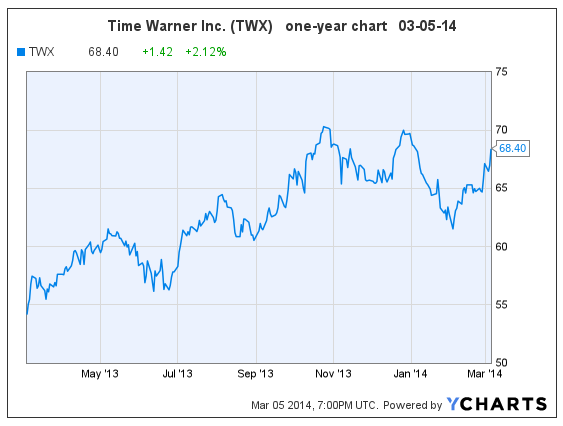 * * * * *
Walgreen Shares Still Reaching New Highs
(WAG, $68.30, down $0.79 midday)
Shares of retail drugstore chain Walgreen Co. are up 9.6% since my most recent buy recommendation on February 11.
Earnings per share (EPS) are expected to grow 10.6%, 13.6% and 21.9% in 2014 through 2016 (August year-end).  The PE is 19.8, within a normal range of 10-24; and the dividend yield is 1.8%.
On January 10, as the stock began testing upside resistance, I said, "If I loved the company and wanted to own the stock, I would wait for a dip below $59 to accumulate shares."  That buying opportunity came in late January, and the stock is up 15.8% from that $59 target purchase price.
At this point, there are too many red flags for me to continue to give Walgreen Co. a buy rating: the 2014 earnings growth rate and dividend yield have been ratcheting downward, and the rising PE has thrown the stock into "overvalued" territory.  Nevertheless, the stock continues to reach new highs, since breaking free from a long-term trading range last summer.
If I owned the stock, I would let it climb, but use a stop-loss order at $65.50 or $63.75.  Overvalued stocks eventually adjust to more rational pricing.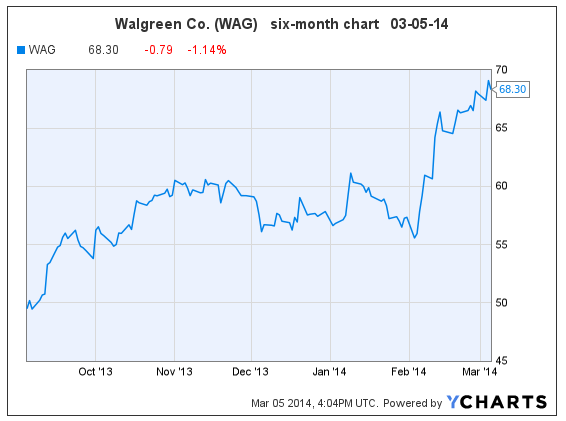 * * * * * *
Union Pacific Shares Continue Climbing
(UNP, $183.38, up $3.87 in early trading)
Shares of railroad company Union Pacific Corp. are reaching new highs again today.  Earnings growth projections remain stable.  See my comments from February 19.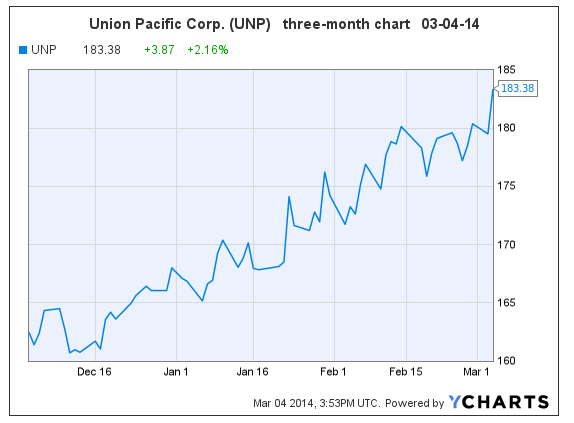 * * * * *
Valeant Shares Reach New Highs on Fourth Quarter Earnings Beat
Valeant Pharmaceuticals (VRX, $143.38) reported a strong fourth quarter last Thursday, achieving earnings and revenue slightly higher than the consensus estimate, and pushing the stock to a new high of $153.10.  Morgan Stanley commented, "Better than expected performance in Bausch's contact lens and surgical portfolio gives us greater confidence in the long-term durability of organic growth because these segments do not go generic."
Valeant plans to become one of the world's top five pharmaceutical companies, as measured by market capitalization, by 2016.  The company makes the antidepressant drug Wellbutrin, and Cold-FX.  Valeant has been growing via acquisitions of specialty pharmaceutical companies, including the $8.7 billion Bausch & Lomb purchase, and has identified another 50 prospective acquisitions, worldwide.
Valeant's consensus earnings growth projections are 39%, 21%, and 7% in 2014 through 2016 (December year-end).  The 2014 PE is comparably low at 16.6.  The long-term debt ratio is high at 72%.
The stock is resting during an uptrend, most likely to trade between $139-$153 in the near-term, with secondary support at $130.
I was previously concerned about the long-term debt ratio.  Now that projected 2016 earnings growth has slowed to 7%, I will no longer be giving Valeant Pharmaceuticals a buy rating.  Both situations could change rapidly, and I will continue to monitor Valeant's future prospects.
Current shareholders should hold their shares for further gains, and use stop-loss orders to protect profits.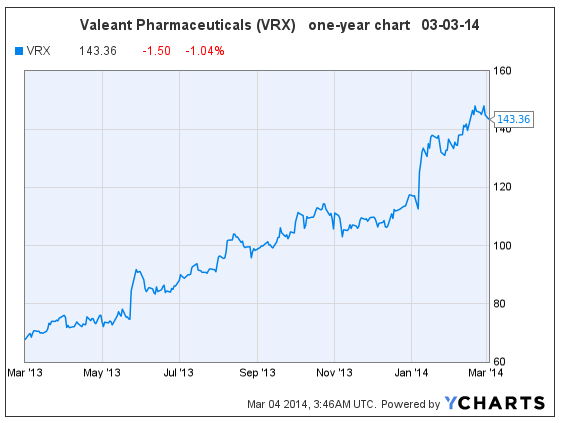 * * * * *
Tyco Announces Business Sale, and New Share Repurchase Authorization
Tyco International Ltd. (TYC, $43.02) has agreed to sell its South Korea security business to the Carlyle Group (CG, 35.5) for about $1.93 billion in cash, or about $1.85 billion after minimal taxes.  Morgan Stanley called the transaction value "an excellent price".  The transaction is expected to close in the June quarter.
In conjunction with the business sale announcement, Tyco also announced a new revised repurchase plan totalling $2.0 billion — an increase of $1.75 billion over the previously authorized amount.  The increase in the earnings per share (EPS) from the repurchases is expected to offset the approximate loss of $0.20 per share due to the loss of income from the sale of the South Korean security business.
Tyco's EPS are expected to grow 17% per year in 2014 through 2016 (September year-end).  The current price-earnings ratio (PE) is 20.0, and the dividend yield is 1.49%.  Tyco's long-term debt ratio is 22%.
The stock is up 4% since my January 18 buy recommendation.  The chart remains bullish, and the stock could easily continue climbing for a while.  There's price support at $41/$41.50.
Goodfellow LLC Rating: Buy, Growth, Growth & Income.  (03/03/14)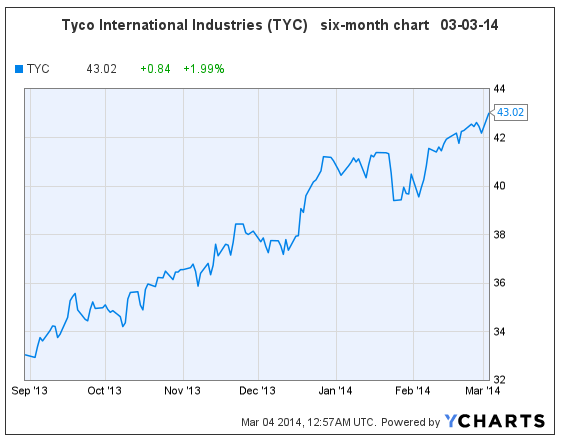 * * * * *
Whirlpool Shares Reach Short-Term Price Target; Hold Strong in Weak Market
(WHR, $143.58, down $1.05 midday)
Shares of home appliance maker Whirlpool Corp. briefly fell, then rebounded, as the U.S. markets stumble over Russia-Ukraine hostilities.
Whirlpool's earnings per share (EPS) growth projections remain consistent with my January 31 report, at 22%, 16%, and 15% in 2014 through 2016.  The 2014 PE is 11.8, and the dividend yield is 1.7%.
On January 31 I wrote, "In light of the strong earnings growth and low PE, I expect the stock to have a … near-term rebound.  A rebound to $145 would give today's buyers a quick 10% gain."
The stock fell for one more day, bottoming with the U.S. stock market averages on February 3.  WHR shares then reached $145 on February 27.
Now that the stock is holding strong in today's weak market, I'm convinced that it will continue to outperform the market averages.  The next resistance point is at $150.
Goodfellow LLC Rating:  Buy, Aggressive Growth, Growth & Income, Value, Volatile.  (03-03-14)

 * * * * *
I bought shares in Hertz Global Holdings (HTZ) today.  See my remarks from February 27.  (03-03-14)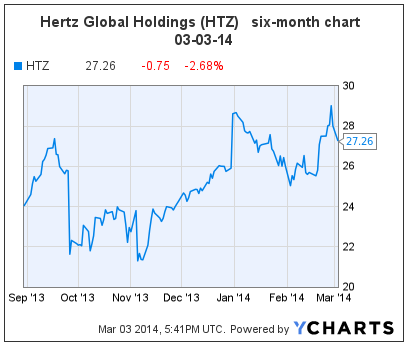 * * * * *
Too Much Talk, Too Little Action at Adidas
(ADDYY, $56.10, down $2.02)
The earnings outlook has consistently been revised downward at adidas AG, in recent months.  In that light, I am changing my rating on the stock.
Adidas is the second largest global seller of athletic footwear and apparel, including the Reebok brand, which it acquired in 2006 for $3.8 billion.  The company took a large write-down on its Reebok assets in 2013.
Adidas has plans for aggressive growth, especially in emerging markets.  Its retail business is growing much faster than its wholesale business.  The company is currently rolling out a new in-store marketing concept in 24 stores.  The company is also entering casual clothing & shoe, and teen fashion markets.
However, the company lost market share in Europe in 2013.
Fourth quarter 2013 estimates have been ratcheting downward for several months, and will presumably be announced shortly.  Wall Street's earnings per share (EPS) growth expectations have fallen to 15.2% in 2014 (December year-end).  The PE is 17.6.
Adidas pays an annual dividend in mid-May.  The amount varies year-to-year.
The stock price rose as much as 27% since my first buy rating last March 11; reaching a high of $64.24 on December 31, before falling in synch with this year's S&P 500 correction — they both bottomed on the same day.
I expect the stock to trade between $56-$59/$60 for a while.  While it's true that Wall Street can't seem to get a handle on what to expect from adidas' earnings, adidas also seems to be doing a poor job of performing up to their own expectations.
With earnings growth projections falling, the PE rising, and the chart neutral, ADDYY shares no longer offer a compelling hope of near-term capital appreciation.  My suggestion is to sell on an upward bounce toward $59/$60, and move on to an undervalued growth stock.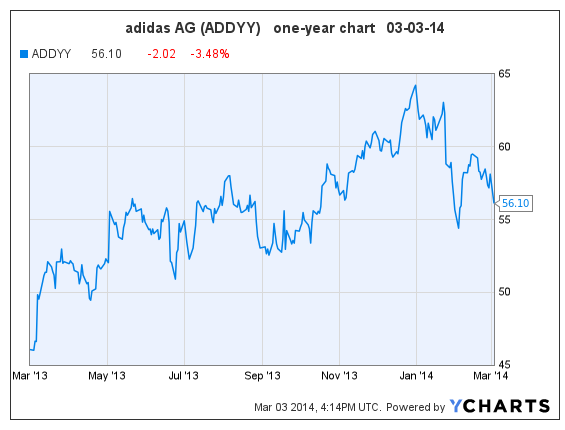 * * * * *
Send questions and comments to research@goodfellowllc.com.
Happy investing!
Crista Huff
President
Goodfellow LLC
* * * * *
Investment Disclaimer
Release of Liability: Through use of this website viewing or using you agree to hold www.GoodfellowLLC.com and its employees harmless and to completely release www.GoodfellowLLC.com and its employees from any and all liability due to any and all loss (monetary or otherwise), damage (monetary or otherwise), or injury (monetary or otherwise) that you may incur.
Goodfellow LLC and its employees are not paid by third parties to promote nor disparage any investment. Recommendations are based on hypothetical situations of what we would do, not advice on what you should do.
Neither Goodfellow LLC nor its employees are licensed investment advisors, tax advisors, nor attorneys. Consult with a licensed investment advisor and a tax advisor to determine the suitability of any investment.
The information provided herein is obtained from sources believed to be reliable but is not guaranteed as to accuracy or completeness. When information is provided herein from third parties — such as financial news outlets, financial websites, investment firms, or any other source of financial information – the reliability or completeness of such financial information cannot be guaranteed.
The information contained on this website is provided for informational purposes only and contains no investment advice or recommendations to buy or sell any specific securities. This is not an offer or solicitation for any particular trading strategy, or confirmation of any transaction. Statements made on the website are based on the authors' opinions and based on information available at the time this page was published. The creators are not liable for any errors, omissions or misstatements. Any performance data quoted represents past performance and past performance is not a guarantee of future results. Investments always have a degree of risk, including the potential risk of the loss of the investor's entire principal. There is no guarantee against any loss.