(Note: This article was reserved for Goodfellow LLC subscribers until January 28, 2017, when I made it available to the general public.)
Shares of Home Depot (HD, $79.35, up $0.41 midday) are rebounding after a three-month correction.  On October 20, I advised investors, "The trading range will likely be $74 – $78 in the very near-term.  We would accumulate shares below $75."  Investors then had a couple more days to buy low before the price recovered. 
I expect the stock to trade between $78 – $81 in the near-term.
Goodfellow LLC Rating:  Accumulate, Growth, Growth & Income.  (11-15-13)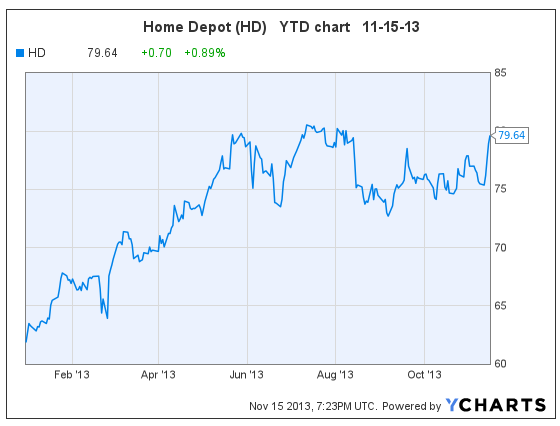 * * * * *
Shares of Alexion Pharmaceuticals (ALXN, $122.29, up $2.32 midday) are up over $7 since Nov. 11, when I recommended that aggressive growth investors buy the stock at $115.06.  At that time, I said, "The chart appears to be forming a perfect double-bottom pattern, and in that light, I believe today will be the low day on the price before it recovers quickly to $125."
The chart remains quite bullish, and barring any unrelated downturn in the general stock market, I expect ALXN to break past upside resistance quickly.
(Scroll to the bottom of this article to see my November 11 comments on Alexion Pharmaceuticals.)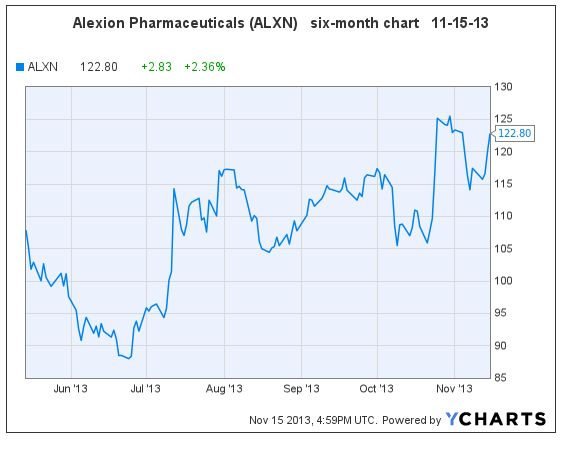 * * * * *
Nike Shares Overextended?
(NKE, $79.00, up $0.36 in morning trading)
Shares in Nike Inc. broke through upside resistance at $65.50 on Sept. 10, and continue to steadily rise.  The price is up 45% since we told Ransom Notes Radio listeners to buy Nike this year, beginning on March 11 at $54.53.
On October 21 I said , "At this point, the shares have become overvalued.  Current shareholders should use stop-loss orders to protect profits."  I don't currently own Nike shares, but if I did, I'd put the stop loss at $74.75.  I'm not worried about the share price, but as the PE rises, so does the inherent risk in owning the stock.
Goodfellow LLC Rating: Hold, Growth, Growth & Income.  (11/15/13)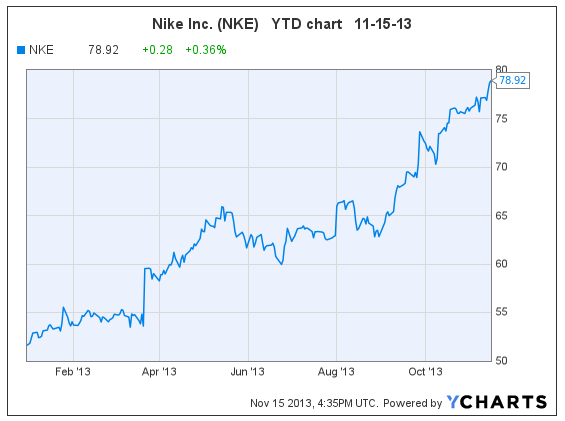 * * * * *
D.R. Horton Reports Fourth Quarter
(DHI, $19.71, up $0.66 midday)
Fourth quarter net income for homebuilder D.R. Horton Inc. rose 39% year-over-year, and revenue rose 40%.  However, net new orders and revenue growth are expected to decelerate in 2014 as mortgage interest rates rise.  D.R. Horton is one of America's largest homebuilders, with a contract backlog of $2.6 billion as of June 30 2013.
Earnings per share (EPS) are projected to grow  20%, 25% and 20% in fiscal years 2014 through 2016.  The PE is 12.4, and the dividend is low at 0.8%.
The company's long-term debt ratio was quite fair at 36% at fiscal 2012 year-end, and has been falling significantly since it peaked in 2009.
The stock is in a trading range of $17.50 – $21.50, down from a high of $27.75 in May.   DHI is currently rising within its trading range.  Expect it to meet resistance around $21.  If interest rates remain stable, the stock could then rise to $23 shortly thereafter.
This volatile stock will react dramatically to economic and housing industry news, and is more suited to traders than buy-and-hold investors.  I would accumulate shares at or below $18. 
Goodfellow LLC Rating:  Hold, Aggressive Growth, Volatile, Value.  (11-14-13)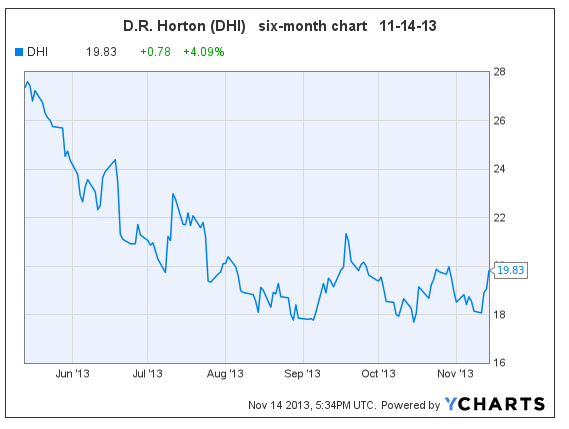 * * * * *
Macy's Reports Blowout Third Quarter
(M, $50.80, up $4.47 midday)
Macy's Inc. reported third quarter earnings, featuring comparable store sales up 3.5%, much higher than expected.  Earnings per share (EPS) came in at $0.47 vs. last year's $0.36.  Analysts had expected EPS of $0.39, and investors reacted by driving the stock price up over 9% by midday.
Increased marketing efforts drove the sales results, but also served to lower gross margins vs. analysts' expectations.
Earnings are projected to grow 9% 13% and 12% in fiscal years 2014 through 2016 (year-end January).  The PE is 13.4, which is on the high end of the recent three-year range of 7-13.  
The dividend yield is 1.97%; and the long-term debt ratio is a little higher than I prefer, at 53%.
On Oct 6, I said, "I am discontinuing my buy recommendation on Macy's Inc. (M) due to the neutral/bearish chart."  The stock proceeded to bottom out and begin a recovery, then shot up to short-term resistance at $50/$51 today on the great earnings news.
The next move should be a pullback to $48, and maybe even $46, as the stock digests today's run-up.
Current shareholders should use stop-loss orders to limit downside risk.  New investors should wait to buy on a pullback.
All in all, Macy's is a great company with a decent stock.  There are lots of other stocks with similar dividends, better charts, and better earnings growth rates.  But people can probably make money on Macy's stock too.
* * * * *
Starbucks to Pay Mondelez $2.79 Billion Settlement
An arbitrator has asked Starbucks Corp. (SBUX) to pay Mondelez International (MDLZ) $2.79 billion over a 2010 coffee-distribution dispute.  Mondelez International was spun-off from Kraft Foods Inc. in October 2012.
Starbucks plans to pay the settlement costs with cash-on-hand.  While the original dispute was with Kraft Foods Inc., the new Kraft Foods Group Inc. agreed to direct the settlement proceeds to Mondelez International.  Mondelez will use the money to repurchase stock.
Mondelez shares are relatively attractive, with decent earnings growth and a bullish chart.  But the price-earnings ratio (PE) is much higher than the earnings growth rate.  If I owned the stock, I would keep it, and use stop-loss orders to protect the downside.  I wouldn't buy shares at this price.
Kraft Foods Group has been trading between $51 – $56 since August.  The chart is neutral, the dividend is huge at 4.0%, the long-term debt ratio is very high at 74%, and the projected earnings growth is erratic.  Traders could easily trade the trading range, but long-term investors should trade out near $56 and invest in a company with better earnings growth.
Here's my October 22 comment on Starbucks.  As I said that day, the PE is high, and my recommendation from that day still stands.
(11-13-13)
* * * * *
Disney Fourth Quarter Success Propels Stock
(DIS, $68.27, down $0.31 midday)
The Walt Disney Co. reported fourth quarter earnings per share of $0.77, slightly beating Wall Street estimates on earnings and revenue.  Net income was up 12% vs. last year.  The quarter's success was highlighted by higher theme park traffic, increased sales of toys and merchandise, and a strong showing from the movie "Monsters University".
Disney's next Star Wars movie, "Star Wars: Episode VII," from its Lucasfilms division, will debut on December 18, 2015.
The ex-dividend date for the annual December dividend has not been announced, but occurred last year on December 6.
Here's my recent research article from October 18.  The stock broke past upside resistance the next business day, as I said it would in that article.  It quickly rose to $69.87, had a brief pullback, and appears able to continue reaching new highs again this month.
Goodfellow LLC Rating:  Strong Buy, Growth, Growth & Income, Value.  (11-11-13)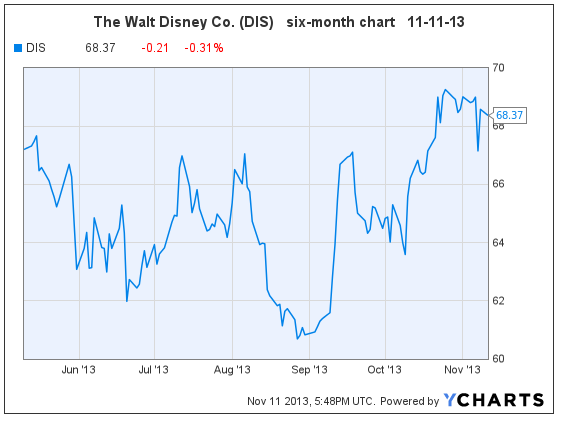 * * * * *
Buy Valeant Pharmaceuticals Today
(VRX, $105.12, down $0.32 midday)
As an addendum on the comment on Alexion Pharmaceuticals, below, you can see from today's price action that Valeant Pharmaceuticals also appears to be finishing a double-bottom chart pattern today.  (It is very common for stocks in the same industry to exhibit similar chart patterns.)
Read my comments from October 31.
Goodfellow LLC Rating: Accumulate, Aggressive Growth.   (11/11/13)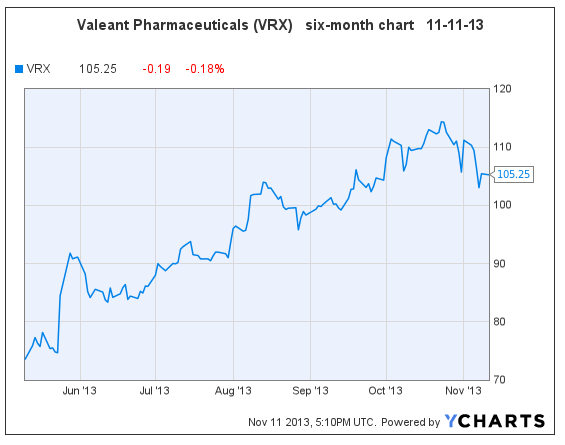 * * * * *
Alexion Shares Down Today: Just What the Doctor Ordered?
(ALXN, $115.06, down $2.37 in morning trading)
Shares of Alexion Pharmaceuticals are down this morning.  There is no news on Reuters.  Morgan Stanley published a bullish comment this morning on its blockbuster drug Soliris' recent results in treating aHUS.
The stock price fell below $115 this morning, and I therefore bought shares just now.  The chart appears to be forming a perfect double-bottom pattern, and in that light, I believe today will be the low day on the price before it recovers quickly to $125.
Read my comments from October 30.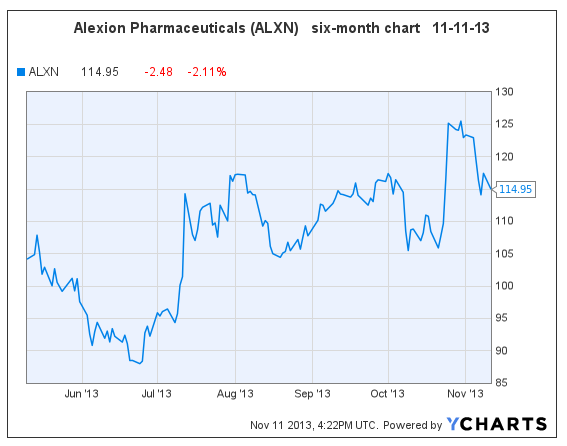 Crista Huff
President
Goodfellow LLC
* * * * *
Investment Disclaimer
Release of Liability: Through use of this website viewing or using you agree to hold www.GoodfellowLLC.com and its employees harmless and to completely release www.GoodfellowLLC.com and its employees from any and all liability due to any and all loss (monetary or otherwise), damage (monetary or otherwise), or injury (monetary or otherwise) that you may incur.
Goodfellow LLC and its employees are not paid by third parties to promote nor disparage any investment. Recommendations are based on hypothetical situations of what we would do, not advice on what you should do.
Neither Goodfellow LLC nor its employees are licensed investment advisors, tax advisors, nor attorneys. Consult with a licensed investment advisor and a tax advisor to determine the suitability of any investment.
The information provided herein is obtained from sources believed to be reliable but is not guaranteed as to accuracy or completeness. When information is provided herein from third parties — such as financial news outlets, financial websites, investment firms, or any other source of financial information – the reliability or completeness of such financial information cannot be guaranteed.
The information contained on this website is provided for informational purposes only and contains no investment advice or recommendations to buy or sell any specific securities. This is not an offer or solicitation for any particular trading strategy, or confirmation of any transaction. Statements made on the website are based on the authors' opinions and based on information available at the time this page was published. The creators are not liable for any errors, omissions or misstatements. Any performance data quoted represents past performance and past performance is not a guarantee of future results. Investments always have a degree of risk, including the potential risk of the loss of the investor's entire principal. There is no guarantee against any loss.