Morgan Stanley commented on Dec. 6, "In recent years, UNP [Union Pacific Corp.] has maintained solid price discipline and lost some legacy contracts to BNSF.  Recent service issues at BNSF could be an opportunity for UNP to win some share back on better service.  BNSF has seen train speed and dwell time deteriorate, while UNP continues to show solid gains."  
Read my current buy/sell/hold opinion on UNP here.  (12/07/13)
* * * * *
Pending New Addition to S&P 500 Index
(GGP, $21.02, up $0.75 midday)
General Growth Properties Inc. will be added to the S&P 500 after the close of trading on Dec. 9.  GGP is a REIT which invests in shopping malls and office buildings in the U.S. and Brazil.
After taking significant net losses in recent years, the company is expected to earn approximately $0.12, $0.24, and $0.34 per share in 2013 through 2015.  The stock is thinly covered on Wall Street.  Investors should expect potential wide variations from estimates when quarterly earnings reports come out.
The dividend yield is 2.66%, and the PE is high at 88.
It was reported in November that shareholder activist Pershing Square Capital Management cut their stake in General Growth Properties by 47.7% to 23.2 million shares.  Those shares were repurchased by GGP.  At that time, Pershing Square also liquidated large portions of their shares in J.C. Penney (JCP) and Procter & Gamble (PG); therefore investors cannot necessarily assume that the sale was correlated to displeasure with GGP stock.
Earlier in November, Brookfield Property Partners  L.P. (BPY) purchased $1.4 billion of GGP stock, increasing its total ownership of outstanding GGP shares to 32%.
While it's normally a bullish sign for near-term price movement when a stock is added to the S&P 500, I would be cautious with GGP.  The stock has recently traded between $20.00 – $21.70, and doesn't appear ready to climb higher without some consolidation.  The trading range isn't really wide enough for short-term gains, and the dividend yield doesn't warrant attention from growth & income investors in light of the very high PE.
Goodfellow LLC rating:  Hold, Aggressive Growth, Volatile, Public.

* * * * *
China Mobile May Soon Allow iPhone Use to 750 million Customers
(AAPL, $570.83, up $5.83)
Contrary to earlier WSJ reports, Apple Inc. and China Mobile are still in negotiations to allow iPhones to be used within China Mobile's mobile phone network, the largest such network worldwide.  For perspective, China Mobile has 7.5 times as many retail customers as Verizon Wireless.
Wall Street expects earnings per share (EPS) to grow 9%, 10% and 5% in Apple's fiscal years 2014 through 2016 (Sept. year-end).  The 2014 PE is 13.1, and the dividend yield is 2.14%.
Apple Inc. is not the growth story that it was in recent years.  There are many more stocks available with better earnings prospects and better charts.  That being said, I always include technical analysis in my reviews of Apple, because I know there are people who are addicted to buying the stock, so they might as well be buying/selling at the most opportune times.  
On October 16, I said, "The stock appears capable of climbing past recent highs of $513.74 in the near future."  The share price began climbing three days later.  (And anyone who takes the time to review the Apple articles on my website since 2011 will see that I have possibly never been wrong on telling investors what the share price will do next.)
The share price could pretty easily reach resistance around $620 with the current run-up, and then establish new support around $540.

* * * * *
Hewlett-Packard Shares Surge on U.K. Layoff Announcement
(HPQ, $28.36, up $0.86 midday)
Hewlett-Packard Co. plans to cut 1,124 jobs in Britain in January, representing approximately 6.5% of Britain's HP employees, as part of reorganization efforts.  The company plans to cut 27,000 jobs globally in 2014.
The company is changing its business focus in the wake of continually declining PC sales.
Hewlett-Packard shares are up 13% since my "trading buy" recommendation on November 26, and 27% since my August 22 recommendation.  The stock is breaking past short-term upside resistance today.  Traders should continue holding their shares, but use stop-loss orders to protect profits.
Goodfellow LLC Rating:  Hold, Value, Volatile, Public.  (12/04/13)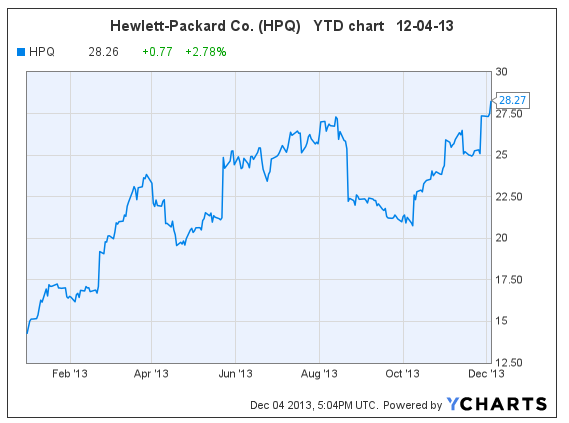 * * * * *
Investor Urges Abercrombie CEO Change
(ANF, $35.99, up $1.97 midday)
"Activist investor Engaged Capital said on Tuesday that it's sent a letter to Abercrombie & Fitch Co. (ANF) board asking it to find a new chief executive as CEO Michael Jeffries' contract is set to expire on Feb. 1," reports MarketWatch.  Despite record 2013 revenue of $4.5 billion, this profitable company cannot seem to provide consistent earnings growth to shareholders.  Standard & Poor's (S&P) expects comparable store sales to decline 14% in fiscal 2014 (year-end January '14), which is a stunning and unacceptable number for investors.
Earnings per share (EPS) are projected to fall 54% this year (fiscal year-end January) —  largely attributed to store closures and restructuring expenses — then grow 59% and 17% in the next two years. But with major clothing retailers and manufacturers like Macy's (M) and Michael Kors (KORS) showing earnings  and stock-price growth, investors have had no compelling reason to buy ANF shares.
The dividend yield is 2.22%.
Abercrombie's stock price has been suffering at the low end of its ten-year trading history, and is most likely to continue trading in a range of $30 – $55.  If the stock price consolidates in the near-term, then breaks past $39, traders should jump in for short-term gains.  Current shareholders should either sell on the next jump above $38, or hold on a while longer to see if the stock is ready to break out toward the next resistance around $44.
* * * * *
Happy investing!
Crista Huff
President
Goodfellow LLC
* * * *
Investment Disclaimer
Release of Liability: Through use of this website viewing or using you agree to hold www.GoodfellowLLC.com and its employees harmless and to completely release www.GoodfellowLLC.com and its employees from any and all liability due to any and all loss (monetary or otherwise), damage (monetary or otherwise), or injury (monetary or otherwise) that you may incur.
Goodfellow LLC and its employees are not paid by third parties to promote nor disparage any investment. Recommendations are based on hypothetical situations of what we would do, not advice on what you should do.
Neither Goodfellow LLC nor its employees are licensed investment advisors, tax advisors, nor attorneys. Consult with a licensed investment advisor and a tax advisor to determine the suitability of any investment.
The information provided herein is obtained from sources believed to be reliable but is not guaranteed as to accuracy or completeness. When information is provided herein from third parties — such as financial news outlets, financial websites, investment firms, or any other source of financial information – the reliability or completeness of such financial information cannot be guaranteed.
The information contained on this website is provided for informational purposes only and contains no investment advice or recommendations to buy or sell any specific securities. This is not an offer or solicitation for any particular trading strategy, or confirmation of any transaction. Statements made on the website are based on the authors' opinions and based on information available at the time this page was published. The creators are not liable for any errors, omissions or misstatements. Any performance data quoted represents past performance and past performance is not a guarantee of future results. Investments always have a degree of risk, including the potential risk of the loss of the investor's entire principal. There is no guarantee against any loss.
* * * *
Goodfellow LLC is a subscription-only stock market website. We strive to identify financially healthy companies in which traders and investors can buy shares and earn dividends and capital gains. See disclaimer for the risks associated with investing in the stock market. See your tax advisor for the tax consequences of investing. See your estate planning attorney to clarify beneficiary and inheritance issues associated with your assets.