UPS Fails to Deliver at Christmas
Package delivery company United Parcel Service, Inc. (UPS, $104.79, up $0.12 midday) is in hot water over its failure to deliver packages on-time for Christmas.  Shipping volumes were anticipated to increase 6% for the season, but rose 19%, overwhelming the company's ability to perform well.
On the bright side, the fast growth in e-commerce bodes well for future revenue growth at UPS and FedEx ($143.39, up $0.09 midday).  FedEx shares are up 23.3% since my most recent buy recommendation in October.
Earnings per share (EPS) at UPS are expected to grow 5%, 15% and 13% in fiscal years 2013 through 2015.  The 2014 price-earnings ratio (PE) is 19.1.
UPS is not a "buy recommended" stock at Goodfellow LLC, due to its high debt levels.
The stock price broke through long-term resistance at $92 in mid-October.  Shareholders should use stop-loss orders to protect profits.  A market correction could bring the stock down to $98-$100, or to secondary support at $92.
Goodfellow LLC Rating:  Hold, Growth & Income, Public.   (12/27/13)

 * * * * *
Stock in Target Corp. (TGT, $61.88) which has been suffering since July due to projections of falling 2014 earnings, is now falling further on recent news that its credit card security has been breached by sophisticated hackers, and that 40 million card accounts have been compromised.
Standard & Poor's reports that a similar credit card breach to The TJX Companies in 2007 resulted in a cost of $170 million, with a 3% impact on earnings.
TGT has not been on my buy list all year due to poor projected 2014 earnings per share (January year-end), currently expected to fall 18% ; then grow 29% and 18% in 2015 and '16.
We told Ransom Notes Radio listeners on Feb. 27 to avoid Target shares.  At that time, 2014 earnings were expected to grow 3%.
On April 17, with poor earnings projections but a bullish chart, we encouraged Ransom Notes Radio listeners to hold their shares, but to use stop-loss orders to protect profits.  We reiterated that message on May 22.  By the time we reported on Target again in September, earnings projections had been revised to a 9% drop this year.
The stock has fallen $12 from the July highs, and the chart remains weak.  I would encourage shareholders to use tight stop-loss orders around $60.75/$61, and be prepared to jump out around $63.

 * * * * *
Shares of homebuilder D.R. Horton (DHI) are up 3% midday at $21.17, and pushing against price resistance.  There is no recent news to speak of on the company.
On Nov. 14, I said to expect the stock price "to meet resistance around $21."
Subscribe now to see the stock chart, earnings projections, and the Goodfellow LLC recommendation on whether to buy/hold/sell D.R. Horton stock.  (12-23-13)
* * * * *
T-Mobile to Offer Free Facebook Access to Non-Internet Customers
(FB, $57.60, up $2.48 in early trading)
"GoSmart, the prepaid service of No. 4 U.S. operator T-Mobile US, said on Monday it would offer its customers free access to Facebook Inc. whether or not they subscribe to its Internet service," reports Reuters.
In other recent news, Facebook IPO investors are suing more than 40 defendants, claiming "that Facebook negligently concealed material information from its IPO registration statement that it had provided to its underwriters' analysts," reports Reuters.
Also, Facebook plans to offer 27 million shares of stock to investors, concurrent with the sale of 41.4 million shares from Mark Zuckerberg, and another 1-2 million shares from other large shareholders.  This type of transaction would typically depress a stock's price, however, Facebook shares were added to the S&P 500 index after the market closed on December 20, a near-term bullish catalyst for the stock.  The two pieces of news offset each other's impact on the share price, with the net effect being positive.
Facebook shares are up 5.1% since I said "buy" on Dec. 17.  Please read that review before making a decision on whether to buy this aggressive growth stock.  The stock is also up 102% since I said "buy" on Ransom Notes Radio on May 2.
Subscribe now to see the stock chart, earnings projections, and the Goodfellow LLC recommendation on whether to buy/hold/sell Facebook stock.  (12-23-13)
* * * * *
China Mobile Opens Up iPhone Use to 760 million Customers
(AAPL, $565.23, up $16.21 in early trading)
Apple Inc. and China Mobile have agreed to allow iPhones to be used within China Mobile's mobile phone network, the largest such network worldwide.  For perspective, China Mobile has 7.5 times as many retail customers as Verizon Wireless.  New orders can be placed beginning December 25, and the product will be available in Chinese retail stores beginning January 17.
Standard & Poor's commented today, "We think this is a significant positive for AAPL, as it looks to grow its base of users and revenues in China, which already was a very large and important market for the company. We see AAPL gaining share in China."
Wall Street expects earnings per share (EPS) to grow 10%, 10% and 5% in Apple's fiscal years 2014 through 2016 (Sept. year-end).  The 2014 PE is 13.0, and the dividend yield is 2.16%.  (Watch for near-term earnings revisions based on today's news.)
Apple Inc. is not the growth story that it was in recent years.  There are many more stocks available with better earnings prospects and better charts.  That being said, I always include technical analysis in my reviews of Apple, because I know there are people who are addicted to buying the stock, so they might as well be buying/selling at the most opportune times.
On October 16, I said, "The stock appears capable of climbing past recent highs of $513.74 in the near future."  The share price began climbing three days later.  (And anyone who takes the time to review the Apple articles on my website since 2011 will see that I have possibly never been wrong on telling investors what the share price will do next.)
On Dec. 5 I said, "The share price could pretty easily … establish new support around $540."  The stock then bounced at $539 on Dec. 18.
To reiterate, shares of Apple Inc. do not meet Goodfellow LLC buy-rating criteria.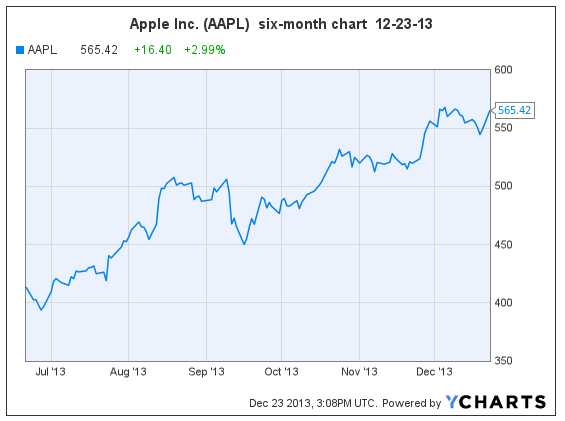 * * * * *
V.F Corp. Shares Split 4:1 on Dec. 23
Shares of apparel manufacturer V.F. Corp. ($245.79) will begin trading around $61 per share on Monday, December 23, reflecting a four-for-one stock split.  Shareholders will own four times as many shares as they had owned on Friday, December 20, at one-fourth the price.
The shares are up 57% since we said "buy V.F. Corp." on Ransom Notes Radio on February 15.
Subscribe now to read about V.F. Corp.'s earnings outlook, and my current recommendation on what to do with the stock.  (12-22-13)
* * * * *
Happy investing!
Crista Huff
President
Goodfellow LLC
* * * *
Investment Disclaimer
Release of Liability: Through use of this website viewing or using you agree to hold www.GoodfellowLLC.com and its employees harmless and to completely release www.GoodfellowLLC.com and its employees from any and all liability due to any and all loss (monetary or otherwise), damage (monetary or otherwise), or injury (monetary or otherwise) that you may incur.
Goodfellow LLC and its employees are not paid by third parties to promote nor disparage any investment. Recommendations are based on hypothetical situations of what we would do, not advice on what you should do.
Neither Goodfellow LLC nor its employees are licensed investment advisors, tax advisors, nor attorneys. Consult with a licensed investment advisor and a tax advisor to determine the suitability of any investment.
The information provided herein is obtained from sources believed to be reliable but is not guaranteed as to accuracy or completeness. When information is provided herein from third parties — such as financial news outlets, financial websites, investment firms, or any other source of financial information – the reliability or completeness of such financial information cannot be guaranteed.
The information contained on this website is provided for informational purposes only and contains no investment advice or recommendations to buy or sell any specific securities. This is not an offer or solicitation for any particular trading strategy, or confirmation of any transaction. Statements made on the website are based on the authors' opinions and based on information available at the time this page was published. The creators are not liable for any errors, omissions or misstatements. Any performance data quoted represents past performance and past performance is not a guarantee of future results. Investments always have a degree of risk, including the potential risk of the loss of the investor's entire principal. There is no guarantee against any loss.
* * * *
Goodfellow LLC is a subscription-only stock market website. We strive to identify financially healthy companies in which traders and investors can buy shares and earn dividends and capital gains. See disclaimer for the risks associated with investing in the stock market. See your tax advisor for the tax consequences of investing. See your estate planning attorney to clarify beneficiary and inheritance issues associated with your assets.