V.F. Corp. Shares Down on 4Q 2013 & FY 2014 Earnings Disappointments
Global apparel manufacturer V.F. Corp. reported fourth quarter earnings per share (EPS) of $0.82 today, shy of the consensus $0.84; and also guided full-year 2014 estimates downward.  Despite the earning miss, revenue, margins, and EPS all grew nicely, year-over-year.  Full-year 2013 EPS rose 13%, and the company expects additional growth of 11% in 2014 (December year-end).
The 2014 price-earnings ratio (PE) is 18.6; and the dividend yield is 1.9%.
On December 23, when the price was $61.45, I said, "The 2014 PE is 19.9, indicating an overvalued stock.  The chart is overextended."
On January 17 I said, "The stock remains overvalued, and has completed its recent run-up."
At this point, the earnings growth rate has slowed enough that the stock no longer earns a buy rating at Goodfellow LLC.  The stock has established support at $55/$56, going back to mid-November.  I would expect it to bounce back up to $58/$59 in the near-term, at which point I would sell, and reinvest my capital in a company with stronger earnings growth projections.
Shares of V.F. Corp. (VFC) split four-for-one on December 20, 2013.
Goodfellow LLC Rating:  Sell, Growth & Income, Public.  (02-14-14)

* * * * *
Under Armour Shares Pull Back on Rumors of Poorly Designed Olympic-Wear
(UA, $106.03, down $2.55 midday)
Under Armour Inc. is receiving bad press today due to allegations that poorly designed Olympic suits are hampering the U.S. Speedskaters' performance at the Olympics.  None of the U.S. team members have placed higher than seventh place, in the six events held through last night.  The stock is down 2.4% — not a big drop, but certainly a warning.
Wall street expects Under Armour's earnings per share (EPS) to grow 23%, 25% and 28% in fiscal years 2014 through 2016 (December year-end).  The 2014 PE is 57.3, in a seven-year range of 13-70.
UnderArmour shares are up 91.9% since we said "buy" on Ransom Notes Radio on April 22, 2013.
The stock has been trading between $103-$110 since it shot up on January 30.  The stock is extremely overvalued.  If I owned shares of UA, I would put in a stop-loss order at $102, and move it up as the stock continued to climb.
Goodfellow LLC Rating:  Hold, Aggressive Growth, Volatile, Public.  (02-14-14)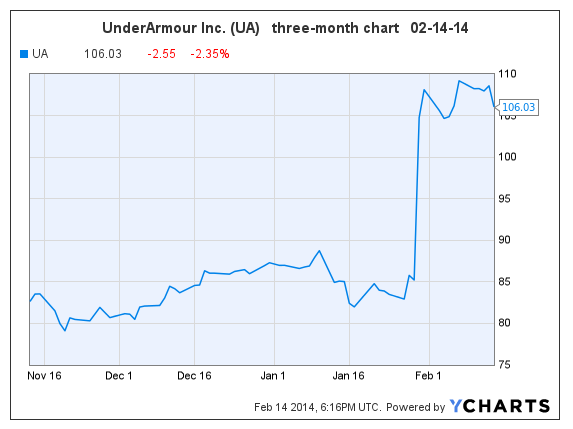 * * * * *
Despite Quarterly Earnings Beat, Deere Remains in the Headlights
This morning, John Deere & Co. reported first quarter 2014 EPS of $1.81, blowing away the $1.52 consensus estimate.  "The beat was entirely driven by better than expected operating results within the Ag & Turf business ($0.26 core beat); a lower than expected tax rate ($0.13 tailwind) was largely offset by higher than expected Other Expense ($0.11 headwind)," commented Morgan Stanley.
Deere & Co. does not earn a buy rating from Goodfellow LLC because earnings per share (EPS) are projected to fall in fiscal years 2014 and 2015 (October year-end).  Despite today's strong earnings beat, the company specifically mentioned that earnings projections are not changing.
As you can see from the four-year chart, below, the stock has been trading sideways for years.  The best shareholders can reasonably expect is that the stock can retrace recent highs of $90/$91 in the near-term.  Any further expectations of stock price growth are not based on underlying fundamentals nor technical charts.

* * * * *
Avago Breaks Through Short-Term Upside Resistance
Shares of semiconductor manufacturer Avago Technologies Ltd. (AVGO, $58.07) broke out on the upside today, and are likely to climb in the near-term.
I last reported on Avago on December 16 when the company announced an agreement to purchase LSI Corp. (LSI).  Morgan Stanley commented in January, "Avago's planned $6.6 billion acquisition of LSI would be transformative. We see the story evolving from "high" growth to "above-average" growth with a meaningful margin kicker."
Wall Street expects Avago's earnings per share (EPS) to grow 17%, 13% and 3% in fiscal years 2014 through 2016 (October year-end).  The 2014 PE is 17.2, and the dividend yield is 1.7%.
The stock is relatively fairly valued at the current price, and I would continue to avoid it due to rapidly slowing future earnings growth.   
Avago shares are up 16.7% since the buyout announcement, when I told investors that Avago did not earn a Goodfellow LLC buy recommendation due to flat 2016 earnings projections, but "if I owned AVGO shares today, I would hold them, because the chart is bullish."  Additionally, the share price is up 54% since we told investors to buy AVGO on July 1, on Ransom Notes Radio, when the stock prices was $37.66.
Current shareholders should use stop-loss orders to protect profits: no stock goes straight up forever.  I would place a stop at $52.50.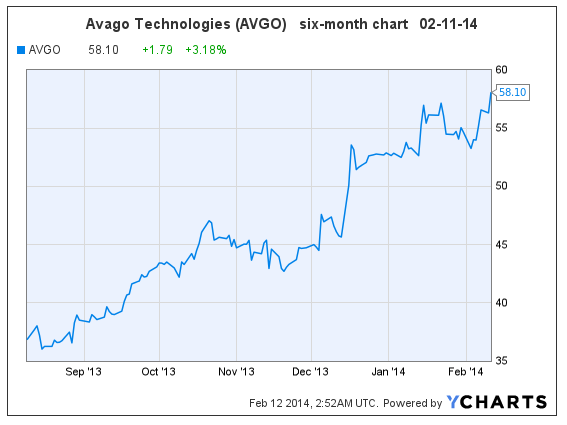 * * * * *
ConAgra Lowers 2014 Outlook
(CAG, $29.21, down $1.84 midday)
ConAgra Foods provided a revised financial outlook for 2014 today, sending the stock down 6% midday.  The company now expects diluted 2014 earnings per share (EPS) of $2.22-$2.25 (May year-end).  This represents earnings growth of about 4%.  A variety of factors contributed to lowered expectations, including a longer timeframe on profit goals, weaker-than-expected sales, margin pressures, and a poor potato crop quality.
The company says future EPS growth rate projections remain unchanged, currently at 11% per year in fiscal 2015 & '16.
CAG shares do not earn a buy rating from Goodfellow LLC due to the high long-term debt ratio of 60%.
The stock has strong support at $30, and I expect it to close at or above $30 after intraday weakness; then trade $30-$32 near-term.  The dividend yield at the current price is 3.4%, which should provide additional price support.
Growth stock investors could easily make more money elsewhere, and should trade out around $32.  Growth & income investors could also find big-dividend stocks with stronger charts & EPS growth.  The stock went ex-dividend on January 29.
Goodfellow LLC Rating: Sell, Growth & Income, Public.  (02/11/14)

* * * * *
S&P cuts its rating today on United Parcel Service (UPS, $94.73) from buy to hold, saying, "UPS has work to do to increase readiness for the next holiday season."
Wall Street expects earnings per share (EPS) at UPS to grow 16% and 13% in 2014 & 15 (December year-end). The 2014 PE is 17.3.  The long-term debt ratio is 62%.
UPS does not earn a buy rating at Goodfellow LLC, primarily due to the high long-term debt ratio.  If I owned the stock, I would sell on a bounce upward to $98, and use a stop-loss order at $92.75 to limit additional downside risk.
Goodfellow LLC Rating: Sell, Growth, Growth & Income.  (02/11/14).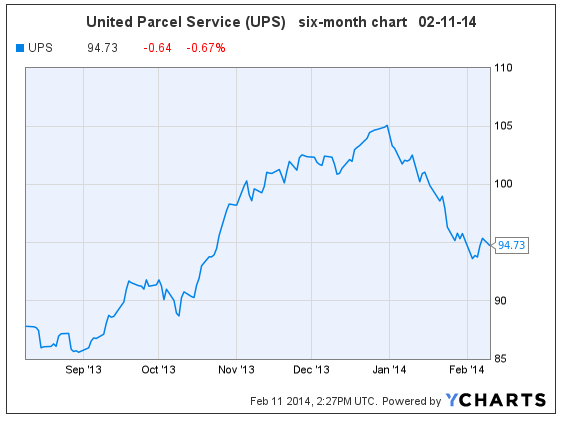 * * * * *
Loews Beats Estimates by Wide Margin; Results Complicated with Charges and Asset Sale
(L, $43.46, down $1.72 in early trading)
Loew's Corp.  reported fourth quarter 2013 results this morning.  Revenue rose 4.9%, and net income rose 4.75% vs. last year.  Operating earnings came in at $0.92 per share, helped by an improvement in its underwriting results and lower disaster-related claims.  The consensus estimate was $0.72.
Loews' CNA Financial unit — 90%-owned by Loews — reported much higher investment income, and much lower catastrophic losses, than expected, causing the strong upside earnings surprise.

CNA increased its dividend by 25%; and also declared a special $1.00 per share dividend.

CNA plans to sell its life and group subsidiary, Continental Assurance Co.  Continental represents the bulk of CNA's annuity business.  The transaction will close in the second quarter of 2014, will net $615 million, and will generate an after-tax charge of about $220 million in the first quarter of 2014.

Non-recurring impairment charges from Loews' HighMount Exploration & Production LLC unit, Boardwalk Pipeline, and CNA brought Loews' quarterly earnings per share (EPS) down to a loss of $0.51.

"Loews also booked a charge of $111 million, related to CNA's transfer of its asbestos and pollution liabilities to Berkshire Hathaway Inc.'s National Indemnity Co unit," reports Reuters.

Boardwalk Pipeline reduced its quarterly payout by 81%.

Loews did not repurchase any shares during the quarter
Subscribe now to read additional comments from today about Loews' earnings, PE, chart, and my buy/hold/sell recommendation on the stock.  (02-10-14)
* * * * *
Happy investing!
Crista Huff
President
Goodfellow LLC
* * * *
Investment Disclaimer Release of Liability: Through use of this website viewing or using you agree to hold www.GoodfellowLLC.com and its employees harmless and to completely release www.GoodfellowLLC.com and its employees from any and all liability due to any and all loss (monetary or otherwise), damage (monetary or otherwise), or injury (monetary or otherwise) that you may incur. Goodfellow LLC and its employees are not paid by third parties to promote nor disparage any investment.
Recommendations are based on hypothetical situations of what we would do, not advice on what you should do. Neither Goodfellow LLC nor its employees are licensed investment advisors, tax advisors, nor attorneys. Consult with a licensed investment advisor and a tax advisor to determine the suitability of any investment.
The information provided herein is obtained from sources believed to be reliable but is not guaranteed as to accuracy or completeness. When information is provided herein from third parties — such as financial news outlets, financial websites, investment firms, or any other source of financial information – the reliability or completeness of such financial information cannot be guaranteed. The information contained on this website is provided for informational purposes only and contains no investment advice or recommendations to buy or sell any specific securities.
This is not an offer or solicitation for any particular trading strategy, or confirmation of any transaction. Statements made on the website are based on the authors' opinions and based on information available at the time this page was published. The creators are not liable for any errors, omissions or misstatements. Any performance data quoted represents past performance and past performance is not a guarantee of future results.
Investments always have a degree of risk, including the potential risk of the loss of the investor's entire principal. There is no guarantee against any loss.
* * * *
Goodfellow LLC is a subscription-only stock market website. We strive to identify financially healthy companies in which traders and investors can buy shares and earn dividends and capital gains. See disclaimer for the risks associated with investing in the stock market. See your tax advisor for the tax consequences of investing. See your estate planning attorney to clarify beneficiary and inheritance issues associated with your assets.