MasterCard Fourth Quarter Disappoints; Stock Down
(MA, $75.72, down $4.04 in early trading)
MasterCard Inc. reported adjusted fourth quarter earnings of  $0.57 per share, below the average analyst estimate of $0.60, due to increased expenses and litigation costs.  Net income rose 3% year-over-year, and net revenue rose 12%.  The CFO stated that net revenue growth for 2014 will come in at the lower end of their three-year range.
Subscribe now to read additional comments on MasterCard's earnings projections, stock chart, and my buy/hold/sell recommendation.
* * * * *
Google to Sell Motorola Mobility to Lenovo
(GOOG, $1,135.39)
Google Inc. reported a strong fourth quarter yesterday, with earnings per share and revenue coming in slightly lower and higher, respectively, than consensus estimates.  Revenue rose 17% vs. last year.  Paid ad clicks rose 31%.
Google plans to sell its Motorola Mobility smartphone business, and over 2,000 patents, to Lenovo for $2.9 billion.  Lenovo plans to finance the deal with a combination of $660 million immediate cash, $750 million in Lenovo ordinary shares, and a three-year note.  The U.S. and China have yet to approve the transaction.
The smartphone business had been losing money for Google.  Google acquired the smartphone business when it purchased Motorola Mobility in 2012.  Google will retain a majority of the Motorola Mobility patents, which leaves Google "well-insulated against future intellectual property attacks," says Morgan Stanley.
The losses from the smartphone business have been financially inconsequential to Google, which has approximately $45 billion in cash.
Google also reported strong sales of Chromecast, Nexus, and Play store content.
The company made no statements implying a change to future earnings growth projections.  See my January 14 reports for EPS estimates and other balance sheet data.
The stock is up 47% since we told Ransom Notes Radio listeners to buy Google shares below $775 on April 19, with the S&P up 15.4% in comparison.
Subscribe now to read additional comments on Google's earnings projections, stock chart, and my buy/hold/sell recommendation.
* * * * *
Biogen Shares Rise $12.82 on Earnings Beat
Biogen Idec Inc. (BIIB, $318.28) reported slightly-higher-than-expected fourth quarter earnings yesterday on 26% revenue growth.
S&P commented, "We see multiple sclerosis drug Tecfidera sales of $398M as robust, and expect the drug to launch in Europe in '14.  …we see promise in novel long-term candidates for Alzheimer's Disease, lupus, and other neurodegenerative and autoimmune diseases."
Biogen's share price is up 65% since my first buy recommendation to Ransom Notes Radio listeners in March 2013.
I most recently recommended Biogen on January 20.  The stock has risen $20 since then.
Subscribe now to read additional comments on Biogen's earnings projections, stock chart, and my buy/hold/sell recommendation.
* * * * *
Harman Beats Earnings Estimates, Stock Soars
(HAR, $102.34, up $15.16 at the close today)
Shares of audio manufacturer Harman International Industries blew through upside price resistance today, surging 17%, after reporting great quarterly revenue and earnings growth.   Quarterly earnings per share (EPS) came in at $1.09 vs. the consensus estimate of $0.95, and up 53% vs. last year.  Revenue rose 26%.
Today's gain was certainly an overreaction to the rosy earnings report.  It's unusual to see one-day gains like this on any news, other than takeover news.  However, the gains we saw on Facebook (FB) and Harman today are indicative of a market which has fewer "undervalued" stocks, and thus, more money rushing towards those few, driving the prices up a surprising amount.
Reuters attributed the growth to "strong sales of [Harman's] infotainment systems to luxury carmakers such as BMW and Volkswagen."  Harman also gained market share, and increased its high-margin backlog by $1.1 billion.
Morgan Stanley commented, "HAR is clearly in the sweet spot of strong launch momentum and higher take rates. We were particularly impressed by the Infotainment margin though the Pro division margin miss was a surprise.  There should be enough in the quarter for the bulls to be happy though expectations are high."
I told investors to buy the stock four times in January.  HAR is up 27% since being featured in my recent article, Monday's "Buy List" — week of January 6, 2014.  Read my comments from January 8.
Subscribe now to read additional comments on earnings projections, stock chart, and my buy/hold/sell recommendation.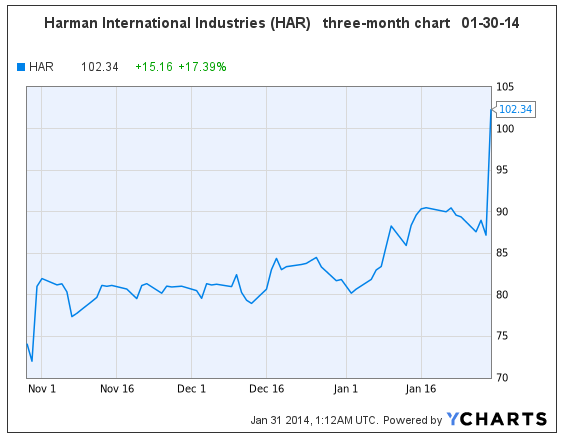 * * * *
Facebook Shares Reach New Highs After Fourth Quarter Earnings Report
(FB, $61.36, up $7.83 midday)
Shares of Facebook Inc. are up 14% today — a HUGE price movement — after reporting a fourth quarter revenue increase of 63%.  Ad revenue and mobile revenue growth are accelerating rapidly, and gross margins also surprised on the upside.  Worldwide users reached record levels.  Morgan Stanley complimented Facebook for improving "its ability to make ads more relevant and less intrusive to users."
In recent news, T-Mobile decided to offer its customers free Facebook access; Facebook was added to the S&P 500 index in December; and Facebook is the defendant in a shareholder lawsuit regarding its May 2012 IPO.
Facebook shares are up 12.0% since I said "buy" on Dec. 17.  The stock is also up 115.5% since I said "buy" on Ransom Notes Radio on May 2.
On December 23 I said, "FB should appeal to  aggressive growth investors, although optimally, I would wait for a pullback to the low $50′s to accumulate more shares."  That opportunity in the low $50′s came and went this week.
Subscribe now to read additional comments on Facebook's news and stock chart, and my buy/hold/sell recommendation.
* * * * *
Dupont Reports Fourth Quarter Earnings
(DD, $60.78, up $1.21 midday)
Dupont E. I. de Nemours & Co., maker of chemicals and nutritional products, reported a strong fourth quarter yesterday.  Profit doubled vs. last year, driven by strong insecticide sales in Latin America, a lower effective tax rate, and earlier seed shipments in North America.
Operating EPS came in at $0.59 vs. consensus $0.55.  Revenue was up 3.5%.
Dupont also announced a multi-year $5 billion share repurchase program, $2 billion of which is expected to occur in 2014.
Morgan Stanley commented today, "2014 will clearly be a crucial year for DuPont as it enters the home stretch of a multi-year portfolio transformation with the spin-off of Performance Chemicals (Ti02) likely by mid-2015, and today's $5B share repurchase announcement suggestive to us that significant M&A may be less likely than in prior years. We believe that a strong 2014 across the board will be crucial to the stock's transition from a largely dividend-based valuation to the company's goal of a valuation based on high quality, science driven, growth."
DuPont does not earn a buy rating from Goodfellow LLC due to the dramatically slowing earnings growth in 2015.
The stock is most likely to trade $60-$62 in the near-term.  If I owned DD shares, I would sell near $62 and reinvest my capital in a stock with stronger projected earnings growth.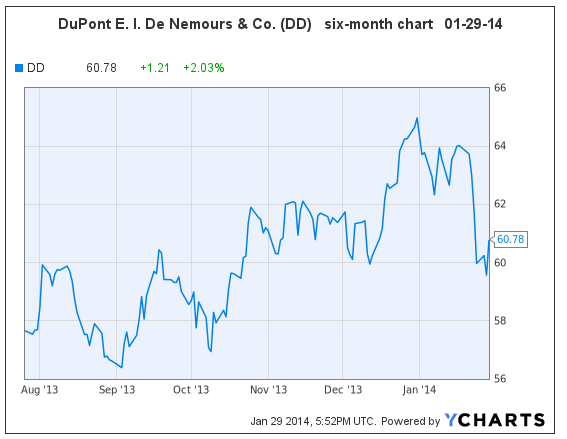 * * * * *
Dow Chemical Surprises Market with Trifecta of Bullish News
(DOW, $45.24, up $2.18 in early trading)
The largest U.S. chemical maker, Dow Chemical Co., reported a surprisingly strong fourth quarter today, with earnings per share (EPS) of $0.65, dramatically surpassing the consensus estimate of $0.43.  Quarterly revenue rose 3% vs. last year.
Dow announced it will increase its stock repurchase program to $4.5 billion, to be completed in 2014.
The company also increased its quarterly dividend to $0.37 per share, giving the stock a current yield of  3.3%.
I wrote extensively about Dow Chemical on January 21.  Subscribe now to read today's comments on the stock chart, and my buy/hold/sell recommendation.
* * * * *
D.R. Horton Shares Rise 9%
(DHI, $23.02, up $20.8 midday)
Shares of D.R. Horton Inc. jumped today after the homebuilder reported first quarter 2014 EPS of $0.36, much higher than the expected $0.29.  A 31% increase in sales fueled the quarterly success.  S&P said that "net new orders rose just 4%. While backlog is up 20%, we see higher interest rates dampening home price gains and activity in 2014 (particularly for first-time homebuyers)."
On November 14, I said that DHI shares could rise to $23 soon, and we reached that price today.
Subscribe now to see the stock chart, and to read today's comments on DHI's earnings outlook, and my buy/hold/sell recommendation on the stock price. (01/28/14)
* * * * *
Apple Stock Turns Sour
(AAPL, $508.50, down $42.00)
Shares of Apple Inc. are down 7.5% today after the company reported first quarter 2014 earnings (year-end September).  The market was disappointed that Apple sold 51 million iPhones, when analysts expected about 55 million iPhones to be sold during the holiday quarter.
S&P is trimming its gross margin outlook on Apple, to reflect stiff competition.  Morgan Stanley is bullish on Apple's new product introductions scheduled for the second half of fiscal 2014.
Reuters reported 17 investment firms cutting their price targets and ratings on AAPL after the earnings report, and one investment firm raising its price target.
On the heels of this morning's price plunge, Carl Icahn tweeted, ""just bought $500 million more $AAPL shares".  On January 24, I wrote about Icahn's Apple holdings and his shareholder activism.
Last week I said, "The earnings growth rate is too slow to earn a buy rating at Goodfellow LLC.  My suggestion is to use stop-loss orders to protect profits."  The stock fell to November support levels today, and will most likely trade in the $520-$540 range in the near-term.  The stock seems fairly valued based on earnings growth, PE, and dividend yield, but there's no compelling catalyst to drive the shares upward.  I would sell around $540 and move on to a growth stock with a bullish chart.

* * * * *
Abercrombie Leaps on Management Restructuring
(ANF, $36.89, up $2.28 in early trading)
Shares of Abercrombie & Fitch are up 6% in early trading, on news of changes in corporate governance.  The company plans to separate the roles of CEO and Chairman, add three independent Directors to the Board, and eliminate the shareholder rights plan.
Abercrombie's earnings per share (EPS) are projected to fall about 51% in 2014 (fiscal year-end January), largely attributed to store closures and restructuring expenses.
The stock price suffered tremendously in calendar 2013, as the earnings outlook paled in comparison to peers during a bullish stock market.
Subscribe now to read today's comments on Abercrombie's earnings outlook, and my buy/hold/sell recommendation on the stock price.
* * * * *
Caterpillar Pleases with Fourth Quarter EPS, but Prospects Darken for 2014
Caterpillar Inc. reported fourth quarter earnings per share (EPS) of $1.54 today, significantly higher than the consensus estimate of $1.27, which sent the stock soaring with a 5%+ gain in early trading.  Better operating results were derived from lower interest expense, cost cutting, and higher income.  Revenues were weaker than expected in mining, and stronger than expected in building equipment.
The company plans to repurchase $1.7 billion of stock in the first quarter, and a total of $10 billion through 2018.  Aggressive share repurchases such as these represent a strategy to shore up earnings, when earnings aren't coming from organic business growth.
Caterpillar currently expects EPS to increase about 2% in 2014, far too slow to earn a buy rating from Goodfellow LLC.  The PE is 15.7.
Caterpillar's stock remains mired in a sideways three-year trading range.  The stock bounced at $86.17 on Friday, with the market downturn.  Watch for the stock to trade between $86-$93 in the near-term.
If I owned CAT, I would sell it at the open market, right now.  There is no credible reason to expect the stock to rise from here, other than sheer luck.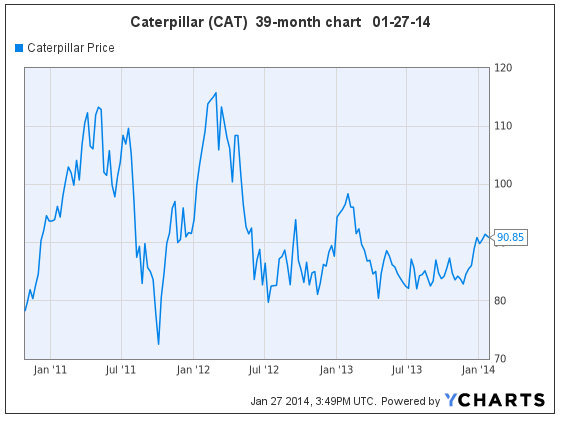 * * * * *
Happy investing!
Crista Huff
President
Goodfellow LLC
* * * *
Investment Disclaimer Release of Liability: Through use of this website viewing or using you agree to hold www.GoodfellowLLC.com and its employees harmless and to completely release www.GoodfellowLLC.com and its employees from any and all liability due to any and all loss (monetary or otherwise), damage (monetary or otherwise), or injury (monetary or otherwise) that you may incur. Goodfellow LLC and its employees are not paid by third parties to promote nor disparage any investment. Recommendations are based on hypothetical situations of what we would do, not advice on what you should do.
Neither Goodfellow LLC nor its employees are licensed investment advisors, tax advisors, nor attorneys. Consult with a licensed investment advisor and a tax advisor to determine the suitability of any investment.
The information provided herein is obtained from sources believed to be reliable but is not guaranteed as to accuracy or completeness. When information is provided herein from third parties — such as financial news outlets, financial websites, investment firms, or any other source of financial information – the reliability or completeness of such financial information cannot be guaranteed. The information contained on this website is provided for informational purposes only and contains no investment advice or recommendations to buy or sell any specific securities. This is not an offer or solicitation for any particular trading strategy, or confirmation of any transaction. Statements made on the website are based on the authors' opinions and based on information available at the time this page was published. The creators are not liable for any errors, omissions or misstatements. Any performance data quoted represents past performance and past performance is not a guarantee of future results. Investments always have a degree of risk, including the potential risk of the loss of the investor's entire principal. There is no guarantee against any loss.
* * * *
Goodfellow LLC is a subscription-only stock market website. We strive to identify financially healthy companies in which traders and investors can buy shares and earn dividends and capital gains. See disclaimer for the risks associated with investing in the stock market. See your tax advisor for the tax consequences of investing. See your estate planning attorney to clarify beneficiary and inheritance issues associated with your assets.