Papa John's Stock to Split 2:1
Pizza restautant chain Papa John's International Inc. (PZZA, $85.34) plans to split its stock two-for-one on December 30.  At that time shareholders will own twice as many shares, at half the price.  Shareholders' stock values will not change due to the split: this is essentially an accounting change.
The company achieved record 2012 sales of $1.3 billion, and net income of $61.7 million.  Wall Street expects PZZA's earnings per share (EPS) to grow 24%, 16% and 14% in 2013 through '15.  The price-earnings ratio (PE) is 27.8, within a normal ten-year range of 10-24 (excluding high & low aberrations).  The dividend is 1.2%, and the long-term debt ratio is 31%.
Papa John's stock is up 53% year-to-date, and the chart is overextended.  I would not consider buying shares due to the very high PE and the overextended chart.  Current shareholders should consider using stop-loss orders to protect their capital gains.
To learn more about growth stocks which meet the fundamental and technical Goodfellow LLC investment criteria, subscribe now!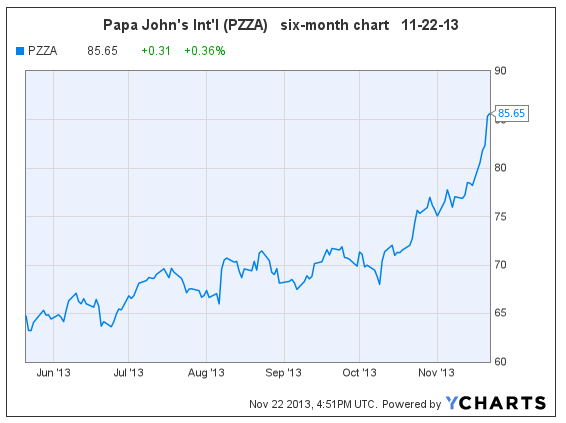 * * * * *
This automobile stock is up $4 since I recommended that growth stock investors, and growth & income investors, accumulate shares on November 19.  Subscribe now to read my commentary.  (11-21-13)
* * * * *
Lowe's Misses Estimates by a Penny; Raises Full-Year Guidance; Stock Down 4.5% <eye roll>
(LOW, $48.19, down $2.25 in morning trading)
Home improvement retailer Lowe's Companies Inc. reported third quarter earnings today of $0.47 per share vs. consensus $0.48, and up 18% over last year's $0.40, causing the stock price to fall to recent support levels.  Revenue came in slightly higher than projected, with same-store sales up 6.2%, and total sales up 7.3% for the quarter.
Ironically, the chronic problem on Wall Street this year has been companies reporting great earnings via every imaginable scenario — share repurchases, cost-cutting, lower tax rates, etc. — except via increased sales.  Then Lowe's comes along with higher-than-expected sales for the quarter, and BAM!, Wall Street is unforgiving for the one-cent miss on the earnings estimate.  Go figure.  Can you say "buying opportunity"?
Lowe's proceeded to raise full-year guidance on earnings per share, and said the "home improvement industry is poised for persisting growth in the fourth quarter and further acceleration in 2014."
* * * * *
Home Depot Profits Surge in Third Quarter
(HD, $81.38, up $1.71 in early trading)
Home improvement retail chain Home Depot reported third quarter earnings which beat analysts' expectations, as homeowners continue to remodel homes in preparation for selling into a rising house market.  Earnings per share came in at $0.95 vs. the expected $0.90, and last year's $0.63.  Sales rose 7.4%.  The company also raised its full-year profit estimate.
Home Depot plans to repurchase $2.1 billion of shares in the fourth quarter.
Subscribe now to read my comments from today, and my buy/hold/sell recommendation on Home Depot shares. (11-19-13)
* * * * *
Delta Air Lines Gains in Corporate Travel Survey
Delta Air Lines Inc.'s (DAL, $28.12) stock continues to reach new highs.
Morgan Stanley reported last week, "Though we are bullish on both DAL and UAL [United Continental Holdings Inc., $36.73)], our recent corporate travel survey suggests that DAL not only is the most favored carrier, but also continues to gain ground – now ranking at the top of 4 out of 5 categories. Such success reinforces our Overweight view on the stock."
Delta's earnings projections have increased repeatedly this year, now expected to grow 65% in 2013.  However, 2014 earnings are projected to grow just 1%.  The PE is 9.1.
Delta is focusing on debt reduction; and return of capital via increased dividends and a $500 million share repurchase program.  The stock was recently added to the S&P 500 Index.
The stock price is up 100% since we told Ransom Notes Radio listeners to buy at $14 earlier this year.  I reiterated my buy recommendation at Townhall Finance on September 16.  The stock is on an uptrend, and overextended.  Shareholders should decide how much of their gains they're willing to lose during a market correction, and then use stop-loss orders accordingly.
(Due to high debt levels and erratic future earnings growth, DAL shares do not meet the criteria for a Goodfellow LLC buy recommendation.)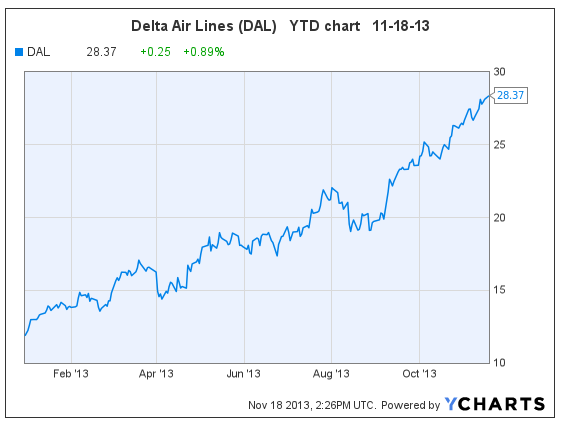 * * * * *
Happy investing!
Crista Huff
President
Goodfellow LLC
* * * *
Investment Disclaimer
Release of Liability: Through use of this website viewing or using you agree to hold www.GoodfellowLLC.com and its employees harmless and to completely release www.GoodfellowLLC.com and its employees from any and all liability due to any and all loss (monetary or otherwise), damage (monetary or otherwise), or injury (monetary or otherwise) that you may incur.
Goodfellow LLC and its employees are not paid by third parties to promote nor disparage any investment. Recommendations are based on hypothetical situations of what we would do, not advice on what you should do.
Neither Goodfellow LLC nor its employees are licensed investment advisors, tax advisors, nor attorneys. Consult with a licensed investment advisor and a tax advisor to determine the suitability of any investment.
The information provided herein is obtained from sources believed to be reliable but is not guaranteed as to accuracy or completeness. When information is provided herein from third parties — such as financial news outlets, financial websites, investment firms, or any other source of financial information – the reliability or completeness of such financial information cannot be guaranteed.
The information contained on this website is provided for informational purposes only and contains no investment advice or recommendations to buy or sell any specific securities. This is not an offer or solicitation for any particular trading strategy, or confirmation of any transaction. Statements made on the website are based on the authors' opinions and based on information available at the time this page was published. The creators are not liable for any errors, omissions or misstatements. Any performance data quoted represents past performance and past performance is not a guarantee of future results. Investments always have a degree of risk, including the potential risk of the loss of the investor's entire principal. There is no guarantee against any loss.
* * * *
Goodfellow LLC is a subscription-only stock market website. We strive to identify financially healthy companies in which traders and investors can buy shares and earn dividends and capital gains. See disclaimer for the risks associated with investing in the stock market. See your tax advisor for the tax consequences of investing. See your estate planning attorney to clarify beneficiary and inheritance issues associated with your assets.