Priceline Reports Third Quarter EPS up 48% Year-Over-Year
(PCLN, $1072.47, up $49.58 near the close)
Priceline.com reported third quarter earnings per share (EPS) of $17.30 vs. consensus $16.15 and last year's $11.66; with gross travel bookings up 37.5% vs. a year ago.  The company also announced a CEO change as of January 1, 2014.
Reuters reported eleven investment firms raising their price targets on Priceline shares today.  I would like to take this opportunity to say that investors should ignore price targets coming from fundamental analysts, because the numbers are more often than not a belated reaction to good/bad news, pulled out of thin air, and overly cautious.  I would, however, pay close attention to anything that technical analysts have to say about potential price movement.
* * * * *
Time Warner's Third Quarter Exceeds Expectations
(TWX, $66.48, down $1.21 midday)
Time Warner Inc. reported a strong third-quarter yesterday.  Adjusted earnings per share (EPS) came in at $1.01 vs. the consensus estimate of $0.89, and last year's $0.84.  Revenue gains came in on target, led by growth in advertising and cable network subscriber fees.  Share repurchases were $1.08 billion for the quarter, and are expected to total $3.65 billion for the full-year.
Morgan Stanley commented today, "We continue to find shares attractive given (1) accelerating growth from '14-'16, (2) multiple sources of margin upside vs. consensus, and (3) the benefits of above-average financial leverage."
The spin-off of Time Warner's publishing group, Time Inc., will take place in the second quarter of 2014.
* * * * *
Merck Muses Over "Sum of the Parts" Strategies
(MRK, $45.77, up $0.41 midday)
Merck & Co. Inc. is considering spinning off its animal health and consumer products divisions in order to unlock shareholder value, a Wall Street euphemism for "increasing the share price".  Generally speaking, large multi-national companies often find that their stock is worth more when they employ a "sum of the parts" strategy via spin-offs, as shareholders end up owning stock in two or three companies, rather than only the parent company.
Recent successful spin-offs include the Abbott Labs (ABT) spin-off of Abbvie Inc. (ABBV) and the News Corp. (NWSA) separation from 21st Century Fox (FOXA).
Wall Street expects Merck's earnings per share to fall 9% this year, then climb 1%  and 8% in 2014 & 15.  The dividend yield is 3.76% and the PE is 13.1.  
Merck's stock is on a very slow multi-year uptrend, currently on a pullback to May 2013 support levels.  
Not only is there no compelling reason to buy Merck shares, but I would consider selling as the stock approaches near-term resistance at $49, unless a stock spin-off is announced in the interim.  At that point, I would re-examine the wisdom in holding MRK and waiting for the spin-off vs. selling MRK and reinvesting in a growth stock for capital gains.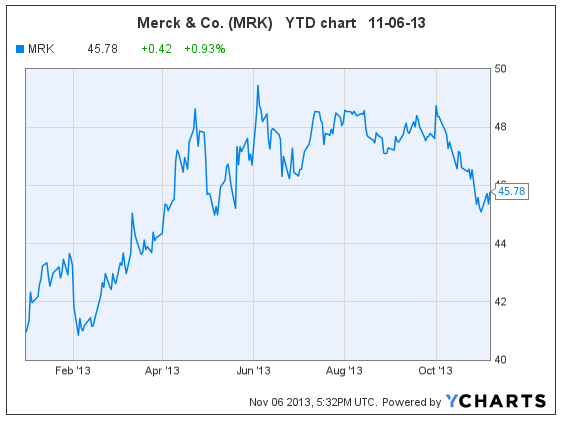 * * * * *
Happy investing!
Crista Huff
President
Goodfellow LLC
* * * *
Investment Disclaimer
Release of Liability: Through use of this website viewing or using you agree to hold www.GoodfellowLLC.com and its employees harmless and to completely release www.GoodfellowLLC.com and its employees from any and all liability due to any and all loss (monetary or otherwise), damage (monetary or otherwise), or injury (monetary or otherwise) that you may incur.
Goodfellow LLC and its employees are not paid by third parties to promote nor disparage any investment. Recommendations are based on hypothetical situations of what we would do, not advice on what you should do.
Neither Goodfellow LLC nor its employees are licensed investment advisors, tax advisors, nor attorneys. Consult with a licensed investment advisor and a tax advisor to determine the suitability of any investment.
The information provided herein is obtained from sources believed to be reliable but is not guaranteed as to accuracy or completeness. When information is provided herein from third parties — such as financial news outlets, financial websites, investment firms, or any other source of financial information – the reliability or completeness of such financial information cannot be guaranteed.
The information contained on this website is provided for informational purposes only and contains no investment advice or recommendations to buy or sell any specific securities. This is not an offer or solicitation for any particular trading strategy, or confirmation of any transaction. Statements made on the website are based on the authors' opinions and based on information available at the time this page was published. The creators are not liable for any errors, omissions or misstatements. Any performance data quoted represents past performance and past performance is not a guarantee of future results. Investments always have a degree of risk, including the potential risk of the loss of the investor's entire principal. There is no guarantee against any loss.
* * * *
Goodfellow LLC is a subscription-only stock market website. We strive to identify financially healthy companies in which traders and investors can buy shares and earn dividends and capital gains. See disclaimer for the risks associated with investing in the stock market. See your tax advisor for the tax consequences of investing. See your estate planning attorney to clarify beneficiary and inheritance issues associated with your assets.